« Intro
|
Page 3 »
SAPPHIRE will be introducing two HD 7950 models at launch on January 31st, 2012. The standardSAPPHIRE HD 7950 ships with a core clock speed of 810MHz which is slightly higher than thereference design and will be a dual slot, single fan cooler setup. At the same time SAPPHIRE is also introducing a high performance model, the SAPPHIRE HD 7950 OC Edition, which is factory overclocked to 900Mhz and features SAPPHIRE's new dual-extractor technology – Dual-X – a highly efficient multi-heatpipe cooler with dual fans providing quiet and very cool operation during normal operating conditions, and superb cooling performance even under extreme load. Both models have a large 3GB array of the latest DDR5 memory with effective clocks of 5Gb/s.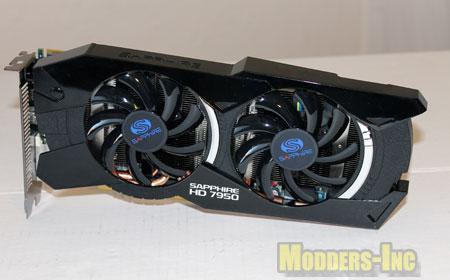 As we can see that the card has a similar look of the HD 6970 Dual Fan card with the black shroud, two fans and the heat pipe cooling system. But after that the similarities stop.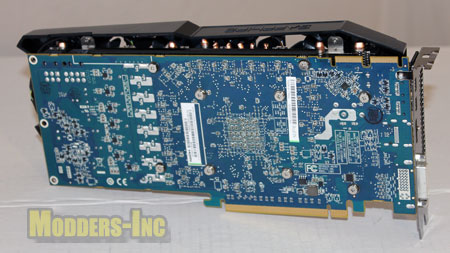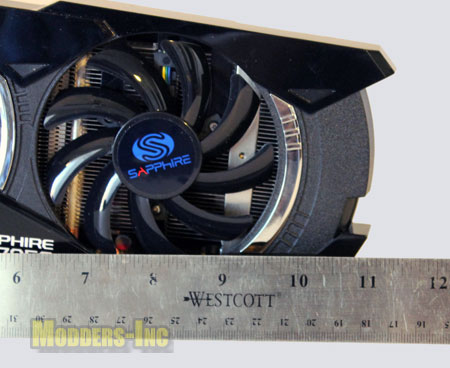 The overall length of the HD 7950 OC, from I/O plate to the tip of the plastic fan shroud is 11 inches.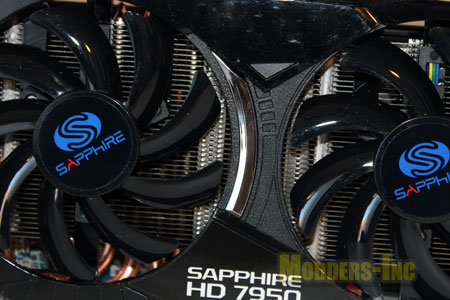 Taking a closer look at the cooling system we can see that underneath the dual 90mm cooling fans is a highly finned heat sink. The heat sink is used to help remove the heat from the heat pipes that create the cooling action.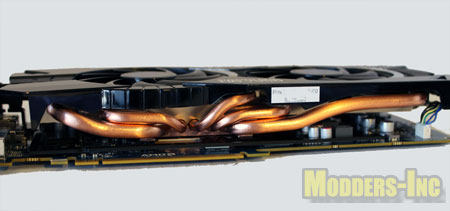 Working or gaming with multiple monitors is becoming increasingly popular, and the SAPPHIRE HD 7950 supports this with AMD Eyefinity. With its DVI, HDMI and two mini-DisplayPort outputs the card can support configurations of up to 6 monitors. In addition, the SAPPHIRE HD 7950 can simultaneously output multiple, independent audio streams allowing the correct audio content to be associated with different applications on different screens.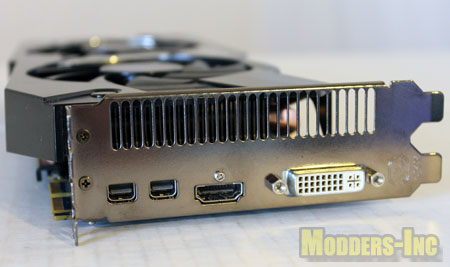 HDMI specifications have also increased in the HD 7000 series. Fast HDMI 1.4a supports Stereoscopic 3D with enhanced frame rates of 60Hz per eye – 120Hz total. It is also ready for the next generation of 4K displays that can be driven from a single high speed input of 3GHz HDMI 1.4a or DisplayPort 1.2 HBR2. As you might have seen in the first section of the review SAPPHIRE supplies plenty of adapters and cables to make sure you have all the options you need to maximize the workload you can get out the card.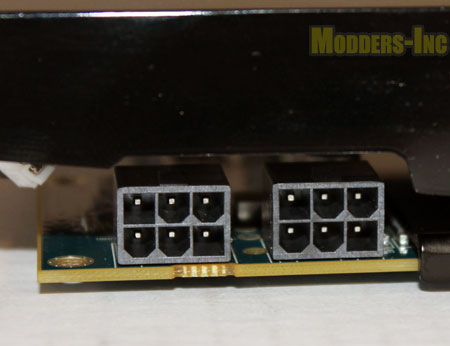 Two 75W 6-pin PCI Express power connectors are recommended for the HD 7950 OC to run properly so a minimum of a 500 Watt power supply is required, but if your going to laying down big money for a great card I would think that you already have PSU that is larger than that.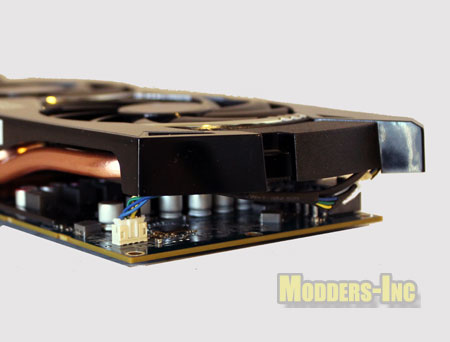 From this angle we can see that there is plenty of room for air to circulate around the card to help keep the other components as cool as the GPU.