Page 2 »
The fine folks at Cooler Master, well known for their cooling products, power supplies and cases, have been showing us innovative products and designs for over a decade now, but have we seen it all? Nope not even close, it seems that even with the newest cases at the end of 2008 (the HAF 932 and ATSC 840), that they are not ready to sit still. Instead they have launched a new division geared toward the gamer. That division is CM Storm, the new sub gaming brand from Cooler Master. Today we will look at the first release from the Cooler Master CM Storm line, the CM Storm Sniper, dubbed the World's 1st True Gaming Chassis … Let's take a look.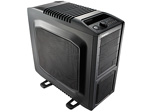 Sponsor: Cooler Master
[hr]
More about CM Storm below.

Press Release excerpt from CM Storm: 
---
Taipei, Taiwan Jan 08, 2009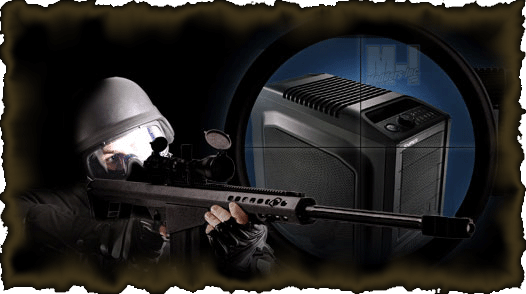 CM Storm Sniper – World's 1st True Gaming Chassis
Today, CM Storm is proudly unveiling the Sniper™ gaming grade PC chassis, developed in cooperation with the world's leading professional gaming teams, including SK-Gaming, Team Fnatic and mousesports. Featuring CM Storm's radical new doctrine, Storm Tactics™, which emphasizes Strength, Security and Control, the Sniper is designed to satisfy the lifestyles and unique needs of hardcore and casual gamers alike.
About CM Storm
Through long-standing research programs, CM Storm is co-developed with the world's most prolific enthusiasts and eSport prodigies. Thanks to intensive testing and continuous feedback, the CM Storm division has been able to encompass and improve upon gamers' needs and their tough to handle scenarios. By working directly with the gaming community, CM Storm has injected Storm Tactics into each and every product we make. Storm Tactics, with a heavily dedicated focus on Strength, Security and Control, will keep your most vital gear fortified and well tuned at all times. Marking a new era for Cooler Master, our fierce Storm Gear stands ready at bay to mobilize and back up your gaming skills.
For more information, please visit http://www.cmstorm.com
Packaging: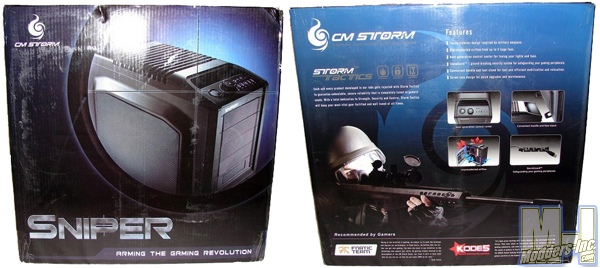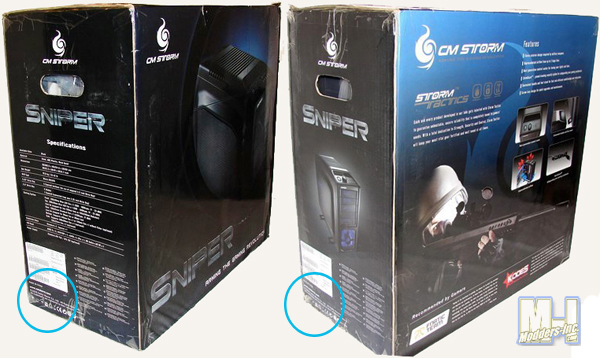 The CM Sniper comes packed in a nice black and blue box that is clearly inspired by military weapons. What is I found interesting to see was that the box was almost completely CM Storm, in fact not until reading the trademark info on the lower end corners did I find Cooler Master mentioned. It seems Cooler Master indeed wants to make the presence of CM Storm recognized properly and pushed to the front of the gaming chassis' industry.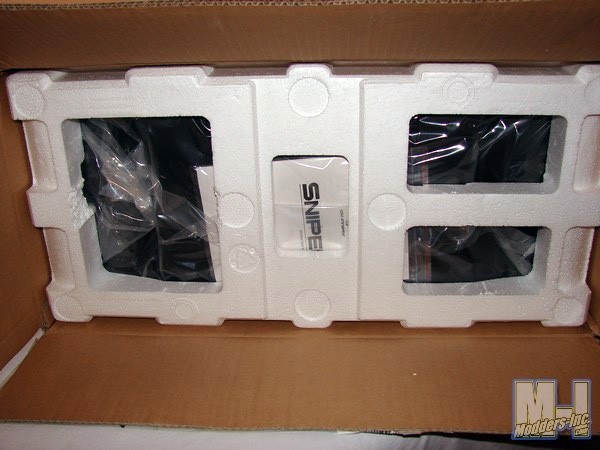 Once opened, we find that the Sniper is well packaged with styro-foam cushioning supports in both the top and bottom of the box.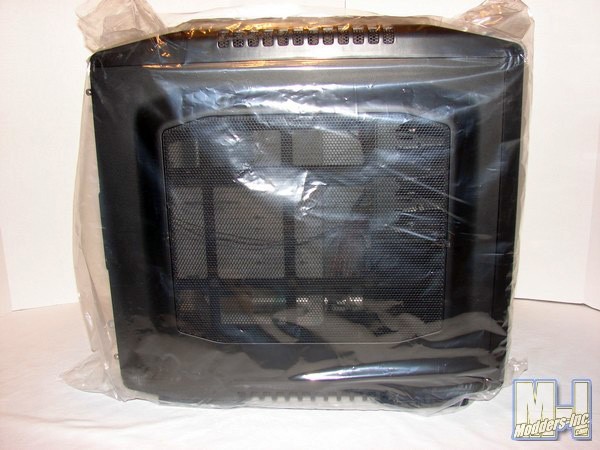 Of course the CM Sniper was also enclosed in a thick clear plastic bag to keep it from receiving scratches and to minimize dust buildup.
Specifications:
 Model Number 
 SGC-6000-KKN1-GP
 Available Color
 Black
 Material 
 Steel, ABS Plastic, Mesh bezel
 Dimensions 
 (D)566.6 x (W)254.6 X (H)551 mm  
 (D)22.3 x (W)10 x (H)21.7 inch
 Net Weight
 10.6 kg / 23.42 lb
 M/B Type 
 Micro-ATX/ATX
 5.25″ Drive Bay
 5 Exposed (without the use of exposed 3.5 inch Drive Bay)
 3.5″ Drive Bay
 5 Hidden 1 Exposed (converted from one 5.25 inch Drive Bay)
 Cooling System 
Front:     200x30mm Blue LED Fan x 1 (500 – 1000rpm, 17 – 23 dBA)

Top:       200x30mm Blue LED Fan x 1 (500 – 1000rpm, 17 – 23 dBA)
                (can be swapped for two 120mm fans or 120x240mm Radiator)

Rear:     120x25mm Standard Fan x 1 (1200rpm, 17 dBA)                                       
                (can be swapped for 90mm fan or 80mm fan)

Bottom:     Supports 140mm Fan x 1 or 120mm Fan x 1 w/ Dust Filter (optional)

Side:         Supports 200x30mm Fan x 1 (optional)
                 or 120x25mm Fan x 2  (optional)

 Expansion Slots 
 Standard x 7, Special x 1
 I/O Panel 
 USB2.0 x 4; IEEE1394 x 1; eSATA x 1; Mic x 1; HD Audio+AC'97 x 1 
 Power Supply
 Standard ATX PS2 / EPS 12V (optional)
Features:
Fierce exterior design inspired by military weapons.
Unprecedented airflow from up to 3 huge fans.
Next generation control center for tuning your lights and fans.
StormGuard™ – ground-breaking security system for safeguarding your gaming peripherals.
Convenient handle and foot stand for fast and efficient mobilization and relocation.
Screw-less design for quick upgrades and maintenance.