Storage Devices
Silicon Power S80 240GB SATA SSD Review: Bang-for-Buck Option
« Test System and Benchmarks
Final Thoughts about the Silicon Power S80 SSD

Even though M.2 and SATA Express offer superior performance over the bottlenecked SATA drives, they will still be around for a while and will be on demand, especially for notebook and mobile use. The low power consumption and performance difference over mechanical is simply undeniable. With that said, there is no shortage of option for SATA SSD drives and it can be difficult to choose and can be overwhelming for the uninitiated. Most promise performance hovering around 500MB sequential read and write but there are other factors to consider such as reliability, warranty, IOPS, random performance, degradation and pricing.
The Silicon Power S80 SSD has a very decent price-to-performance ratio with the current retail pricing at $88.99, bringing the cost per GB at around 0.37 cents. This is without a doubt, its most attractive aspect at the moment. Underneath the hood is a Phison PS3108-S8 controller with Toshiba 19nm MLC NAND which does a good job delivering that promised 550MB/500MB read/write speeds on the box verified with ATTO and CrystalDiskMark. This combination however produces slightly slower write speeds under AS SSD, CrystalDiskMark (random) and Anvil . From the NewEgg page of the S80 SSD however, Silicon Power's promise is a lot more conservative at 480/360 MB/s sequential read and write for CrystalDisk and 555/530 read/write for ATTO which our benchmarks more than outperform. IOPS performance is right in line with what is expected from an SSD of this value.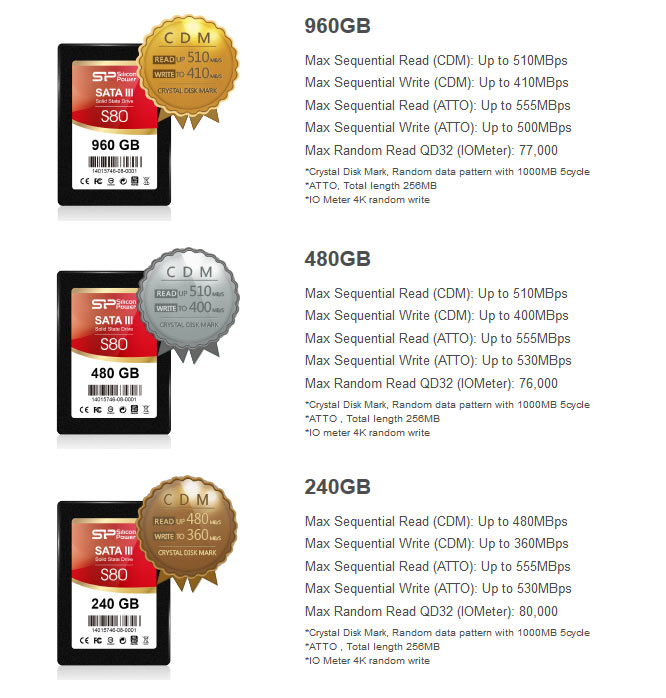 Since it is a 7mm SSD, it will feel at home inside any notebook but for those who require a 9.5mm thick drive will be glad to hear that the accessory pack includes an adapter. A 3.5″ tray is also provided to mount the S80 SSD inside any system. The 3-year warranty length is also reasonable with a 2-year extension upon product registration at Silicon Power's website. As a mainstream SSD priced at good value, the Silicon Power S80 is easy to recommend.
[sc:must_have_award ]