A Closer Look at the QNAP TS-563 »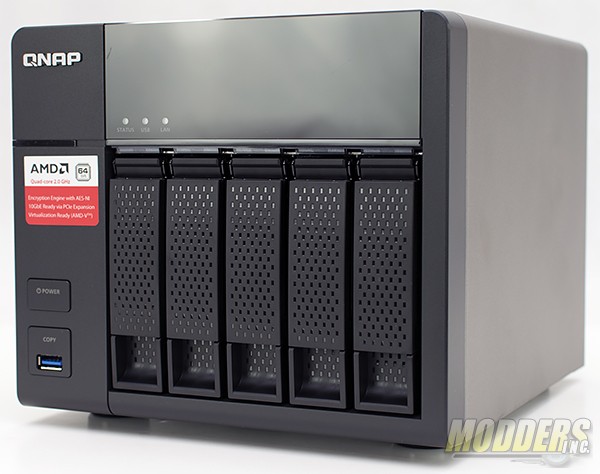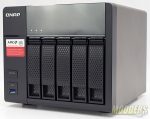 I have the opportunity to work in the Information Technology market and I get to work with some cool technology. Recently, I've been focusing more and more on visualization and network storage. To put it simply, we have the ability to run multiple virtual servers off of a couple of physical servers and some form of network attached storage. One of the interesting things that I've seen happen over the two decades that I have worked in IT is there is a form of corporate technology that filters down to home and small office users over time. How does an average home user take advantage of network attached storage or in this case a NAS. Well, the answer is: it depends. How you use network attached storage is going to be different between home users and small offices. Most small NAS units offer more than just a collection of disks on which data is stored. Some offer the ability to host a web site, run light weight operating systems, or can even act as a media repository and most can do it with a very easy to navigate user interface (UI). While network attached storage is not a new technology on the consumer side, they are becoming more and more affordable as more models are released. QNAP is one of the market leaders in network storage. The recently released TS-563 is aimed at the upper end of the consumer market and the middle of the small business range. The TS-563 is a 5-bay device that features the AMD G-Series quad-core 2.0 GHz processor.
[sc:sponsor sponsor="QNAP" product_link="https://www.qnap.com/i/en/product/model.php?II=194″ product_name="QNAP TS-563″ product_price_link="http://amzn.to/1H5rInU" product_price="550.99″ ]
QNAP TS-563 Packaging
Unlike a lot of consumer based products, QNAP takes a very simple approach with their packaging. The TS-563 is packaged in a very simple cardboard box that has a sticker on the front with a list of the specifications and features. Inside, you'll find the TS-563 tucked away inside stiff foam inserts and wrapped in a plastic bag to prevent scrapes and scratches during transport.
There is not a lot needed to get the TS-563 up and running. Included in the kit is a power cord, quick start guide, two 6′ Ethernet cables, and screws for the hard drives.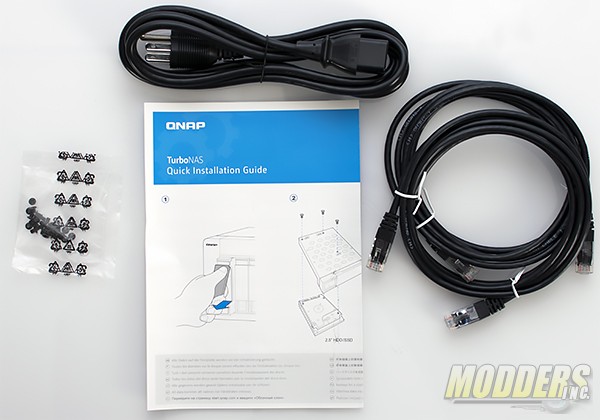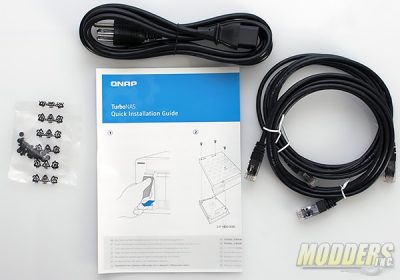 Specifications
CPU
AMD® x86 G-Series Quad-core 2.0 GHz processor

Floating Point Unit

Yes

Hardware Encryption Engine

Yes (AES-NI)
DRAM
System memory:

TS-563-2G: 2GB DDR3L RAM (2GB x1)
TS-563-8G: 8GB DDR3L RAM (8GB x1)

Total memory slots: 2 SODIMM
Memory expandable up to: 16 GB (8GB x 2)

NOTE: For the information of RAM module installation and compatible NAS models, please refer to the QNAP RAM Module Installation Guide

Flash Memory
512MB
Hard Disk Drive
5 x 3.5″or 2.5″SATA 6Gb/s, SATA 3Gb/s hard drive or SSD
NOTE:
1. The system is shipped without HDD.
2. For the HDD compatibility list, please visit

 

https://www.qnap.com/compatibility
Hard Disk Tray
5 x Hot-swappable tray
LAN Port
2 x Gigabit RJ-45 Ethernet port (Expandable up to 4 x GbE or 2 x 10GbE + 2 x GbE via PCIe NIC)
Network Expansion Slot
1 (PCIe Gen2 x 4)
LED Indicators
Status, USB, HDD 1-5
USB
5 x USB 3.0 port (Front: 1, Rear: 4)
Support USB printer, pen drive, and USB UPS etc.
Buttons
Power/Status, USB One-Touch-Backup, reset
Alarm Buzzer
System warning
Form Factor
Tower
Dimensions
185(H) x 210.6(W) x 235.4(D) mm
7.28(H) x 8.29(W) x 9.27(D) inch
Weight
Net: 4.4 kg (9.7 lbs)
Gross: 5.8 kg (12.79 lbs)
Power Consumption (W)
S3 sleep: 2.26W
HDD standby: 30.17W
In operation: 47.68W
(with 5 x 2TB HDDs installed)
Temperature
0-40˚C
Humidity
5~95% RH non-condensing, wet bulb: 27˚C
Power Supply
ATX 250W, 110-240V AC, 50-60Hz, 5A
Secure Design
Kensington security slot for theft prevention
Fan
1 x quiet cooling fan (12cm, 12V DC)
Software Specifications
Operating System
QTS 4.1 (embedded Linux)

Power Management

Wake on LAN
Internal hard drive standby mode
Scheduled power on/off
Automatic power on after power recovery
USB and network UPS support with SNMP management
System sleep mode (S3)

Supported Client OS

Windows XP, Vista, Windows 7 (32/64-bit), Windows 8 (32/64-bit), Windows Server 2003/2008 R2/2012/2012R2
Apple Mac OS X
Linux & UNIX

Access Right Management

Batch users creation
Import/Export users
User quota management
Local user access control for CIFS, AFP, FTP, and WebDAV
Application access control for Photo Station, Music Station, Video Station, and File Station
Subfolder permissions support for CIFS/SMB, AFP, FTP, and File Station

Supported Browsers

Microsoft Internet Explorer 10+
Mozilla Firefox 8+
Apple Safari 4+
Google Chrome

Transcoding Management

Background video transcoding to 240p, 360p, 480p, 720p and 1080p resolutions
Automatic offline video transcoding for a preset shared folders
Embed subtitles to videos in background transcoding

Multilingual Support

Chinese (Traditional & Simplified), Czech, Danish, Dutch, English, Finnish, French, German, Greek, Hungarian, Italian, Japanese, Korean, Norwegian, Polish, Portuguese (Brazil), Romanian, Russian, Spanish, Swedish, Thai, Turkish

Domain Authentication Integration

Microsoft Active Directory (AD) & Domain Controller support
LDAP server, LDAP client
Domain users login via CIFS/SMB, AFP, FTP, and File Station

File System

Internal Hard Drive: EXT4
External Hard Drive: EXT3, EXT4, NTFS, FAT32, HFS+

myQNAPcloud Service

Private cloud storage and sharing
Free host name registration (DDNS)
Auto router configuration (via UPnP)
Web-based file manager with HTTPS 2048-bit encryption
CloudLink for remote access without complicated router setup
myQNAPcloud connect for easy VPN connection (Windows VPN utility)

Networking

TCP/IP (IPv4 & IPv6*: Dual Stack)
Dual Gigabit NICs with jumbo frame (failover, multi-IP settings, port trunking/NIC teaming)
Service binding based on network interfaces
Proxy server (Squid available in App Center)
Proxy client
DHCP client, DHCP server
Protocols: CIFS/SMB, AFP, NFS, FTP, FTPS, SFTP, TFTP, HTTP(S), Telnet, SSH, iSCSI, SNMP, SMTP, and SMSC
UPnP & Bonjour discovery
USB Wi-Fi 802.11ac adapter support

* Not all services support IPv6.

Qsync

Syncs files among multiple devices with SSL support
Selective synchronization for syncing specific folders only
Use team folders as a file center for greater team collaboration (maximum sync tasks: 32)
Shares files by links via email
Policy settings for conflicted files and file type filter support
Version control: up to 64 versions.
Incremental synchronization for HDD space saving
Supports Windows & Mac OS

Security

Network access protection with auto-blocking: SSH, Telnet, HTTP(S), FTP, CIFS/SMB, AFP
CIFS host access control for shared folders
FIPS 140-2 validated AES 256-bit volume-based data encryption*
AES 256-bit external drive encryption*
Importable SSL certificates
Instant alert via email, SMS, and beep

* Somedata encryption functions may not available in accordance with the legislative restrictions of some countries.

Web Administration

Smart fan Control
Dynamic DNS (DDNS)
SNMP (v2 & v3)
Resource monitor
Network recycle bin for file deletion via CIFS/SMB, AFP, and File Station

Automatic Cleanup
File Type Filter

Comprehensive logs (events & connection)
Syslog client/server
System settings backup and restore
Restore to factory default
Mobile app: Qmanager for remote system monitoring & management

Storage Management

QNAP flexible Volume/LUN with thin provisioning and space reclaim
RAID 0,1, 5, 6, 10, + hot spare
Supports storage pool
Online volume expansion
Online storage pool expansion
Online RAID capacity expansion and online RAID level migration
SMART data migration
Storage expansion via QNAP UX-500P/UX-800P expansion unit (max 2)
Bad block scan and hard drive S.M.A.R.T.
Bad block recovery
RAID recovery
Bitmap support

Powerful All-in-one server

File Server

File sharing across Windows, Mac, and Linux/UNIX
Windows ACL
Advanced folder permission for CIFS/SMB, AFP, FTP
Shared folder aggregation (CIFS/SMB)

Storage Plug & Connect

Creating and mapping shared folders using QNAP Windows Qfinder
Creation of and connection to iSCSI targets/LUN

FTP Server

FTP over SSL/TLS (Explicit)
FXP support
Passive ftp port range control

iSCSI (IP SAN)

iSCSI target with multi-LUNs per target (Up to 256 targets/LUNs combined)
Support for LUN mapping & masking
Online LUN capacity expansion
Support for SPC-3 persistent reservation
Support for MPIO & MC/S
iSCSI LUN backup, one-time snapshot, and restoration
iSCSI connection and management by QNAP Windows Qfinder
Virtual disk drive (via iSCSI initiator)
Stack chaining master
Max No. of virtual disk drives: 8

File Station

Supports ISO Mounting (Up to 256 ISO Files)
Supports thumbnail display of multimedia files
Supports sharing download links and upload links
Drag-n-drop Files via Google Chrome and Mozilla Firefox
File Compression (ZIP or 7z)
Creation of and sending download links for sharing public files with expiration time and password protection

Support for displaying subtitles (*.SRT, UTF-8 format)
Support slideshow playback in media viewer

Mobile App: Qfile for file browsing and management

Surveillance Station

Supports over 3,000 IP cameras
Includes 4 free camera licenses, up to 40 camera channels via additional license purchase
Instant playback to check recent events
Online editing to change cameras when in live view
Visual aid by using e-maps
Playback and speed control by shuttle bar
Video preview using playback timeline
Intelligent Video Analytics (IVA) for advanced video search
Surveillance client for Mac
Mobile surveillance app: Vmobile (iOS and Android)
Mobile recording app: Vcam (iOS and Android)

Backup Station

Remote replication server (over rsync)
Real-time remote replication (RTRR) to another QNAP NAS or FTP server
Works as both RTRR server & client with bandwidth control
Real-time & scheduled backup
Encryption, compression, file filters, and transfer rate limitations
Encrypted replication between QNAP NAS servers
Desktop backup with QNAP NetBak Replicator for Windows
Apple Time Machine backup support
Data backup to multiple external storage devices
Synchronizes with cloud storage: Amazon S3, ElephantDrive, Dropbox
Third party backup software support: Veeam backup & replication, Acronis True Image, Arcserve backup, emc retrospect, Symantec Backup Exec, etc.

VPN Server

Secure remote access: PPTP & OpenVPN VPN services
Max number of clients: 30

Print Server

Max. number of printers: 3
Support for Internet Printing Protocol
Print job display and management
IP-based and domain name-based privilege control

VPN Client

Supported VPN protocols: PPTP & OpenVPN services
PPTP Authentication: PAP, CHAP, MS-CHAP, MS-CHAPv2
PPTP Encryption: None, AES 40/128 bit, AES 256 bit
OpenVPN Encryption: None, AES 40/128 bit, AES 256 bit
Transmission package monitor
OpenVPN port control
OpenVPN link compression

Cloud Backup Station

Amazon S3
Amazon Glacier
Webdev-based cloud storage
Microsoft Azure
Open Stack

App Center

Over 100 official and community software add-ons such as Photo Station, Music Station, Video Station, DLNA server, Notes Station, Signage Station, Airplay/Chromecast, and more.

Virtualization Station

Supports creating one Virtual Machine (VM) to run an operating system such as Windows, Linux, Unix
VM import from Virtual Appliances
VM export into a virtual appliance in OVF / QVM format
VM clone&snapshot
HTML5-based shared remote console

Designs and specifications are subject to change without notice.