Storage manufacturer Silicon Power has announced two of the latest additions to their SSD lineup: featuring the Slim S85 and Velox V85, a pair of SATA III SSD sotrage solutions that range from 240GB to 960GB and is ideal for desktop or notebook systems alike. The new drives feature a slim 7mm design with 560MB/s read and 540MB/s write under ATTO. Both Slim S85 and Velox V85 support TRIM, NCQ and are RAID ready. For more information, check out the official press release below.
Silicon Power Unveils the New Gaming-Grade Solid State Drives ─ Slim S85 & Velox V85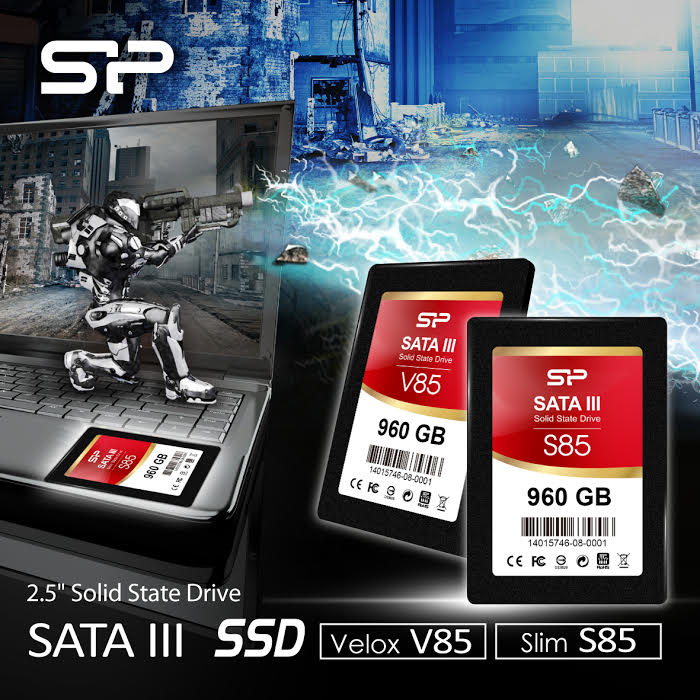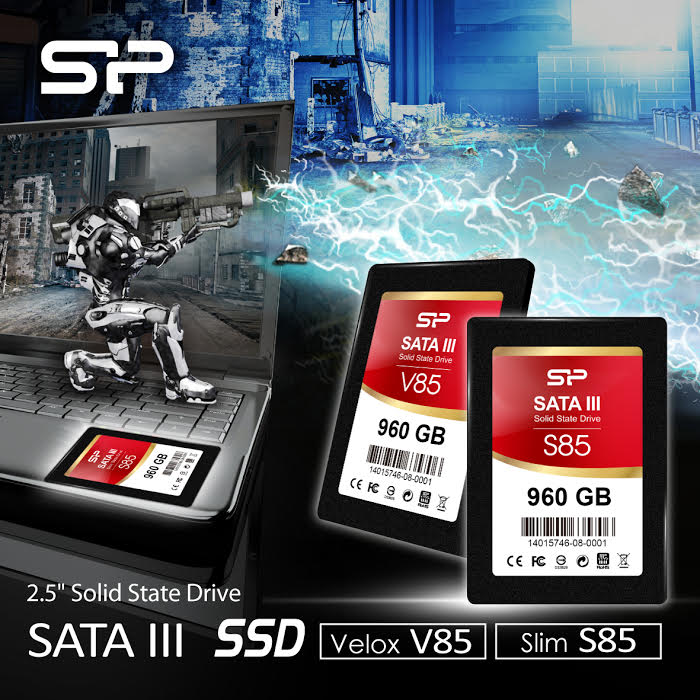 Taipei, Taiwan – January 2015 – SP/ Silicon Power, the world's leading provider of memory storage solutions, today introduces the latest SATA III solid state drives – Slim S85 and Velox V85 with huge capacities up to 960GB. They have also proven to deliver amazing Read/ Write speeds during live tests which massively reduce boot time and enhance system responsiveness. In addition to increased work efficiency and gaming performance, the super slim 7mm height makes Slim S85 and Velox V85 easy to carry and use.
Complete Transformation for Performance, Capacity and Reliability
Engineered with a quality controller and the ultra-fast 6Gbps SATA III interface, Slim S85 and Velox V85 provide amazing Read/Write speeds of 560MB/540MB/sec for ATTO test and 530MB/510MB/sec for CDM (CrystalDiskMark) test*. With such an extraordinary performance, Slim S85 and Velox V85 offer reliable and ultra-fast transmission especially for high-resolution photos, video and multimedia files. This is a comprehensive system transformation for professionals and gaming enthusiasts – instant boot times, incredible data transfer speeds, enhanced multitasking capability, and pro-level reliability. On top of that, 960GB high storage space enables users to move all data from an existing hard drive to the newly installed SSD. You won't be haggling over more room to store games, music, films and applications. Compared to a hard drive, S85 and V85 realize higher stability to be shockproof and vibration-proof for there's no moving part contained. Built with S.M.A.R.T. monitoring system and ECC technology, they offer safe data transmission; meanwhile, Wear Leveling technique promises prolonged lifespan and improved durability.
 Flexible Upgrade Solution for Desktops and Laptops
With 64g weight and 7mm height, the newly-launched Slim S85 and Velox V85 target users of ultrabooks and laptops to achieve high portability and usability. Besides, Velox V85 comes with a mounting kit for 3.5" drive bay so it can be installed in laptops, desktops and definitely ultrabooks for different upgrade solutions. Professionals and hardcore PC gamers can get more bang for their bucks! To provide more considerate service and support for customers, both S85 and V85 are backed by a 5-year warranty. These two SSDs are available in 240GB、480GB and 960GB to suit a range of budgets and storage needs. For more information, please visit Silicon Power official website: www.silicon-power.com.
*Note: Transfer rates may vary depending on system platform
Slim S85 & Velox V85 Solid State Drives
Features
7mm slim design for ultrabooks and ultra-slim notebooks
SATA III 6Gbps backwards compatible with SATA II 3Gbps
ATTO: 560MB/s max. Read speed

 

;

 

540MB/s max. Write speed
CDM: 530MB/s max. Read speed; 510MB/s max. Write speed
Support TRIM command,

 

NCQ and RAID ready
Equipped with Wear Leveling to extend endurance
Implemented with ECC technology to guarantee reliable data transmission
Built-in with SMART monitoring system
Low power consumption
Shockproof and anti-vibration
No noise, no latency delay and no seek error
5-year warranty 
Specifications 
Capacity: 240GB/ 480GB/ 960GB
Dimensions: 100mm x 69.85mm x 7mm
Weight: 64~77g (depending on model)
Voltage: 5V
Vibration Resistance Test: 20G
Shock Resistance Test: 1500G Max
Color: Black
About SP / Silicon Power
Silicon Power Computer & Communications Inc., founded in 2003 by a group of enthusiastic specialists of flash data storage industry. Well dedicated in brand image and product quality, SP has been recognized and well accepted by millions of end-users in more than 100 countries, becomes the world's leading manufacturer of flash memory cards, USB flash drives, card readers, DRAM modules, solid state disks, and portable hard drives in less than a decade. Headquartered in Taipei, we continuously established various branches throughout the world including Netherlands, Japan, Russia, Mainland China and other emerging market. With superior quality and innovative design, our products stood out in many competitions and awarded with numerous well-known design awards, such as Taiwan Excellence, COMPUTEX Design & Innovation Award, red dot design award, iF Design Award and IDEA . Winning trust of global consumers SP holds a record of successive double-digit revenue growth for last ten years. For SP, the product we introduced is not only a digital storage device but also a real promise to create and preserve your most valuable memory in every moment.