Storage expert Thecus has introduced a new "zero-crash" 5-day NAS called the N5810Pro, promising unmatched security with built-in mini-UPS. Inside is an Intel Celeron J1900 Quad core 2.0 GHz SoC with 4GB of DDR3 RAM (expandable to 8GB) and equipped with five Gigabit LAN ports. The N5810PRO is expected to start shipping out globally by the end of April. For more information, check out the official press release below:
Thecus® Announces New Zero-Crash 5-Bay NAS, the N5810PRO
Superior performance, unmatched security with built-in mini-UPS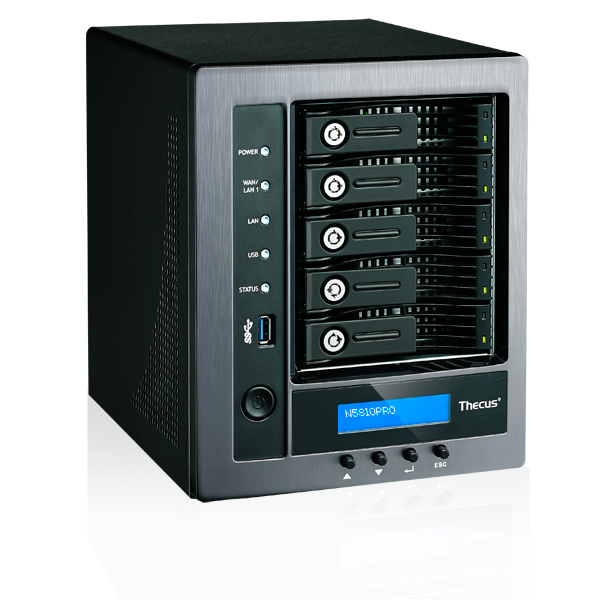 Thecus today announced its new zero-crash 5-bay NAS, the N5810PRO. Embedded with an Intel® Celeron™ processor J1900 Quad Core 2.0 GHz SoC and Mini-UPS battery, the Thecus N5810PRO empowers users with lightning fast performance while providing impenetrable data integrity.
"In today's ever-evolving digital environment, businesses require robust storage solutions that provide premium performance with piece of mind that their data will always be secure," said Florence Shih, CEO of Thecus Technology. "The N5810PRO is designed to equip users with a comprehensive set of applications that will optimize their business environment while addressing the needs for performance and security."
Powered by the Intel Celeron processor, 4 GB DDR3 RAM (expandable to 8GB), and equipped with 5 Gigabit LAN ports, the N5810PRO reaches blazing throughput speeds of up to 500 MB/s. The N5810PRO supports seven modes of link aggregation including fault tolerance for resilience and port-trunking modes for increased performance. Built to grow with your business, total storage can be expanded to 40TB, while support for VMware®, Citrix®, and Microsoft Hyper-V® allow for seamless integration into a businesses' virtualization environment.
"The integration of the Intel Celeron processor J1900 Quad Core 2.0 GHz SoC with the Thecus N5810PRO enables users to simultaneously utilize the many features of the NAS while maintaining a high-performance environment," said Bev Crair, Vice President, Data Center Group and General Manager, Storage Group, Intel Corporation. "The N5810PRO is another example of successful collaborative products from Intel and Thecus."
In order to protect your data in the occurrence of a sudden power outage, the N5810PRO is outfitted with a lithium-ion mini-UPS, allowing the system to store unwritten data to the hard disks and safely shut down. The new 5-bay NAS also supports an array of backup features including Data Guard for local and remote backups, Data Burn, and Snapshot Backup using the Btrfs file system.
Users can now enjoy enhanced storage functionality while simplifying storage management.
The N5810PRO runs on the intuitive, easy-to-use Thecus OS5 operating system.  The re-tooled software includes VPN Server for secure remote access and Disk Clone and Wipe for convenient data management. Users will also be able to enjoy a comprehensive set of entertainment features facilitated by HDMI output and Kodi for multimedia playback and mobile access with the powerful Thecus mobile app, T-OnTheGo.
Availability: Units will begin shipping globally at the end of April, 2015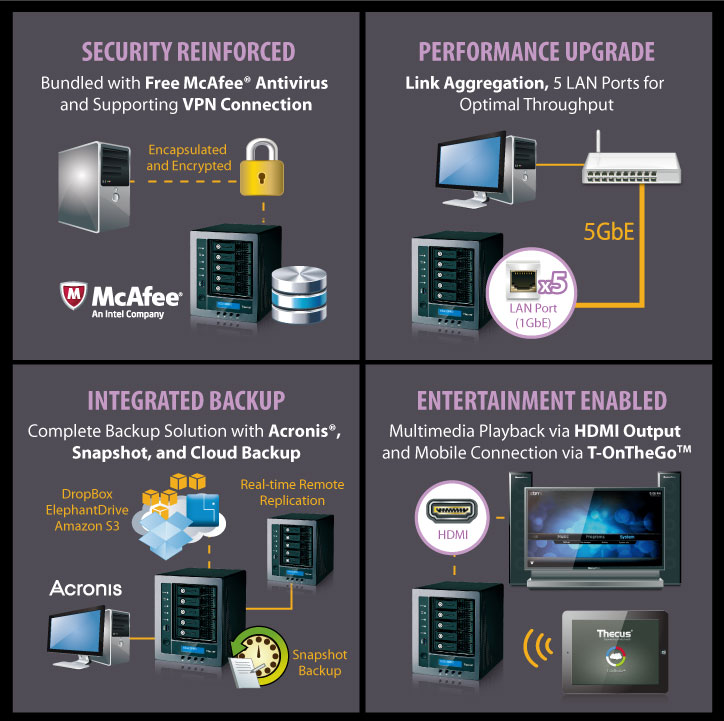 For more information on where to buy this product, go to: http://www.thecus.com/wtb.php
For more information on the Thecus N5810PRO, go to: http://www.thecus.com/product.php?PROD_ID=108
About Thecus®
Thecus Technology Corp. specializes in Network Attached Storage and Network Video Recorder solutions. Established in 2004 with the mission of making technology that is both intuitive and ground-breaking, Thecus offers products designed to appeal to both advanced and novice users. By combining a world-class storage R&D team with a commitment to customer satisfaction, Thecus is able to adapt to the market with its innovative NAS and NVR and fulfill the storage and surveillance needs of today's world.