Thermaltake‧Tt eSPORTS‧LUXA2 Reveal Breakthrough Innovations with Top-Class Products
Premier of the new Level 10 M Gaming Headset,
the design collaboration by Thermaltake and BMW DesignworksUSA!
  Tt eSPORTS, the business unit of Thermaltake Group, will be celebrating the new Level 10 M Headset Asian premier with BMW Designworks USA at this year's COMPUTEX 2013.
  Thermaltake digital power: world premier of Toughpower Grand Digital and Toughpower XT Digital.
  LUXA2 WPC Charging Station: brand new TX-100 PowerPad Dual WPC (Wireless Power Charging) Charging Station with latest technology.
Taipei, Taiwan – May 22, 2013 – Thermaltake Group will be presenting virtually the entire spectrum of its three brands Thermaltake, Tt eSPORTS, LUXA2 and its e-Sports Team Tt APOLLOS at COMPUTEX Taipei 2013. More than 100 PC DIY solutions, professional gaming gear and unique, functional mobile accessories and tablet PC peripherals will astonish visitors in TWTC Nangang Exhibition Hall (4th floor, booth number M620) during 4th – 8th June, 2013 with a whole range of innovative products. Thermaltake Group warmly presents a spectacular e-Sports and digital entertainment festival to worldwide users, welcome to our booth and discover the latest technologies and trends!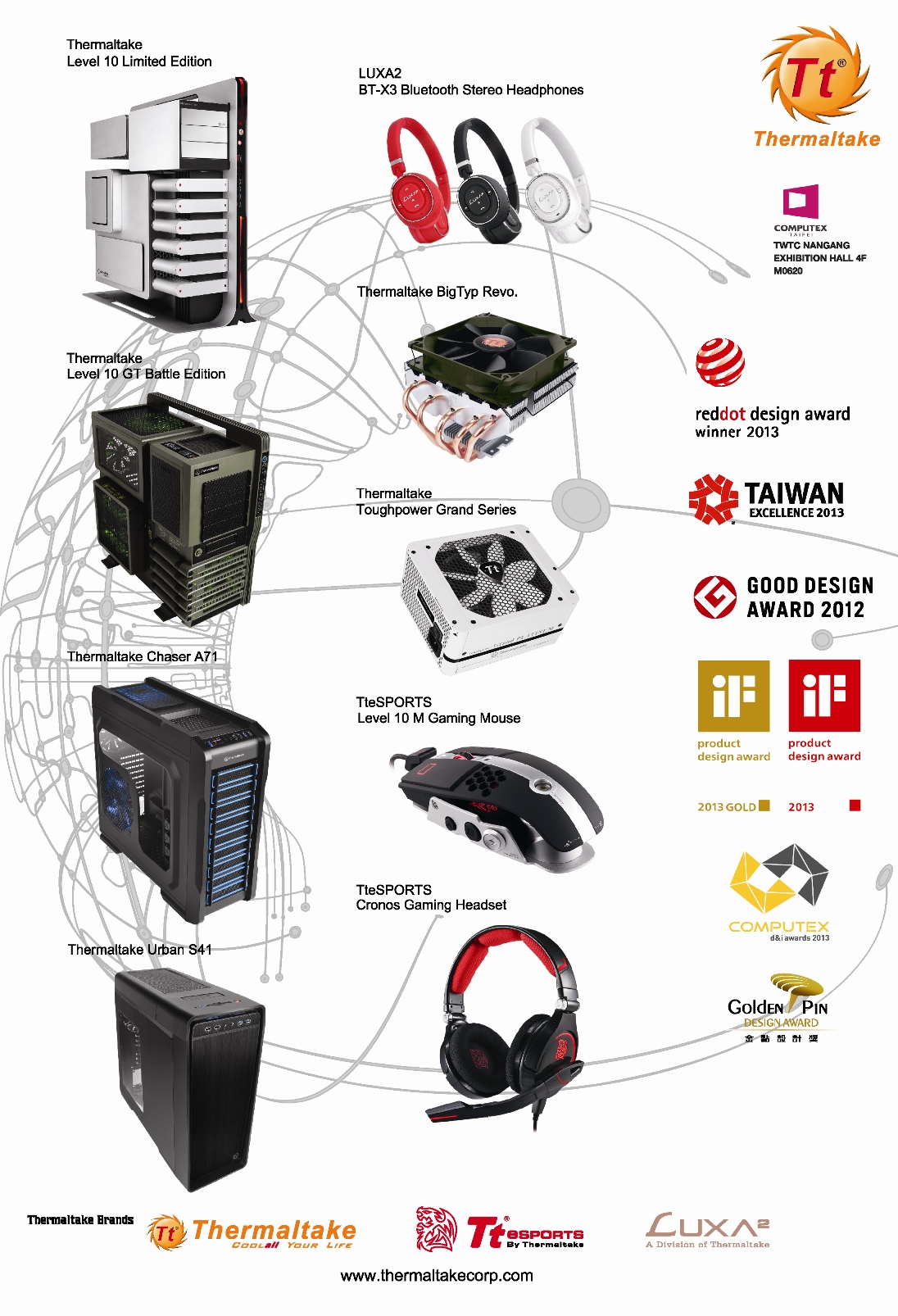 During COMPUTEX Taipei 2013, Thermaltake Group will celebrate the Asia premier together with BMW Designworks USA for the Level 10 M headset. World-class technology and new design ideas with unprecedented aesthetics and e-Sports culture which break beyond conventional boundaries are to be featured by Tt eSPORTS, a division of Thermaltake Group and BMW Designworks USA at the opening ceremony on 4 th of June at the COMPUTEX 2013 Show!
Moreover, Thermaltake Group has a star-studded lineup of professional gamers. World known Shoutcasters e-Sports players Aleksey "White-Ra" Krupnyk and Barbie Prime from Korean PRIME Team will electrify the event with exhibition matches and other activities to share the fun with everyone!
Further information on Thermaltake Group at COMPUTEX Taipei 2013 can be found online at: http://computex2013.thermaltake.com/