A Closer Look at Thermaltake ToughPower GF1 1000W »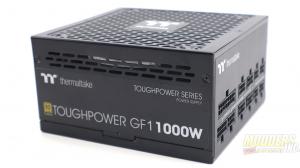 Perhaps the most important component in your system is the Power Supply. Without a proper power supply, you won't be able to read this overview. In fact, our modern electronics all rely on some kind of power supply source. I am going to be taking a brief look at the Thermaltake Toughpower GF1 1000W power supply and its features. GF1 1000W power supply is designed to provide peak power of 1000Watts to computer components.
Most of the power draw in the general computer is being pulled from Video Card utilization and with the current Crypto craze, the requirement of efficient and high power supplies has never been higher. Toughpower GF1 1000W is 80 Plus Gold certified which means that the overall efficiency is about 87% and higher efficiency means less power wasted.
Specifications
Toughpower GF1 power supplies also come in 650, 750, 850, and 1200W configurations. The packaging of GF1 Gold is pretty much the same across all of the available capacities as it features vivid images and is full of helpful information. This power supply features a modular flat cable design and its specifications could be viewed on the back of the packaging. In addition, Thermaltake provides some of the information about the Gold certification, and what I found interesting was the information about voltage regulation.
The voltage regulator in GF1 1000W has less than +-2% variance. This, combined with power conditioning should provide smooth and unchanged output at various load stages. On one of the sides of the shipping box, there is a cross-section of the internal components. One of the featured components in GF1 is the 100% High-Quality Japanese 105C Capacitors.
The internal packaging of GF1 consists of a foam box that has a power supply secured in place and the bag with modular cables and accessories.
The components of the accessory pouch include modular cables, zip ties, and four mounting screws. The cables are ribbon styled and all the colors black. Here is the breakdown of what cables are included.
| | | |
| --- | --- | --- |
| Connector Type | Cable Length | Connector QTY |
| Main Power Connector (24 Pin) | 600mm | 1 |
| ATX 12V (4+4 Pin) | 650mm | 2 |
| SATA (5 Pin) | 500mm+150mm +150mm +150mm | 12 |
| PCI-E (6+2 Pin) | 500mm+150mm | 6 |
| Peripheral (4 Pin) | 500mm+150mm +150mm +150mm | 4 |
| Floppy Adapter (4 Pin) | 150mm | 1 |
Specifications
| | |
| --- | --- |
| P/N | PS-TPD-1000FNFAGx-1 |
| WATTS | 1000W |
| RGB FAN | Yes |
| FORM FACTOR | ATX |
| MODEL | TTP-1000AH3FCG |
| MAX. OUTPUT CAPACITY | 1000W |
| PEAK OUTPUT CAPACITY | 1200W |
| COLOR | Black |
| DIMENSION ( W / H / D ) | 150mm(W) x 86mm(H) x 160mm(D) |
| WEIGHT | 1.8kg |
| PFC (POWER FACTOR CORRECTION) | Active PFC |
| POWER GOOD SIGNAL | 100-500 msec |
| HOLD UP TIME | > 16msec at 100% of full load |
| INPUT CURRENT | 15A max |
| INPUT FREQUENCY RANGE | 50Hz /60Hz |
| INPUT VOLTAGE | 100V – 240V~ |
| OPERATING TEMPERATURE | 0°C to + 50°C |
| OPERATING HUMIDITY | 20% to 90%,non-condensing |
| STORAGE TEMPERATURE | -20°C to + 70°C |
| STORAGE HUMIDITY | 5% to 95%, non-condensing |
| COOLING SYSTEM | 14cm hydraulic bearing fan |
| EFFICIENCY | Meet 80 PLUS®Gold at 115Vac input. |
| MTBF | 100,000 hrs minimum |
| SAFETY APPROVAL | CE/cTUVus/TÜV/FCC/BSMI/EAC |
| PCI-E 6+2PIN | 6 |