Page 2 »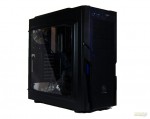 What qualities define a well-designed computer case? Is it the presence of sleek lines? What about a large windowed side panel? Perhaps it's the ability to manage your cables in the cleanest manner possible. There is no correct answer to this question, as everyone's idea of the perfect case is different. We're going to be looking at the Thermaltake Commander G41 to see exactly what qualities it possesses, and if it stacks up to the competition.

[sc:sponsor sponsor="Thermaltake" product_link="http://www.thermaltakeusa.com/products-model.aspx?id=C_00002302″ product_name="Commander G41″ product_price_link="http://www.newegg.com/Product/Product.aspx?Item=N82E16811133253″ product_price="$69.99″ ]
Over the past 15 years Thermaltake has become pretty well known for being one of the largest manufacturers of PC peripherals and accessories. In their 15 years they have produced countless PC chassis designs, some of which proved to be game changers that were ahead of their time. We can only hope that the Commander G41 follows in the footsteps of those that came before it which were so successful.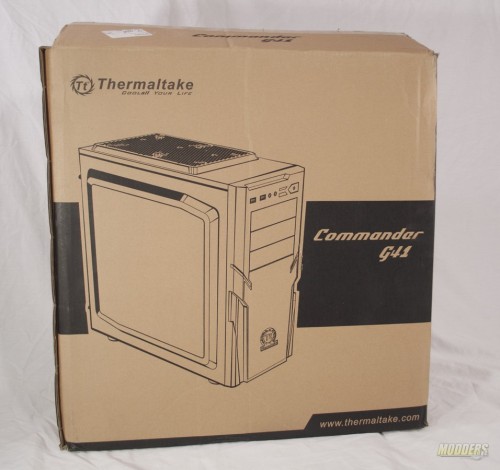 The Commander G41 comes in a brown cardboard box, which features no flashy colorful designs or anything of the sort. On the front of the box is a large graphic of the chassis with the product name, Commander G41, to the right. Down in the lower right corner is the Thermaltake Website.
 On either side of the box are all of the specifications and features of the Commander G41 chassis. As you can see from the above pictures, we're going to be looking at the windowed version of the Commander G41. Besides the obvious window, the differences between the two versions are almost non-existent. The non-windowed version allows two optional intake fans on the side panel, where as the windowed version has no side mount fan options.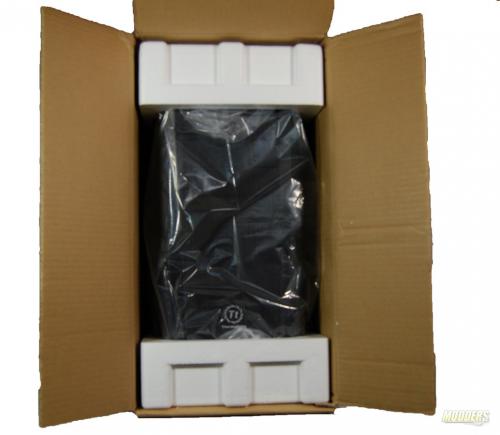 Opening the box shows that Thermaltake has packaged the Commander G41 very securely between two large pieces of Styrofoam. The case is wrapped in a plastic bag to ensure it's not scratched or nicked in it's journey to the end user.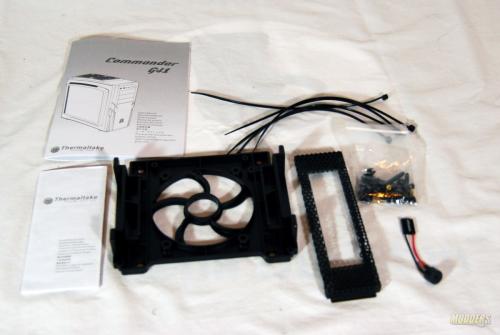 The accessory package for the Commander G41 is pretty small and features nothing special. As far as paperwork goes, they've included a user's manual and a warranty guide. Also a 3.5″ to 5.25″ bay adapter allowing you to install a fan controller or card reader in a 5.25″ optical drive bay. This is because there are no 3.5″ external bays on the Commander G41. There were also several zip-ties, a small bag of mounting screws as well as a case speaker.
Specifications