« Page 2
Final Thoughts of the Thermaltake eSPORTS Poseidon Z

While the Poseidon Z doesn't come with any software or flashy macro buttons or anything of that nature, it's still a very solid keyboard. Build quality is everything you would expect from Thermaltake, and their custom Blue Switch design seems to be right on point. In my time using the Poseidon Z I found that the tactile feedback is clear and noticeable as is the audible click on every key press. Not once did I notice any sort of ghosting or lost keystrokes. When using the Poseidon Z, I noticed that at no point did the LED black-lighting become too bright, and that there were enough brightness settings to make anyone happy.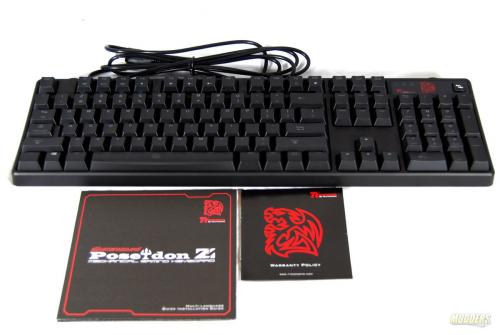 Thermaltake certainly has great faith behind the Poseidon Z as they are offering an amazing 5 year warranty, which has never been done on a mechanical keyboard before. Considering that you're getting that kind of warranty with the modest price tag of just $69.99 at the time of this review, it's hard to argue with the lack of extra features like macro keys.
In a market that is flooded with keyboards, it's often times hard to weed out the ones that are built to withstand the test of time. If you're using a Poseidon Z you should be at ease knowing that for the next 5 years you'll have full coverage should any of your keys die on you.
[sc:recommended_hardware_award ]