CES
Thermaltake Game with your MOD! at CES 2017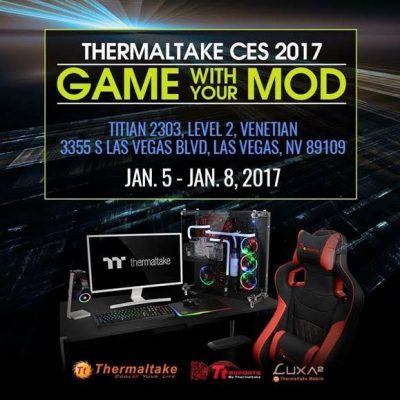 Thermaltake is the pioneer when it comes to the gaming station field especially in liquid cooling aspect. Together with Thermaltake Gaming – Tt eSPORTS, Thermaltake Mobile – LUXA2 will exhibit complete modding, gaming, and mobile total solutions at Thermaltake CES 2017 held at the Venetian Hotel Titian 2303 Suite from January 5th (Thu) to 8th (Sun). Celebrating Thermaltake's 18th anniversary this year, the theme for the event "Game with your MOD", positions Thermaltake as the go-to brand for PC modding and gaming total solution with our professional, innovative and technological skills.
"At Thermaltake CES2017, we will be enabling visitors to immerse themselves in Thermaltake gaming world and discover just how Thermaltake brands combine the gaming excitement with liquid cooling and air cooling hardware. Thermaltake stands for a combination of exclusivity, craftsmanship and gaming gear intelligence." says Kenny Lin, President & CEO of Thermaltake Group.
Thermaltake will be showcasing the first design collaboration with Watermod France-The Tower 900 E-ATX Vertical Super Tower Chassis in black and snow colors, which represent the ultimate in luxury, showcased to perfection by our design philosophy. Thermaltake and Watermod France have grown a state-of-the-art technological partnership to deliver this cutting-edge open frame gaming station Furthermore Thermaltake will be revealing an entire new and dedicated 6 stunning tempered glass (TG) chassis- the View 31 TG RGB Edition, Core X31/X71/P1/P3 TG Edition Open Frame Chassis, and the Suppressor F31 TG Edition. Thermaltake is also launching several stunning and colorful system parts to go with the tempered glass chassis- the Toughpower Grand RGB Gold Series (650W/750W/850W) & Smart Pro RGB Bronze Series (650W/750W/850W), the C1000 Opaque Coolant Black, and the Water 3.0 Riing Red/ RGB Series. 
Thermaltake CaseMOD Masterpieces by Three Top Modding Artists
Thermaltake, a leading brand in PC DIY market, will unveil the latest The Tower mods by well-known modders at CES 2017. Moreover, other eye-catching projects, such as Core P5 mods and Core P3 mods, will also be exhibited. In addition, three world's top modders – Stuart Tonks (Australia), Marc Molella (U.S.A) , and Mike Petereyns (Belgium)– have been invited to attend CES 2017 to present their modding creations. Game with Your MOD!

Further information from Thermaltake at CES 2017 is available on our dedicated CES 2017 website: http://ces2017.thermaltake.com/