Closer Look at Lumi Color 256C »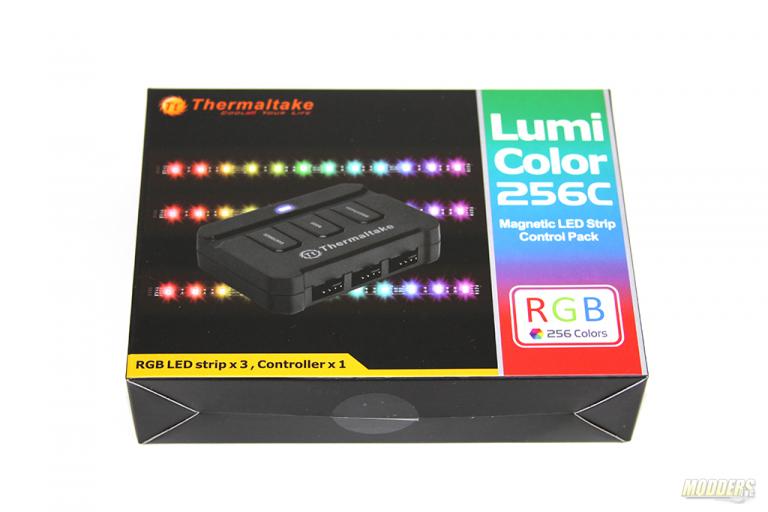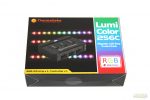 Every case mod starts with a design. Most of the designs we use today are somewhat based on lighting of the inner/outer of the case. Whether you are replacing stock fans in the case or building out a liquid cooling loop, you are going to need some kind of illumination to have it all stand out. There are numerous manufacturers that produce modding accessories to make your case shine like a Christmas tree however, what we all look for is "bang for a buck" and originality. Thermaltake offers the Lumi Color 256C as one possible lighting accessory option in these scenarios. Lumi is an LED based accessory that offers three strips of RGB LED's that could be attached to any metal surface via magnets or to everything else via adhesive strips.
Packaging 
The packaging of Lumi is pretty small however you do get a great understanding of what is inside. To give users a little bit of information, Thermaltake has included details of the contents on the back of the packaging.
Everything is straight forward without misleading information on the packaging here. The contents of the Lumi Color 256C are: 3 (12) LED RGB strips, Controller box, 3 LED connector cables, Velcro strip and manual guide.
Technical Specifications
P/N
AC-037-LN1NAN-A1
Weight
145g
Dimension
80 x 60 x 20mm
Form Factor
Slim Profile
Installation
Magnetic / 3M adhesive sticker
LED Color
RGB
LED Strip Length
30cm – 12 LEDs
Main Function
RGB LED Strip control box
Voltage (V)
12V
Accessories
RGB LED strip x 3
LED connect cable x 3
Power cable x 1
Velcros x 1