A Closer Look at the Thermaltake Console Headset »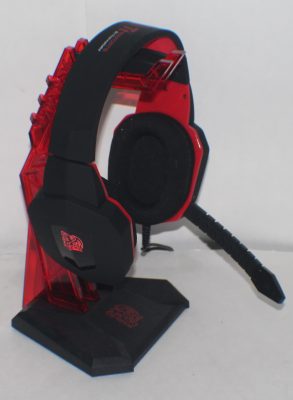 When it comes to getting the best experience from any game, there is usually one overlooked aspect and that is sound. Most will opt for a cheap set of speakers from their local department store. Sure, they produce sound (if you want to call it that….more like noise if you ask me). However once compared even to a mediocre headset, even the some of the best speakers seem to pale in comparison. A good headset can completely change the way you play games. You hear things that you have never heard before. Not to mention you can crank the volume with no complaints. With that, lets take a look at Thermaltake Technology eSports Shock Console Gaming Headset.
[sc:sponsor sponsor="Thermaltake/Tt eSPORTS" product_link="http://www.ttesports.com/Headset/194/SHOCK_CONSOLE/productPage.htm?a=a&g=ftr#.Vbls0vnrRmM" product_name="Shock Headset" product_price_link="http://www.amazon.com" product_price="$59.99″ ]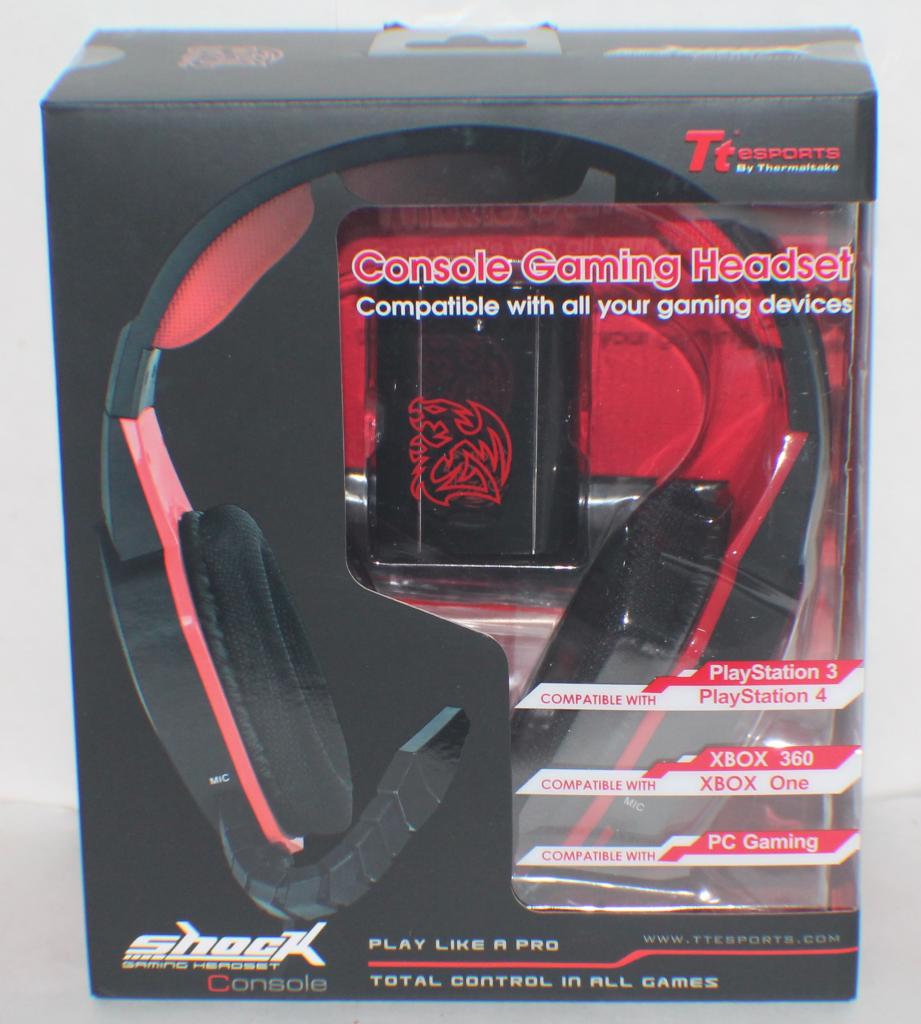 On the front of the package there is a large window so you can see a portion of the product. In the upper right hand side we have the Tt eSports Logo.Below that is a brief description of the product. Towards the bottom we have the list of devices the product is compatible with. At the bottom left we have the model of the product.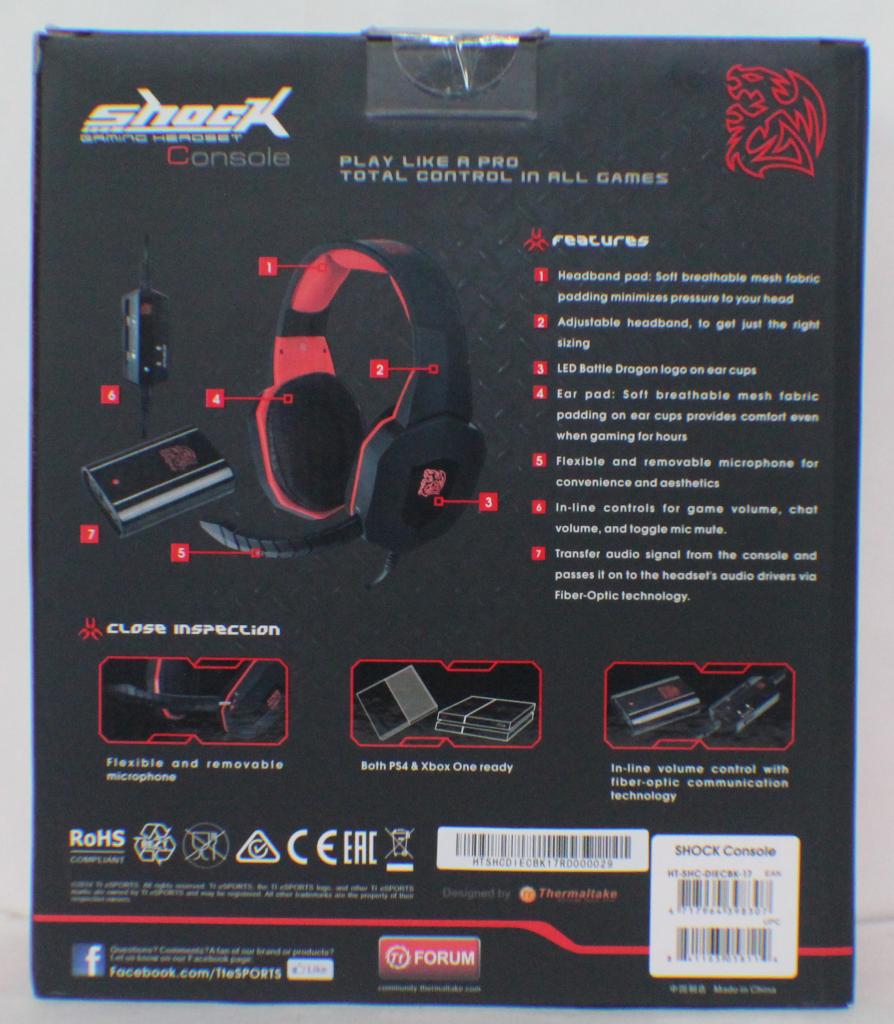 Around to the back we have the model in the upper left hand corner. The Tt Sports Dragon Logo on the upper right corner. Below that is an illustration of the product highlighting seven key features.
The side of the box has the Tt eSports, dragon logo and model at the top. In the middle are the technical specs. and the bottom has a brief description of the product in several languages.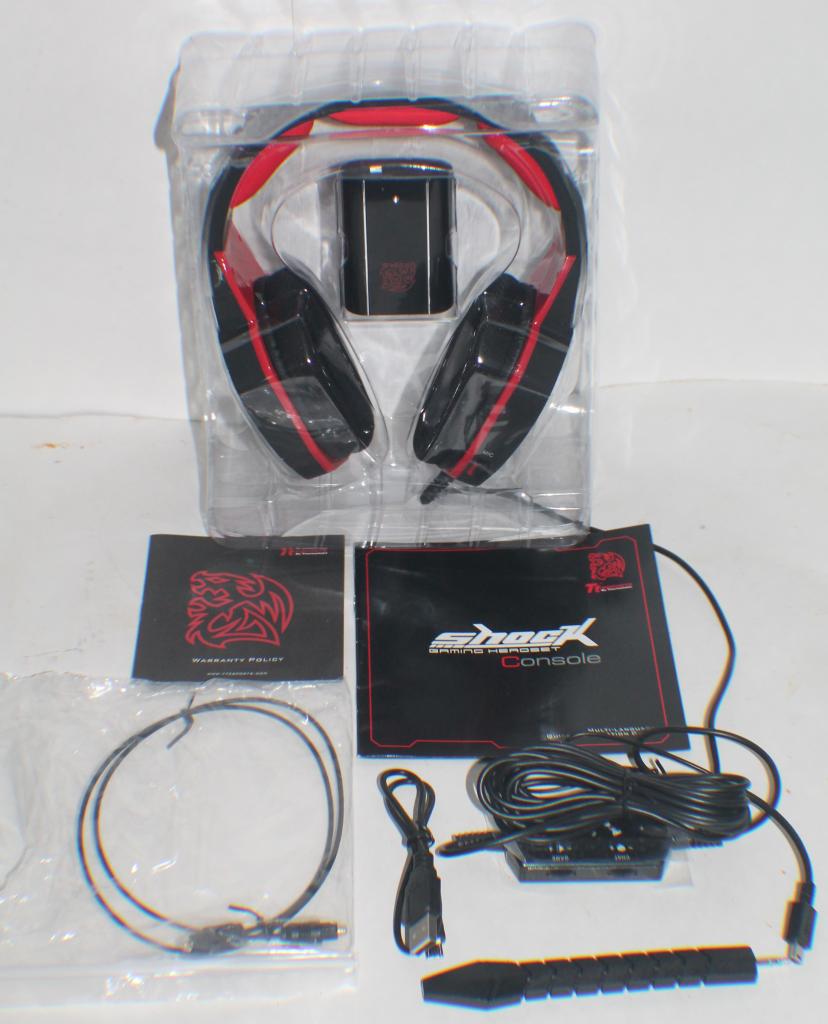 Once taken out of the box as well as the headset we have the warranty policy, owner's manual, an extremely long cable, a detachable microphone, the sound card, a USB cable, and an SPDIF optical cable.
Specifications
| | |
| --- | --- |
| COLOR | Black/Red |
| CONNECTOR | USB |
| PLATFORM | PC, MAC, XBOX ONE, XBOX 360, PS4, PS3 |
| DRIVER UNIT | 40mm |
| FREQUENCY RESPONSE | 20HZ – 20KHZ |
| MIC DIRECTIVITY | OMNI DIRECTIONAL |
| MIC SENSITIVITY | -52BD – 3DB |
| MIC FREQUENCY | 50HZ – 15KHZ |
| MIC IMPEDANCE | 32 OHM |
| SENSITIVITY | 98 – 3DB |
| AUDIP PLUG | YES |