Thermaltake's Poseidon Z mechanical keyboard has leveled up and now features a "Forged" edition featuring a sleek brushed aluminum faceplate and upgraded features. The $139.99 mechanical keyboard adds a set of five macro banks to the standard Poseidon Z ($89.99) as well as an on-board DAC amplifier for the audio pass-through port. The Tt eSPORTS Poseidon Z Forged is available in both blue and brown Tt Certified (Kailh) mechanical switches and has multimedia control functionality via function combo keys. For more information, check out the official press release below: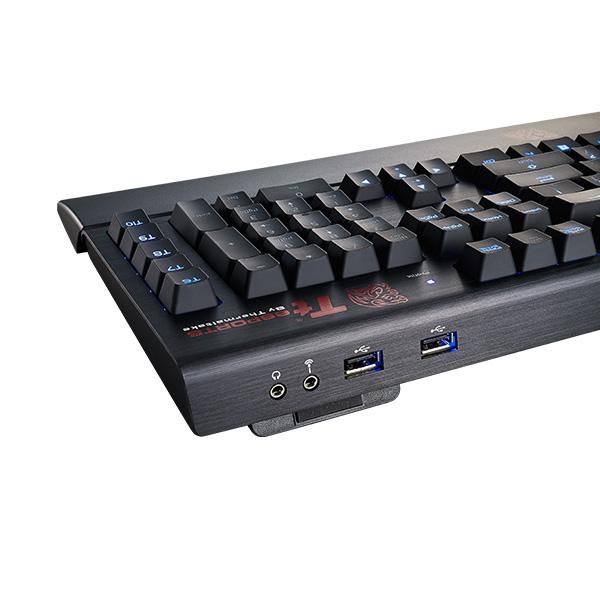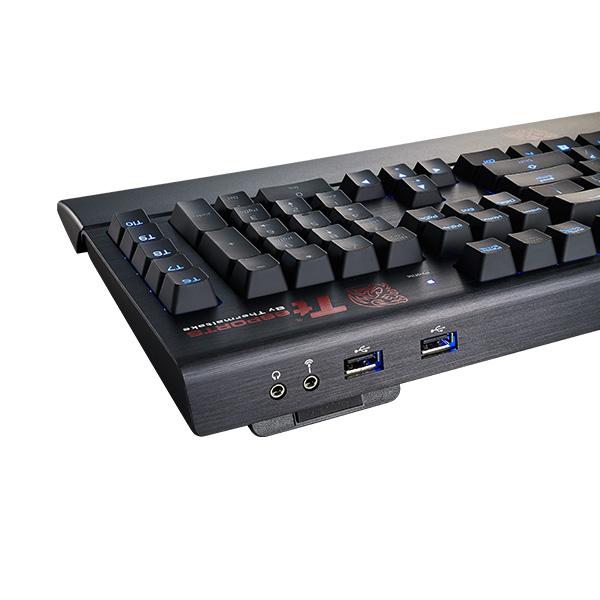 Specifications:
| | |
| --- | --- |
| Color | Black |
| No. of Macro Keys | 10 Key X 5 Set |
| No. of Game Profiles | 5 |
| Graphical UI | Yes |
| Weight | 3.26 Lbs |
| Gold-Plated USB | Yes |
| Dimension | 503 x 156.2 x 43 mm |
| Interface | USB |
| Mechanical Switches | Tt Certified Mechanical Blue or Brown |
| Anti-Ghosting Keys | Yes |
| On-Board Memory Size | Yes, 64kb |
| Polling Rate | 1000 Hz |
| Back-Light | Yes, Full Blue Backlight |
| Wrist Rest | Yes/detachable |
| On-Board Audio Jacks | Yes |
| USB Cable Detachable | Yes |
| Multimedia Keys | 7 |
| On-Board USB Port | 2 |
| Keystroke Lifecycle | 50 Million |
| Cable Length | 1.8M |
Tt eSPORTS Unveils the New POSEIDON Z Forged –
The Sleekest Aluminum Faceplate Mechanical Keyboard
Taipei, Taiwan – February 5, 2015 – Tt eSPORTS, the energetic and powerful challenger announces the launch of POSEIDON Z Forged mechanical gaming keyboard. The new POSEIDON Z Forged continues to provide gamers and fans a very cool customized gaming setup. This new keyboard is wrapped in an aluminum faceplate that gives a gorgeous sleek finish to the keyboard and with all the keyboards in the POSEIDON Z series, Tt eSPORTS continues to offer the world's first 5 year warranty for mechanical keyboards.
The POSEIDON Z Forged comes with both Tt certified blue & brown switches with full 104 key layout with blue lighting, features 10 additional macro keys for gaming efficiency, along with 5 profiles for a total 50 programmable macro on its normal mode plus another 5 extra profiles for game mode, this gives a spectacular total of 100 programmable macros for both normal and game mode. POSEIDON Z Forged also consist I.S.S. (Instant Shift System), allowing users to use either the Shift, Ctrl, or Alt key to quickly switch between macro groups and give immediate access to all 100 macro keys).
Tt Certified switches testing process for these mechanical switches was an arduous one, but these switches passed, result in a lifespan of up to 50 million key strokes. Furthermore, the all-new POSEIDON Z Forged is also designed to be used seamlessly with a built-in dual USB port hub and USB sound-card (DAC Audio Microcontroller Unit) with headphone and microphone jack.
The POSEIDON Z Forged also features 5 different adjustable brightness levels and with an additional pause-break lighting effect. In addition, 5 different pre-configured lighting zone combinations have also been designed for gamers' usefulness. Detachable USB cable also has been designed for easy storage and travel.
The New Tt eSPORTS POSEIDON Z Forged gaming keyboard with a suggested price of USD139.99
For more information on the POSEIDON Z Forged Mechanical gaming keyboard, please visit:
POSEIDON Z Forged (Blue Switch): http://www.ttesports.com/productPage.aspx?p=167
POSEIDON Z Forged (Brown Switch): http://www.ttesports.com/productPage.aspx?p=168
About Tt eSPORTS
Thermaltake is a well-known brand for gaming & DIY in Case, Cooler, and PSU for years. Due to the constant requests for keyboards and mice from gamers and end users, Thermaltake decided to create a series of gaming keyboards, mice, and headsets with the Tt eSPORTS brand. By using Tt eSPORTS, we want to extend our product lines into the gaming industry, and provide more "personalized gaming" gears to gamers and enthusiasts worldwide. With years of experience in gaming industry, Tt eSPORTS is committed to bring the most personalized and the highest quality weapons for the most competitive cyber battles. For more information, please visit www.ttesports.com.