Ventrilo, the premier group voice communication program used in tournaments and multiplayer games, returns to QuakeCon 2015 to sponsor the eighth annual 'Ultimate Power Up' sweepstakes. As part of the sweepstakes, one hundred lucky QuakeCon attendees will be entered into a drawing for their chance to be one of three randomly selected winners to each receive a $10,000 cash prize.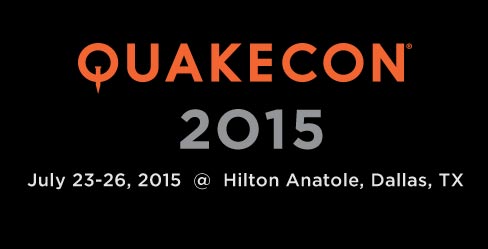 QuakeCon 2015, the ultimate video game festival, will take place on-site at the Hilton Anatole Hotel in Dallas, TX on Thursday, July 23rd through Sunday, July 26th. Doors to QuakeCon will open on Thursday, July 23rd at 10:00am and will remain open through 12:00pm on Sunday, July 26th.
"Once again, we're thrilled to welcome Brian Knapp and the amazing team at Ventrilo as official sponsors for the eighth annual QuakeCon sweepstakes where the world's most passionate gamers will have the chance to win a share of $30,000 in prizes," said Tim Willits, studio director at id Software. "As QuakeCon celebrates its 20th anniversary, we're thrilled to have the support of Ventrilo year after year. It's always really fun to have the opportunity to give back to the fans that continue to make this event possible every year."

"We're excited to return to QuakeCon this year and once again provide fans the opportunity to win their share of the 'Ultimate Power Up' prizes," said Brian Knapp, president of Flagship Industries. "For more than a decade our group voice communications technology has been connecting players together, and we're pleased to show our appreciation to the gaming community that has helped make Ventrilo what we are today."

The 'Ultimate Power Up' winners will be randomly selected on Saturday, July 25, as part of the QuakeCon tournament finals event on the Ventrilo Main Stage. A total of 100 coveted tickets will be awarded to attendees throughout each day of the show through QuakeCon contests, random drawings, and other events.
QuakeCon Exhibit Hall Hours are:
Thursday, July 23rd: 10am – 6pm
Friday, July 24th: 10am – 6pm
Saturday, July 25th: 10am – 6pm
The free event is open to general admission attendees thanks to the support of id Software and Bethesda Softworks, as well as the QuakeCon volunteer staff and the 2015 event sponsors and exhibitors.
To pre-register for QuakeCon today go to: registration.quakecon.org. For more information on QuakeCon 2015 visit www.quakecon.org.
QuakeCon Ultimate Power Up Rules:
QuakeCon 2015 registered attendees who are 18 years of age and older AND are legal residents of the United States, its territories and possessions and the District of Columbia are eligible to participate. No purchase necessary. A total of 100 raffle tickets will be distributed throughout the QuakeCon event. Additional information about contest rules, eligibility, restrictions and requirements will be available at www.quakecon.org.
About id Software
id Software, part of the ZeniMax Media Inc. family of companies, has provided technical, design and artistic leadership as a world-renowned game developer and technology innovator since its founding in 1991. id Software's iconic brands such as Wolfenstein®, DOOM®, QUAKE® and Enemy Territory® have become staples of popular culture for generations of gamers. More information on id Software can be found at www.idsoftware.com.  id, id Tech, Wolfenstein, DOOM, Resurrection of Evil, QUAKE, RAGE, Enemy Territory, and QuakeCon and related logos are registered trademarks or trademarks of id Software LLC in the U.S. and/or other countries.  All Rights Reserved.
About Bethesda Softworks
Bethesda Softworks, part of the ZeniMax Media Inc. family of companies, is a worldwide publisher of interactive entertainment software. Titles featured under the Bethesda label include such blockbuster franchises as The Elder Scrolls®, DOOM®, QUAKE®, Fallout®, Wolfenstein®, Dishonored®, Prey® and RAGE®.   For more information on Bethesda Softworks' products, visit www.bethsoft.com. Bethesda, Bethesda Softworks, Bethesda Game Studios, ZeniMax, The Elder Scrolls V: Skyrim, The Elder Scrolls IV: Oblivion, Dishonored and related logos are trademarks or registered trademarks of ZeniMax Media Inc. in the U.S. and/or other countries. Fallout is a trademark or registered trademark of Bethesda Softworks LLC. in the U.S. and/or other countries. All Rights Reserved.
All other trademarks and trade names are properties of their respective owners.
About QuakeCon
Often described as the "Woodstock of Gaming," QuakeCon is a four-day, non-stop celebration of games and the people who play them. Free to all and open to the public, QuakeCon 2015 will feature North America's largest Bring-Your-Own-Computer (BYOC) LAN party, drawings and contests with big cash prizes, exhibits with the latest games and hardware, and non-stop entertainment, parties and events. First created in 1996 by a group of friends on IRC and now going into its nineteenth year, QuakeCon remains true to its original mission as an event created by gamers, for gamers. Sponsored by id Software and other industry-leading software and hardware manufacturers, QuakeCon continues to be run by a dedicated group of volunteers, including an executive team with more than 75 years of combined experience producing the event.
About Flagship Industries
Flagship Industries Inc, located in Maryville, Illinois, was founded in 2003 to pursue the development and marketing of the Ventrilo product line which was originally started in the spring of 1999.  Due to its superior sound quality, reliability, scalability, user interface and ever evolving feature set, Ventrilo has become the preferred group communications tool.  More information can be found at www.ventrilo.com.
All other trademarks and trade names are properties of their respective owners.