VIPER™, a trademarked gaming brand of PATRIOT™ announced their VIPER ELITE II DDR4 PERFORMANCE MEMORY. The VIPER ELITE II inherits its successful design from the award-winning ELITE PERFORMANCE MEMORY series and continues to deliver unparalleled stability and overclocking potential to hardware enthusiasts and hardcore gamers. It is customized for the PC builder looking for an RGB-free performance-centric memory solution with a wide range of speeds and capacities.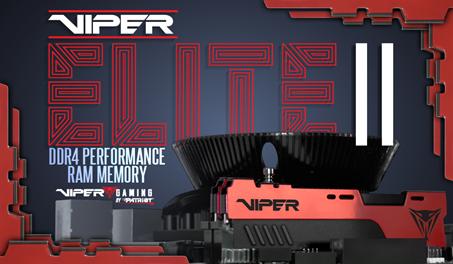 "The VIPER ELITE II is a sensible upgrade to our popular and award-winning VIPER ELITE series, and with it, we take everything back to the basics and essentials to how an excellent DRAM module should be built. For the VIPER ELITE II, we have focused on speed, capacity, and stability," said Roger Shinmoto, the Vice President of VIPER™. "These memory kits offer many options for gamers or content creators who are looking to escalate their system performance to the next level and still maintain a stealthy look inside their PCs."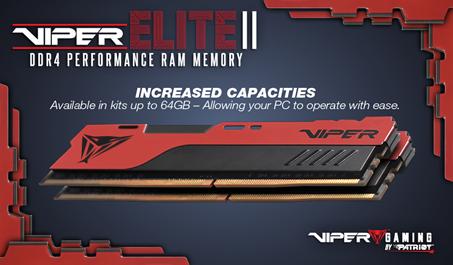 The VIPER ELITE II features a clean and stealthy new heat spreader design to showcase the VIPER™ brand elements. A military-grade aluminum heatshield wraps up the module to provide outstanding thermal performance and maintain system stability under the heaviest of loads. In addition, each module is built from a 10-layer PCB using only the highest quality hand-tested memory chips and components to ensure that each module meets VIPER™'s strict quality standards for excellent stability and reliability.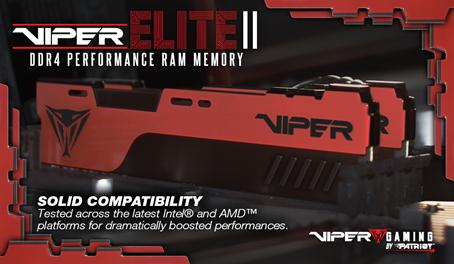 The VIPER ELITE II fully supports XMP 2.0 for profile-based automatic overclocking and is validated against the latest Intel and AMD motherboard platforms for compatibility.  Backed by a limited lifetime warranty, the VIPER ELITE II is now available in selected global retailers in both single module and dual kits with frequencies of 2666MHz/3200MHz /3600MHz/4000MHz and module densities of 4GB/8GB/16GB/32GB, offering a maximum kit capacity of 64GB (2x32GB).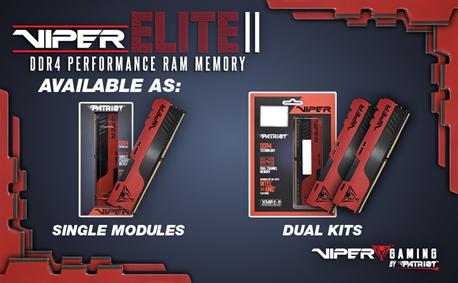 FEATURES:
Product line: VIPER ELITE II
Edition: Red heatshield with black VIPER™ signatures
Aluminum heat spreader with the unique and specific design element
Feature Overclock: XMP 2.0 support for automatic overclocking
Compatibility: Tested across the latest Intel/AMD platforms for reliably fast performance
Limited lifetime warranty
Availability
– Modules: https://amzn.to/3g24djG
– Kits: https://amzn.to/2Tlpjlp
For more information about VIPER ELITE II DDR4 PERFORMANCE MEMORY, please visit: https://bit.ly/3hWeyQX
See more about VIPER Products we have reviewed