Page 2 »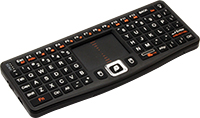 We are continuously finding new ways and new places to us PCs. These uses include home theater PCs (HTPC), small form factor PCs, heck even the Xbox One and the PlayStation 4 have been designed for more than just a gaming system. With the Xbox and PlayStation, a controller can be used but it can be a little bit of a pain for text entry and web browsing. A wireless keyboard and mouse for small form factor PCs and HTPCs is nice, but in the living room a large keyboard may be out of place.  How about a device that is smaller than a "typical" remote control and features a full QWERTY keyboard and mouse. Enter the VisionTek Candyboard Mini Wing Keyboard.
[sc:sponsor sponsor="VisionTek" product_link="https://www.visiontekproducts.com/index.php/component/virtuemart/mini-keyboards/visiontek-candyboard-mini-wing-detail?Itemid=0″ product_name="VisionTek CandyBoard Mini Wing Keyboard" ]
PRODUCT HIGHLIGHTS
Innovative "Full-Screen Scrolling" Touch Pad
Full QWERTY Keyboard with Hot Keys
2.4 GHz Wireless, allows you to navigate from 30 Feet away
Internal storage for RF receiver
Replaceable Li-ion Battery
LED Backlights ideal for low light environments
---
A Closer Look
The VisionTek CandyBoard Mini Wing Keyboard comes packaged in a clear and simple blister pack. You can easily see the product.
The whole kit for the VisionTek CandyBoard Mini Wing Keyboard is very simple. Included in the package is the keyboard, user manual, and USB charging cable.