« RX 5600 Gaming Tests
|
Conclusion and Final Thoughts »
Overclocking & BIOS update
Originally the RX 5600 shipped with a BIOS that limited the GPU to 150 watts. After the announcement and release of the RTX 2060 KO card, AMD released a new BIOS update that upped the allowed power to 160 watts and bumped the clock speeds from 1375 MHz to 1560 MHz on the game clock and 1560 MHz to 1620 MHz on the boost clock. Higer power limit equals more performance, or so that's the idea.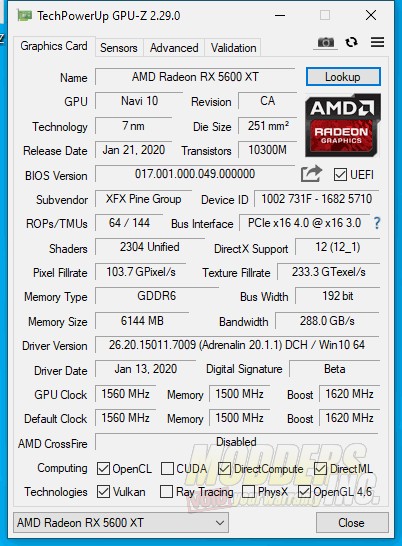 Here's the GPUz report with the new BIOS installed. You can see the base clock is reported at 1560 with the boost clock reporting at 1620.
I ran a loop of the Superposition benchmark to get the next bit of results.
You can see the BIOS that the card shipped with maxed out at 1599 MHz with an average reported by GPUz of 1540 MHz (I forgot to capture the avg. screenshot before the BIOS update) and the new BIOS averaged 1654 MHz in the loop. The max edge and hot spot temperatures didn't change that much between the two BIOS versions.
Overclocking yielded some really good numbers. On the original BIOS, I was able to push the card to 1660 MHz max with an average of 1620 MHz on the GPU and push the memory to 1600 MHz. On the new BIOS, I was able to get an average clock speed of 1731 MHz with a max hitting 1770 MHz on the GPU and the memory punched up a little higher to 1640 MHz.  Fan speeds were a little higher as well at 1561 RPM (old BOIS) and 2159 RPM (new BIOS) at similar temperatures. However, even at 1640 MHz on the memory side of the XFX GPU, it's still shy of the 1750 MHz that's required to hit the 14 GB/s specification published.