Article Index: >>
Page 2 »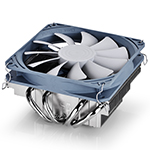 With the availability of smaller and faster components, we constantly push the limits on what components we can stuff into small computer systems. The mini ITX form factor for example, is sized by the motherboard which comes in a 17 cm x 17 cm. Take a  Haswell CPU and you've got a pretty powerful portable gaming rig. But, how do you cool it? The Haswell CPUs run hot, especially the i7 series. The stock Intel cooler maybe able to keep that CPU under the maximum temperature set by Intel. I want a little more cooling. Many vendors have mITX cooling solutions.
Deepcool brings to the table the Gamer Storm Gabriel. Deepcool is a new comer to the US market but not to the cooling industry. Deepcool has been in business since 1996 and provides cooling solutions not only to the consumer but to the Chinese government as well. The Gamer Storm Gabriel is a low profile 120 mm cooler that boasts the power to cool down 100 watt TDP CPUs.
Review Sample Provided by: Deepcool
Product Name/Link to Website: Deepcool Gamer Storm Gabriel
Product was given in exchange for work done to produce this review.
Intel Socket
AMD Socket
LGA1156/LGA1155/LGA1150      95W
FM2/FM1/AM3+/AM3/AM2+/AM2/940/939/754              100W
Core i7/i5/i3
Pentium G
FX X8/X6/X4
A10/A8/A6/A4
Phenom II   X4/X3/X2
Phenom X4/X3
Athlon II X4/X3/X2
Athlon X2
Athlon /Athlon FX
Business Class
Sempron
| | |
| --- | --- |
| Overall Dimension (Without Fan) | 120X118X40mm |
| Overall Dimension (With Fan) | 120X120X60mm |
| Net Weight | 426g |
| Heatpipe | 4X6mm  Heatpipe |
| Fin Material | Aluminum |
| Base Material | Copper |
| Fan Dimension | 120X120X20mm |
| Fan Speed | 900±150-1800±10%RPM |
| Rated Current | 0.21±10%A(MAX) |
| Power Input | 2.52W |
| Max. Air Flow | 61.93CFM |
| Noise | 18.2~32.4dB(A) |
| Rated Voltage | 12VDC |
| Operating Voltage | 10.8~13.2VDC |
| Starting Voltage | 7VDC |
| Bearing Type | Hydro Bearing |
Article Index: >>
Page 2 »