« Page 5
 Conclusion
First off, I want to mention the fan. The fan on the Deepcool Gamer Storm Gabriel is super quiet, even when I cranked the fan speeds up to 100% the noise was hardly noticeable. While I don't have any hard numbers to give you, I can say that with the PWM fan controls on during the test, I did not notice the fan noise at all.  This fan can push an impressive amount of air for a 120 mm x 20 mm fan spinning at 1800 RPM. The curved blade design helps make sure airflow is directed towards the cooler and components located around the CPU socket.
Installation of the Deepcool Gamer Storm Gabriel was simple and went very smooth. Trying to reach around the back of the motherboard while keeping the cooler lined up proved a little bit of a challenge but with a little patience it can be done. Not the most complicated install I have ever done by any means.
Cooling performance of the Deepcool Gamer Storm Gabriel was good in comparison to some of the other low profile coolers available on the market. All coolers except for the Intel stock cooler were able to keep the CPU from reaching the maximum temperature while the stock cooler held right at the limit.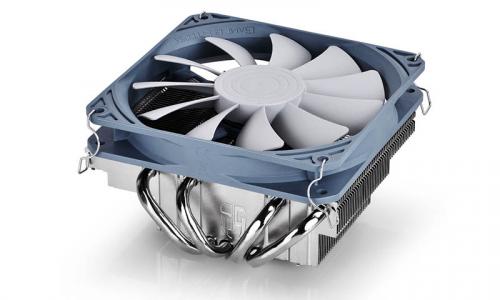 Deep Cool's experience with their cooling solutions in China has filtered down to the consumer level. The cooler was very quiet at idle and was able to maintain a sound level that is most appropriate in a HTPC environment especially if it happens to be 10 to 15 feet away. Deep Cool has a good product with the Gabriel low profile CPU cooler however, I have yet to find it at a retailer in the US. MSRP of the Deepcool Gamer Storm Gabriel, according to Deep Cool is $40.00.
Due to the fact the Deepcool Gamer Storm Gabriel is not (yet) available in the US we give the Deepcool Gamer Storm Gabriel "Approved Award"
[sc:approved_award ]