Keyboards
1St Player MK6 Bullet Hunter Keyboard
Slick, Mechanical, RGB at an Affordable Price
« Introduction and Packaging
|
Disassembly and Modding Options »
Layout and Feature Overview
Bullet Hunter has a full size 104 key layout with four media keys on the top right and a volume control knob. The back of the keyboard has a plastic base while the top has an aluminum plate.
The dimensions of MK6 are 438x136x36 mm and weighs about 1Kg. The entire keyboard is supported by glued rubber feet. The extended feet are made from rubber material as well to provide maximum stability on the flat surfaces.
Keys are made from ABS plastic and are laser engraved. All of the keys have a standard height of 10 mm. The spacing between each key is standard as well. To help with RGB functions 1St Player included macro designations on INS, HOME, PgUp etc keys.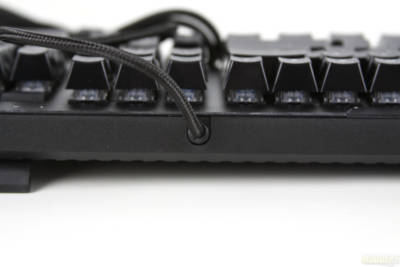 The MK6 Keyboard is connected to the computer via a USB 2.0 cable. The cable is braided nylon with copper a USB 2.0 connector. This cable is about 6 feet long and non-detachable from the keyboard.