It is now time to vote for your favorite mods in Thermaltake's 2016 CaseMod Invitational Season 1. Users who vote and participate of course are eligible for some pretty awesome gear including a Core P5 wall-mountable chassis, Tt eSPORTS Poseideon Z RGB Gaming keyboard and more! Eleven modders from all over the world were invited to compete in this season but this time, a championship match has also been added between the winners of the first two Thermaltake CaseMod Invitational. Jesse Palacio of the Philippines and Suchao Prowphong of Thailand are facing off head to head to see who will take home the first 2016 Modding Fighting Championship crown.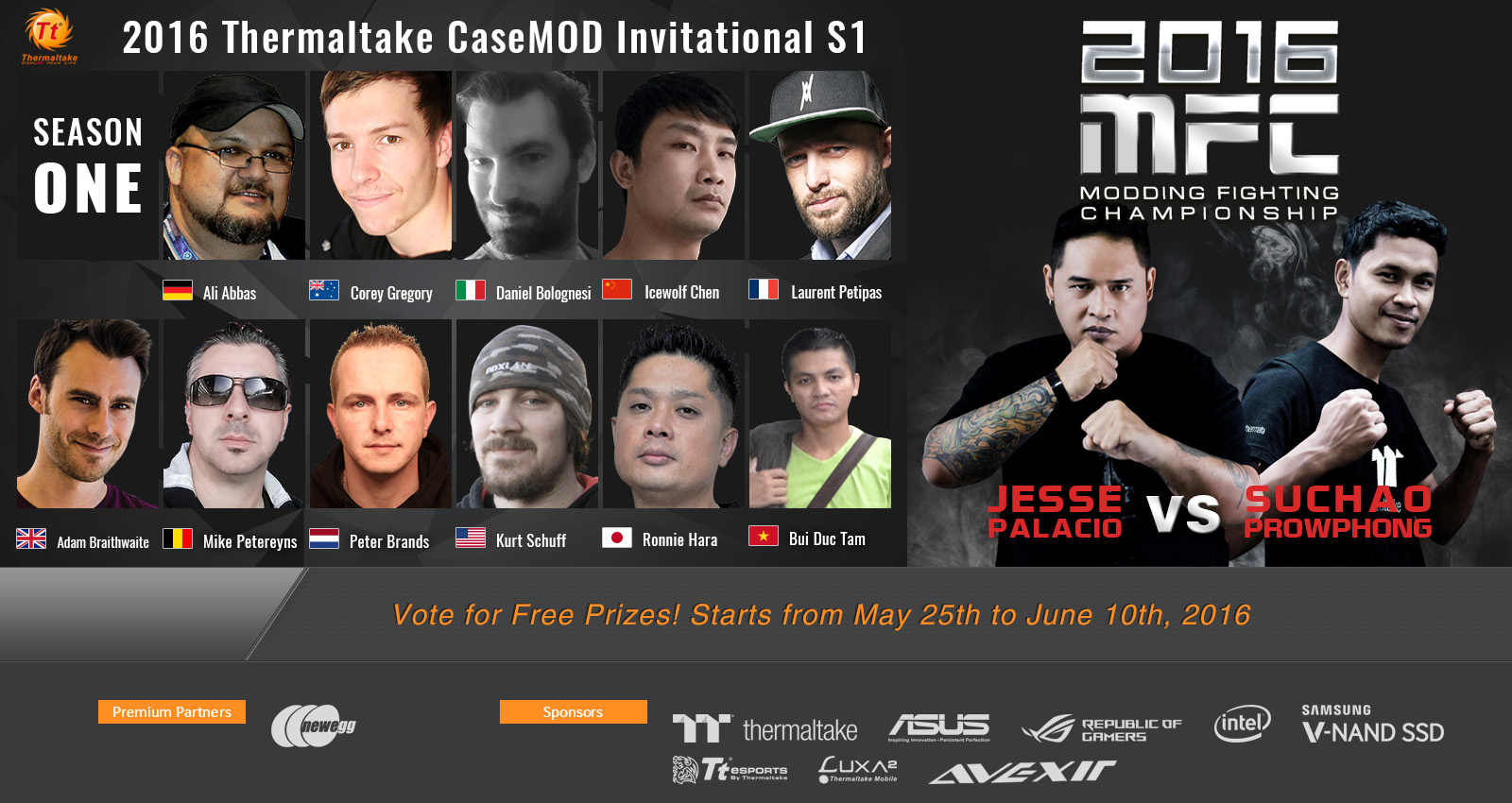 2016 Thermaltake CaseMOD Invitational Season 1 Voting Event Now Live! Vote for Your Favorite Modder and Win Cool Prizes

Taipei, Taiwan-May 25th , 2016-Thermaltake, a leading brand in CaseMOD community and a beloved brand among PC enthusiasts, together with its premium partner Newegg Inc. are holding the biggest modding event of the year, the 2016 Thermaltake Case MOD Invitational Season 1. To bring even more enjoyment to PC enthusiasts, Thermaltake has added an ultimate modding contest called Thermaltake 2016 Modding Fighting Championship (MFC) this season.  As both modding competitions near its end, it is time to elect the winner of the year.
From May 25th until June 10th, the voting event will be held at the Tt Community (http://community.thermaltake.com/). To vote for your favourite modder, simply place your vote in the voting thread. Once the vote is done, you will have the opportunity to win incredible prizes from Thermaltake and other sponsors. Weekly prizes include Core P5 Open Frame ATX Wall-Mount Chassis, Toughpower DPS G RGB 850W Gold Smart Power Supply, Water 3.0 Riing RGB 360 All-In-One Liquid Cooling System, TteSPORTS POSEIDON Z RGB Gaming Keyboard, TteSPORTS Level 10M Advance Gaming Mouse and LUXA2 PL2 6000mAh Leather Power Bank.
WEEKLY PRIZES:
Vote for Your Favorite Modder to Win the Listed Prizes Each Week:
Vote Now – http://casemod.thermaltake.com/2016s1/vote.html
Rules and Prizes for 2016 MFC – http://casemod.thermaltake.com/2016s1/rules_prizes_mfc.html
Rules and Prizes for 2016 CaseMOD S1 –
http://casemod.thermaltake.com/2016s1/rules_prizes.html