Page 2 »
The new USB 3.0 standard is becoming one of the common options found on the newer motherboards coming out. For those of us that are not quite ready to upgrade our motherboard; there are options out there to allow you to take advantage of the USB 3.0 with your older configurations. Today we are going to take a look at one of those options for laptop and netbook users, the 500 GB SuperSpeed USB 3.0 2.5″ External Hard Drive Geek Kit provided by Geeks.com.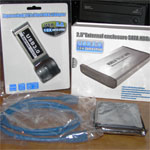 Sponsor: Geeks.com
[hr]
  If you do a lot of large file transfers (backups, videos, music, and so forth) from your PC to a USB storage device. You might find that it would be worth the extra cost of updating to a USB 3.0 setup. No matter if your on a standard PC with PCI slots, a slightly newer PC with PCI-E slots, or a Netbook / Laptop you can upgrade to USB 3.0 fairly easily. All you need to do is figure out which method you want to use. You can pick up a PCI or PCI-E SuperSpeed USB 3.0 2 port adapter card, or you can go for one of the Express Card options like we are going to look at today with the Geek Kit.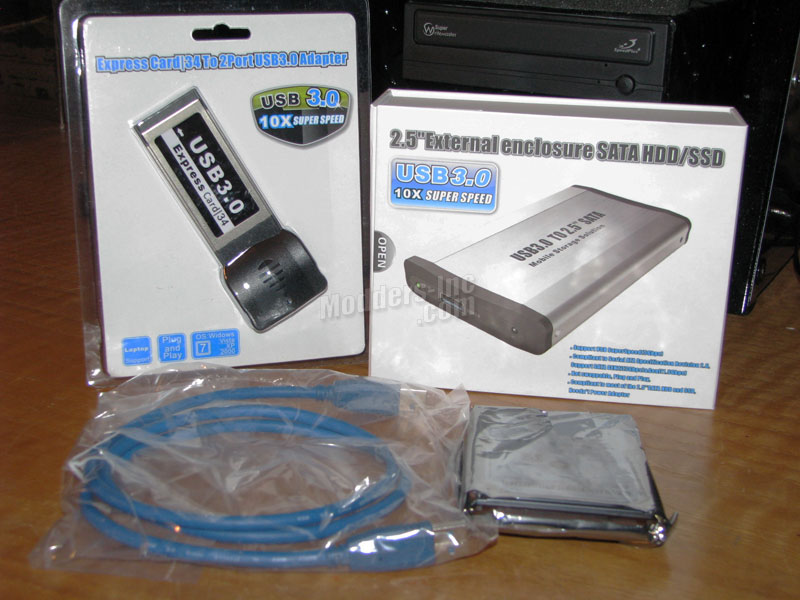 As we can see in the above photo. The 500GB SuperSpeed USB 3.0 2.5″ External Hard Drive Geek Kit comes with a USB 3.0 2-port Express Card, a USB 3.0 2.5″ External Hard Drive Enclosure, a USB 3.0 Cable, and a Samsung SpinPoint M7 HM500JI 500 GB SATA 2.5″ Hard Drive.
Geek Kit

Express Card
Enclosure
Hard Drive
Cable
—————–
$89.50

Individual

Express Card $23.99
Enclosure       $19.99
Hard Drive     $54.99
Cable             $14.99
—————————
$113.96
  Looking at the math above, we can see that the Geek Kit from www.Geeks.com does save you some money. Granted the cable I have priced individually is actually a 6′ cable rather than the 3′ like the kit shows. Even without the cable added in, you would still be saving 10%.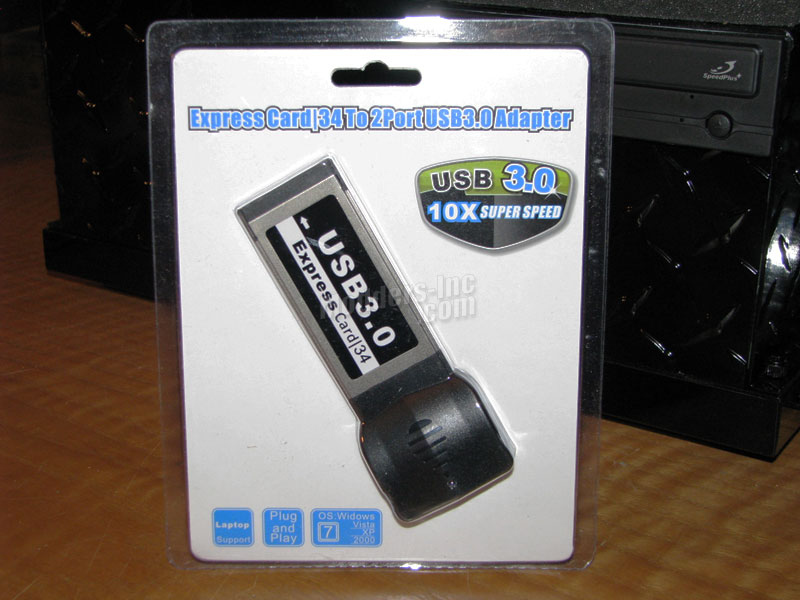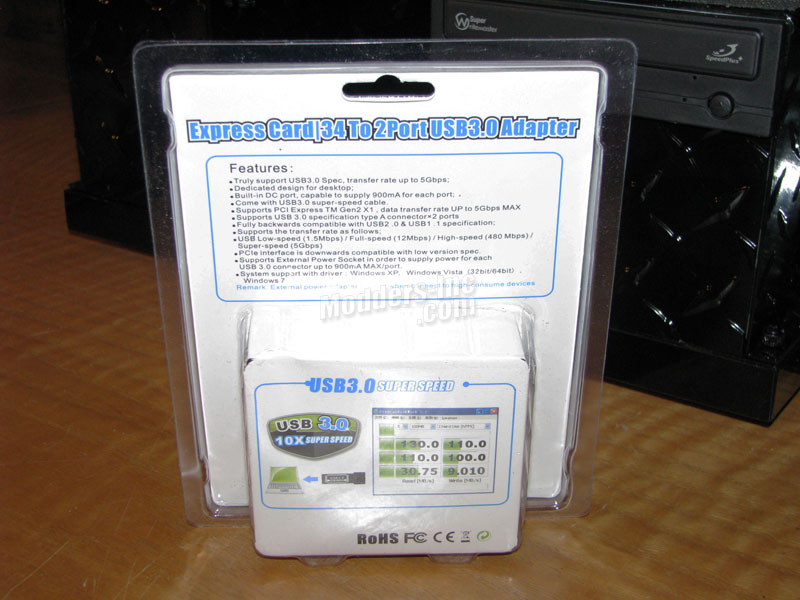 Taking at look at the express card, we can see its a packaged in a blister pack (man I hate trying to open those). On the back side we will find the full list of features it offers.
Express Card Features:
Truly support USB3.0 Spec. transfer rate up to 5Gbps.
Dedicated design for desktop.
Built-in DC port, capable to supply 900mA for each port.
Supports PCI Express TM Gen2x1, data transfer rate UP to 5Gbps MAX.
Supports USB 3.0 specification type A connector x 2 ports.
Fully backwards compatible with USB2.0 & USB1.1 specification.
Supports the transfer rate as follows:

Low-speed (1.5Mbps)
Full-speed (12Mbps)
High-speed (480Mbps)
Super-speed (5Gbps)

PCIe interface is downwards compatible with lower version spec.
Supports External Power Socket in order to supply power for each USB3.0 connector up to 900mA MAX.
System support with driver : Windows XP, Windows Vista (32bit/64bit), Windows 7.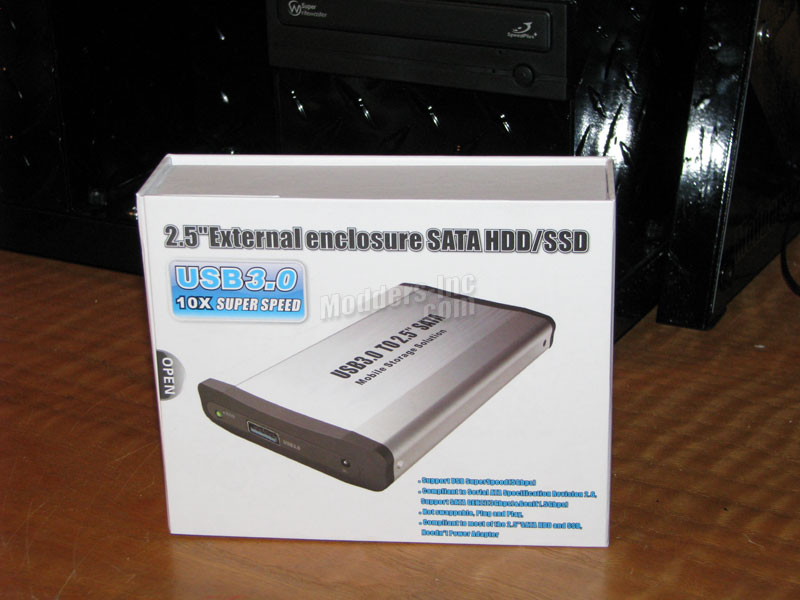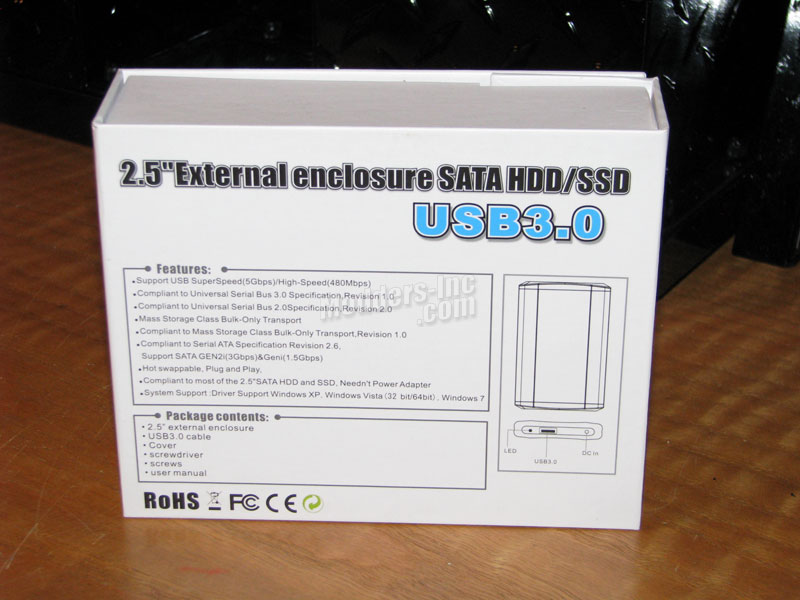 The 2.5″ USB External Hard Drive Enclosure comes packed in a retail box listing the main features on the front. Flip the box around we find a full list of features and specifications.
Hard Drive Enclosure Features:
Support USB SuperSpeed (5Gbps) / High-Speed (480Mbps).
Compliant to Universal Serial Bus 3.0 Specification, Revision 1.0.
Compliant to Universal Serial Bus 2.0 Specification, Revision 2.0.
Mass Storage Class Bulk-Only Transport.
Compliant to Mass Storage Class Bulk-Only Transport, Revision 1.0.
Compliant to Serial ATA Specification, Revision 2.6:

Supports SATA Gen 2(3Gbps) & Gen 1(1.5Gbps).

Hot swappable, Plug and Play.
Compliant to most of the 2.5″ SATA HDD and SSD, Power Adapter Not Needed.
System support: Driver Support Windows XP, Windows Vista (32bit/64bit), Windows 7.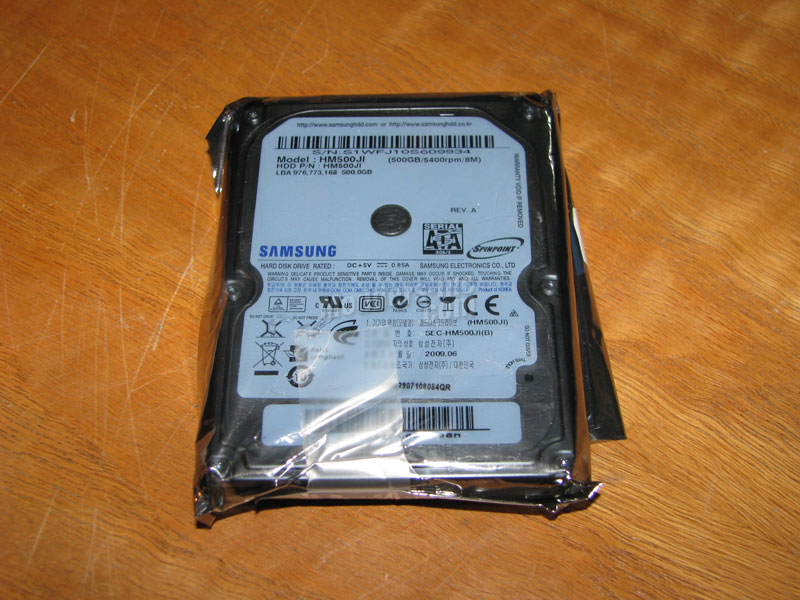 The Samsung 500GB Hard Drive comes packed OEM style. Rest assured though, everything comes very well packed in a thick black box to ensure none of the components receive any damage during shipping.
Hard Drive Features:
500 GB capacity
SATA interface
3 Gbps transfer rate
5400 RPM
8 MB buffer
Lead-free
2.5-inch form factor
9.5 mm drive height
ATA S.M.A.R.T. feature set
ATA security mode feature set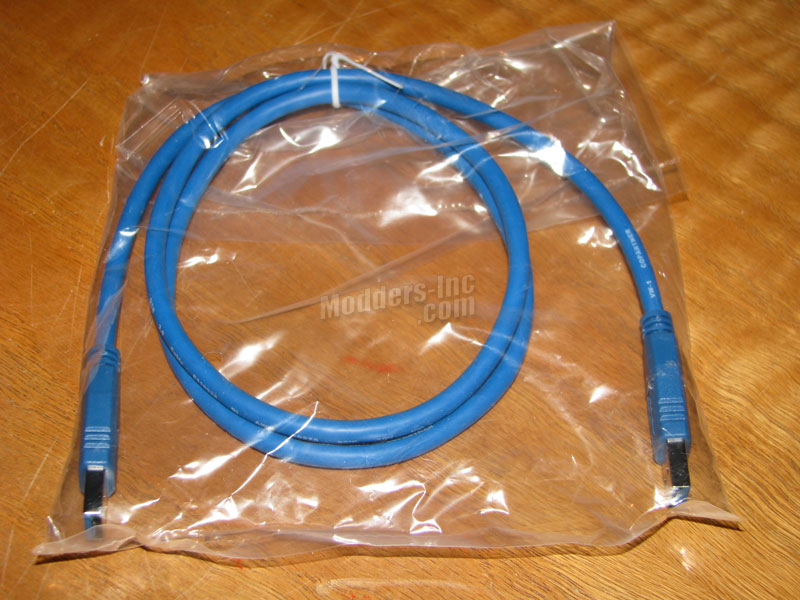 And last but surely not least we have the 3′ USB cable. Not much we can say about this is there?
USB Cable Features:
Connectors: SuperSpeed USB Type A male to SuperSpeed USB Type B male
Nickel-plated connectors provide optimal/error-free data transfer and resist corrosion
Shielded twisted-pair data wiring to minimize crosstalk and allows error free high-speed data transfer rates up to 4.8Gbps
Dual heavy-duty 28AWG power wires ensure proper power current to USB device
Supports data transfer rates of up to 4.8 Gbps & 100% backward compatible with USB 2.0 & 1.1 systems (supports SuperSpeed USB devices only)
Double-shielded, aluminum/mylar-foil wrapped cable with PVC jacket ensures maximum data speed and no data loss
Length – 1 meter (approx. 3 feet)