« Introduction
|
Conclusion and final thoughts »
Assembly of the AKRacing Player gaming chair is pretty straight forward and does not take very long. The first step it to assemble the base of the chair. To do this, the first thing that needs to be done is to insert the wheels into the ends of each of the spokes.  Then take the gas lift and insert it into the center hole. Finally, place the plastic telescoping cover over the gas lift.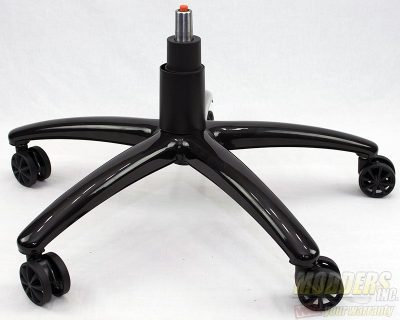 Next up is to assemble the base and the back of the chair.  First, you will need to remove the Allen head screws from the side of the chair. Then align the base and the back as shown and insert the previously removed screws and tighten with the included Allen wrench.
Once both sides of the base and back of the chair have been secured, it is time to install the plastic covers over the hinges. Use the two longer screws that were included in the kit to secure the left cover and the single shorter screw to attach the cover to the right side.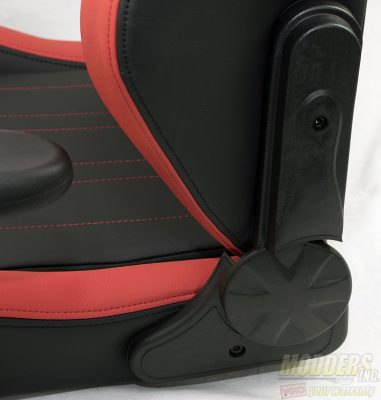 To attach the chair controls, the instructions say to use the lever on the right side of the chair and lay the back as flat as you can then flip it over. Again, you will first have to remove the Allen head screws from the center section of the chair. Then place and secure the controls. There are markings on the controls to indicate which direction should face the front of the chair.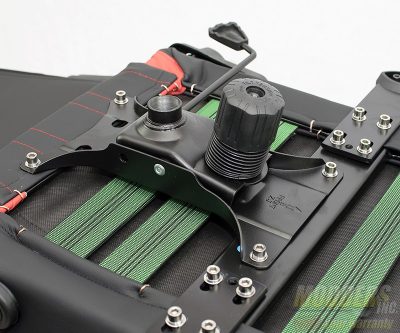 At this point, all you need to do is insert the gas lift into the hole in the chair controls and you have assembled the AKRacing player gaming chair. Add the optional pillows and you're all set.