PC News, Hardware, Software
Antec Announces Mercury Series AIO Liquid CPU Coolers
Extreme & Powerful All-In-One Performance Liquid CPU Cooler
Antec has just announced their newest generation of all-in-one CPU coolers – the Mercury series. This new series is available in three sizes (120, 240 and 360) and includes an RGB variant of all three sizes.
The new Antec Mercury CPU Cooler Series is engineered to keep the CPU cool for up to 50,000 hours. Manufactured with high-quality components, the products are proven to last at least five years – a benchmark of quality that surpasses the standard also backed by the Antec five-year warranty period. The Mercury models are equipped with non-lubricated graphite bearings and a durable ceramics axis in a carbon-metal construction. The radiator features an arrangement of high-density 16 FPI (fins per inch) to achieve a cooling performance perfectly suitable for any enthusiast's needs. Ideally spaced at 2.8 mm, the fins allow for cool air to pass through efficiently.
All Mercury models are built around a new sealed and silent pump, which consists of a three-phase motor promoting a rapid liquid circulation, helping the CPU to keep cool while it is being pushed to its limits. The pump features a high coolant pressure (2.3m water pressure; flow rate of 3.5 l / minute) & lower-fan noise. The Mercury is easily set up via plugging into a 3-Pin motherboard connector and SATA power (through an included adapter cable).
The pump-block on the standard Mercury versions feature three LEDs, which indicate coolant temperature. Blue indicates <48°C, green indicates 49-60°C, and red indicates >60°C.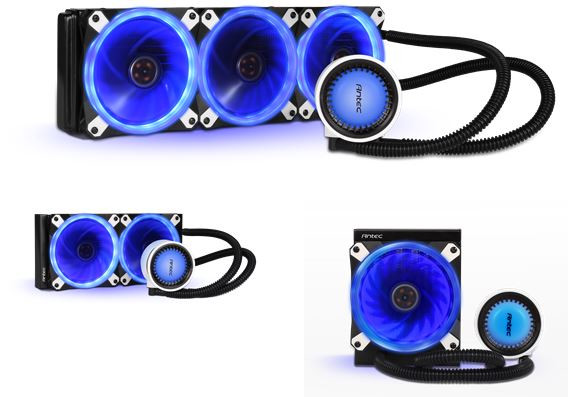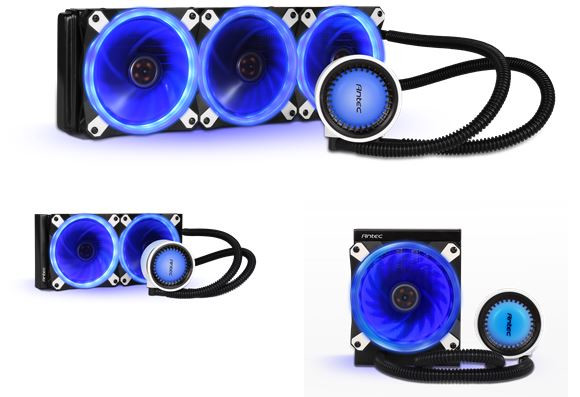 The Mercury RGB series works in perfect harmony with ASUS Aura Sync – simply plug into the RGB header on an ASUS Aura-enabled motherboard to access a world of color and control schemes for endless variety.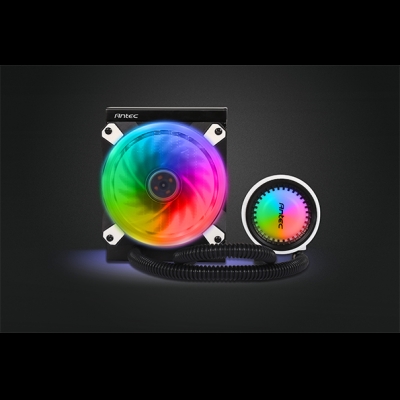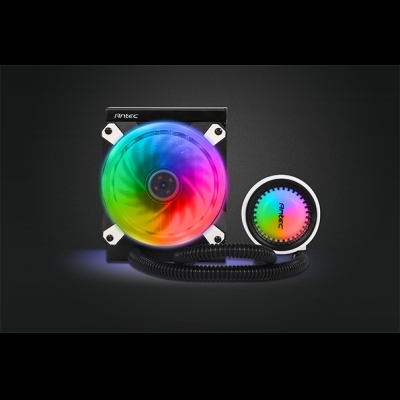 Antec Mercury Features
Powerful pump delivers a water pressure of 2.3 meters high
Ultra-efficient, PWM radiator fans
Ceramic axis + graphite bearings increase the operational lifespan of the Mercury series
Tubing coated with Teflon for increased durability
Antec Mercury Specifications
| | | | |
| --- | --- | --- | --- |
| Item | Mercury 120 | Mercury 240 | Mercury 360 |
| Fan Dimensions | 120 x 120 x 25mm | 120 x 120 x 25mm | 120 x 120 x 25mm |
| Fan Speed | 900 – 1800 RPM ± 10% | 900 – 1800 RPM ± 10% | 900 – 1800 RPM ± 10% |
| Fan Airflow | 73.31 CFM | 73.31 CFM | 73.31 CFM |
| Noise | ≤ 30 dBA | ≤ 30 dBA | ≤ 30 dBA |
| Fan Static Pressure | 2.25 mm-H20 | 2.25 mm-H20 | 2.25 mm-H20 |
| Fan Connector | 4-pin | 4-pin | 4-pin |
| Fan Power Consumption | 3.6 W | 3.6 W | 3.6 W |
| Radiator Dimensions | 154 x 119 x 27 mm | 274 x 119 x 27 mm | 394 x 119 x 27 mm |
| Radiator Material | Aluminum | Aluminum | Aluminum |
| Pump Lifespan | 50,000 hours | 50,000 hours | 50,000 hours |
| Pump Connector | 3-pin or SATA power | 3-pin or SATA power | 3-pin or SATA power |
| Pump Power Consumption | 5.4 W | 5.4 W | 5.4 W |
| Flow Rate | 3.5 L/Min | 3.5 L/Min | 3.5 L/Min |
| Sock Compatibility | Intel LGA775,LGA1150, LGA1151,LGA1155 LGA1156 LGA1366 LGA2011, LGA2066 AMD AM2 AM3 , AM2+, AM3+, AM4, FM2 | Intel LGA775,LGA1150, LGA1151,LGA1155 LGA1156 LGA1366 LGA2011, LGA2066 AMD AM2 AM3 , AM2+, AM3+, AM4, FM2 | Intel LGA775,LGA1150, LGA1151,LGA1155 LGA1156 LGA1366 LGA2011, LGA2066 AMD AM2 AM3 , AM2+, AM3+, AM4, FM2 |
| Warranty | 5 Years | 5 Years | 5 Years |