PC Water Cooling
Cooler Master Masterliquid ML280 Mirror AIO
Infinity Mirror Top
With the ever-growing list of All-In-One (AIO) CPU coolers to choose from it has almost come down to two things that you look at when making your purchase. These two factors are Options and Price. The Cooler Master Masterliquid ML280 Mirror just might fit both of those. Of course, I can hear you saying "I buy for cooling performance!" as do a lot of people, but most AIO cooling solutions are pretty darn close to each in this category. That is why I think that the average person is looking at, does it look cool, and how much it will cost me.  Be sure to watch the video to get all the option info and details on performance.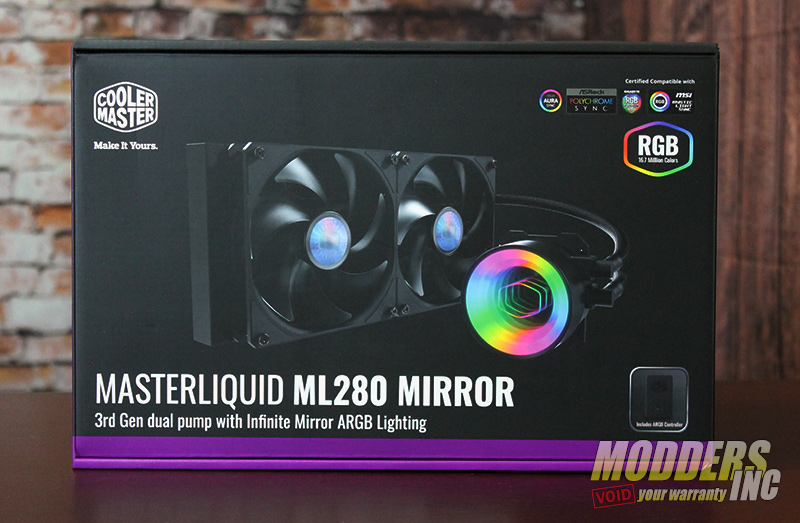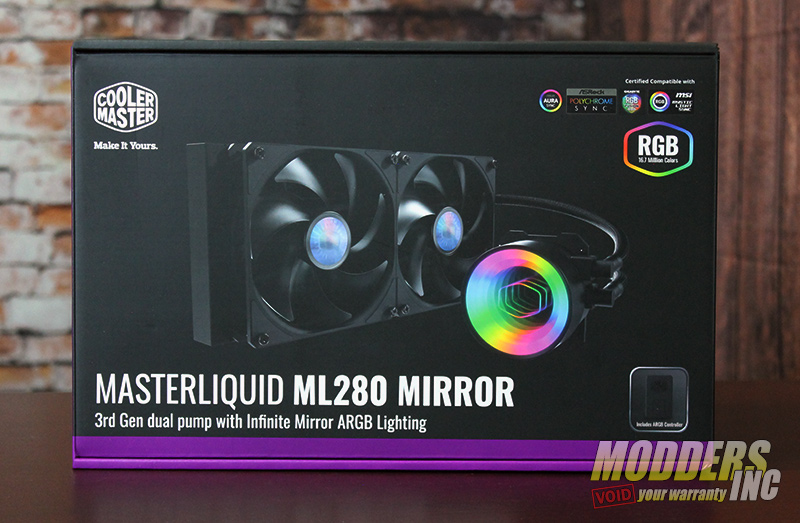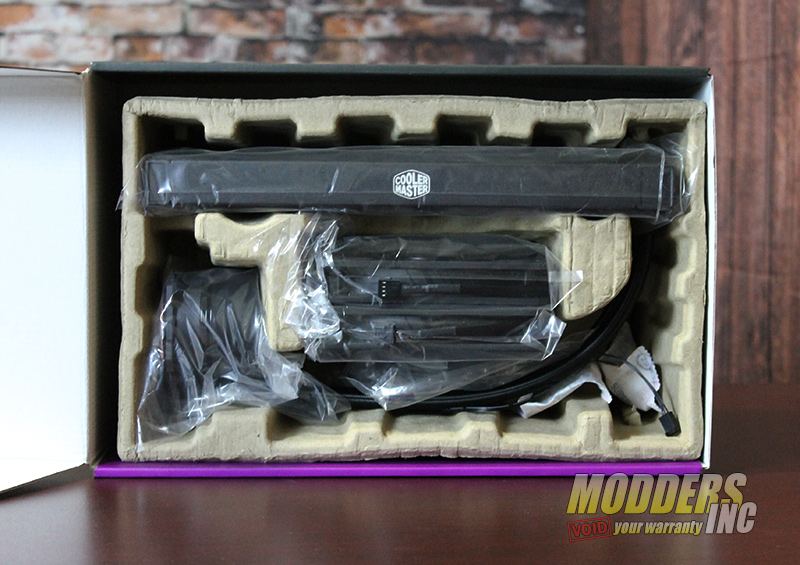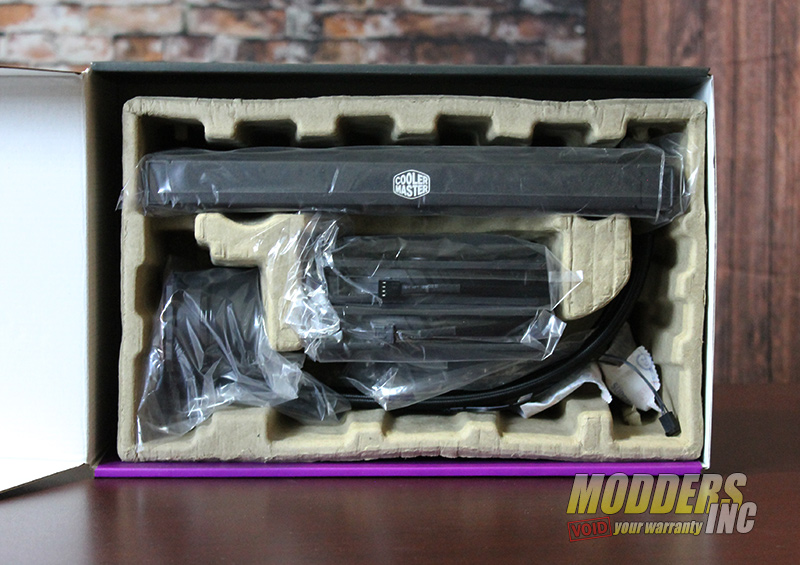 A closer look at the Cooler Master Masterliquid ML280
Out of the package and just a few moments to install the fans and to power it up we can see that the Cooler Master ML280 (which also has siblings of the 240 and 360 size in the Mirror family) is your basic AIO setup and is matte black in color. So why is it called Mirror you ask, I shall tell you. On the top of the pump assembly, Cooler Master has put an Infinity Mirror with ARBG lighting to make it different from the AIO crowd.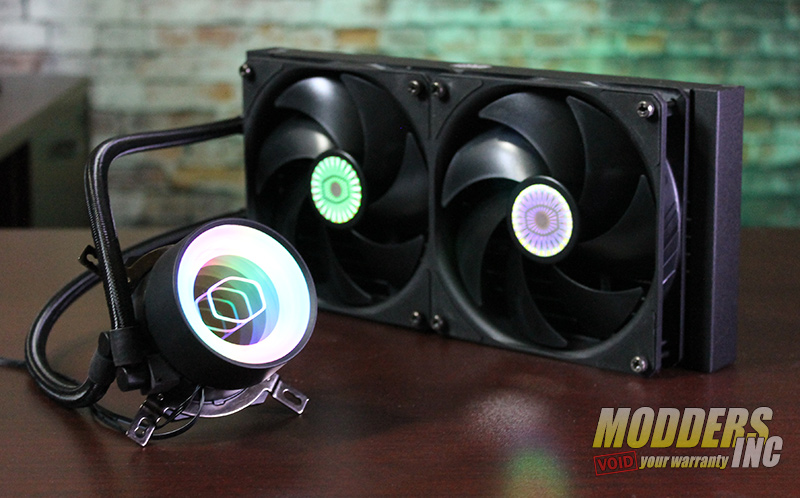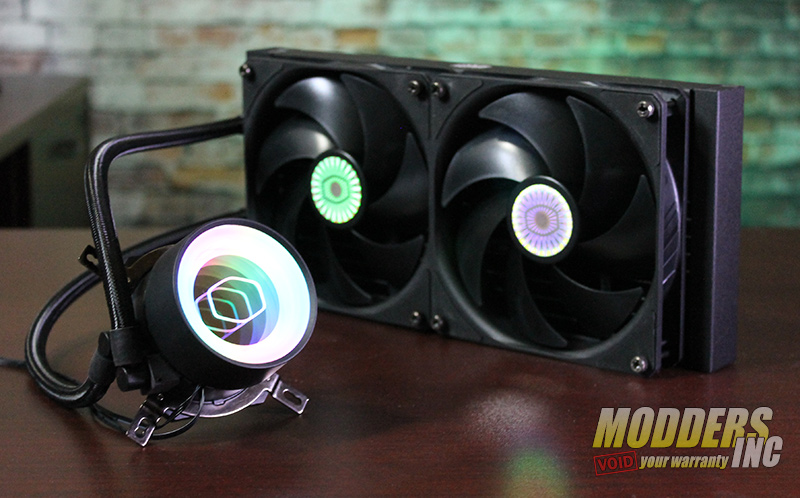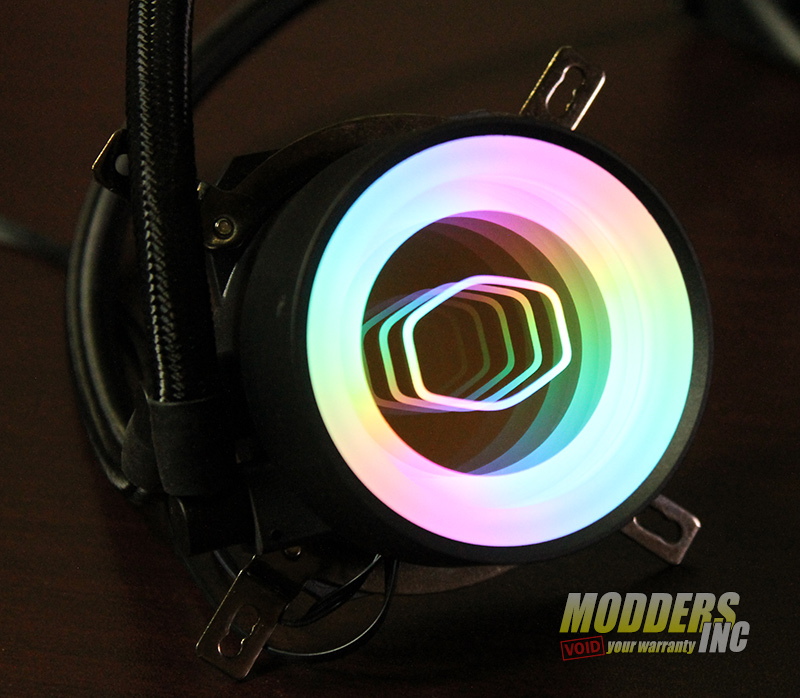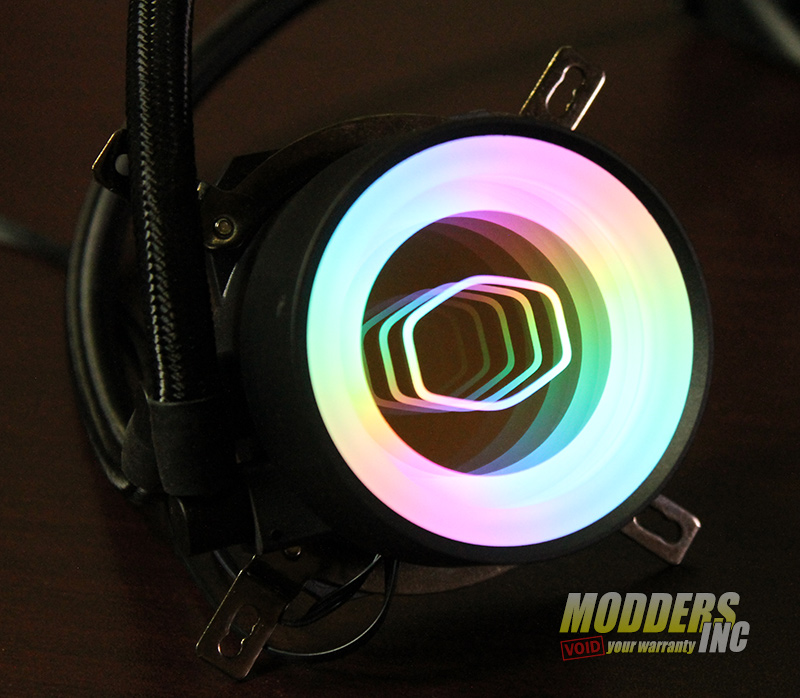 A really nice option/feature Cooler Master did with the ML280 Mirror is a separate controller for the ARGB lighting. Just in case you do not have one of the compatible ARGB motherboards with their software (ASUS, ASRock, MSI) you can still control and cycle through some lighting effects. The first lighting option is the default rainbow lighting glow. As you push the button on the separate controller you can get a pulsing effect that will cycle the available colors. If that is not your style you can also do static lighting. The video review displays all the lighting options, so go take a look.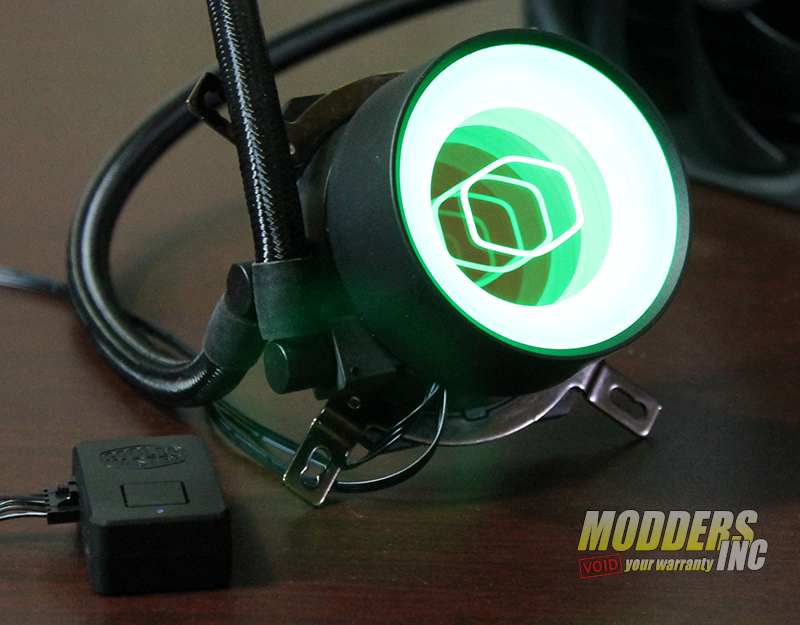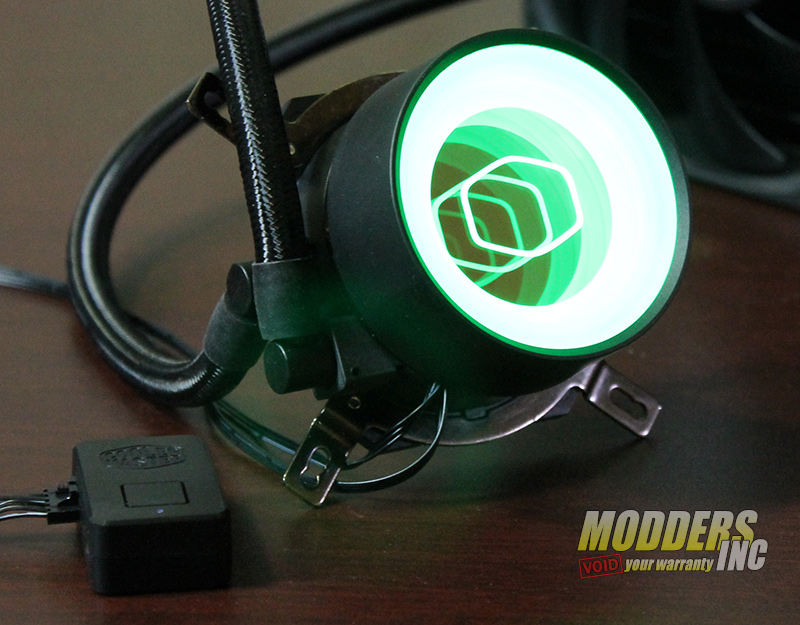 Non LED 140mm fans are used on the radiator to remove the heat. These fans are the SickleFlow with a new blade design, enhanced fan frame, and sealed bearing structure. Fan speeds are between – 650-1400 RPM ± 5% with an airflow – 67 CFM, (Max)fan noise is 27 dBA, and the all-important fan pressure (static pressure) of 2.25 mmH₂O. With the low RPM and good static pressure, you can get maximum cooling at a low noise cost.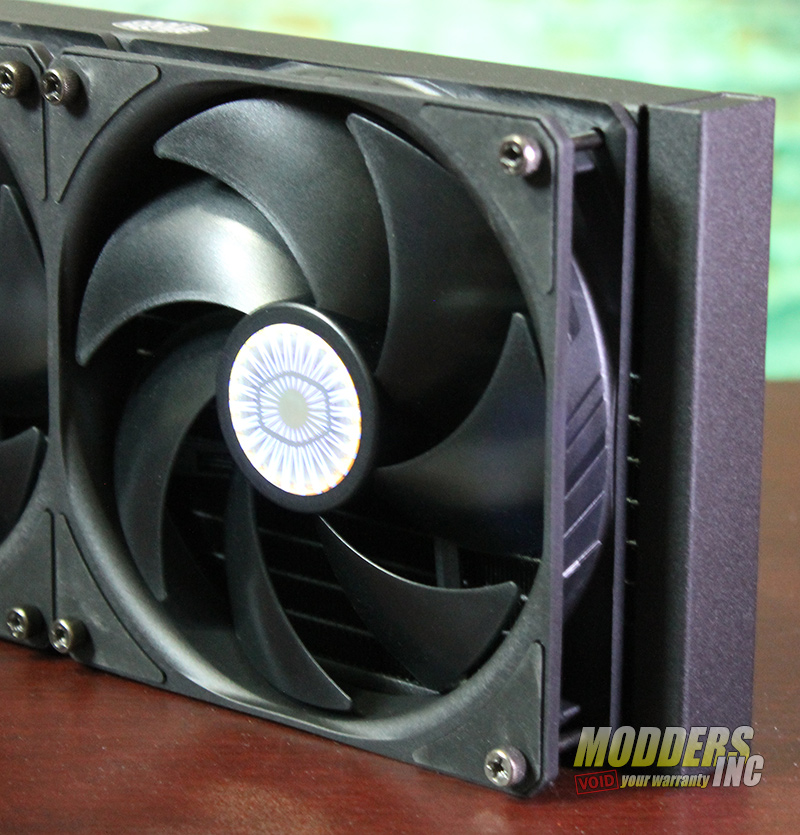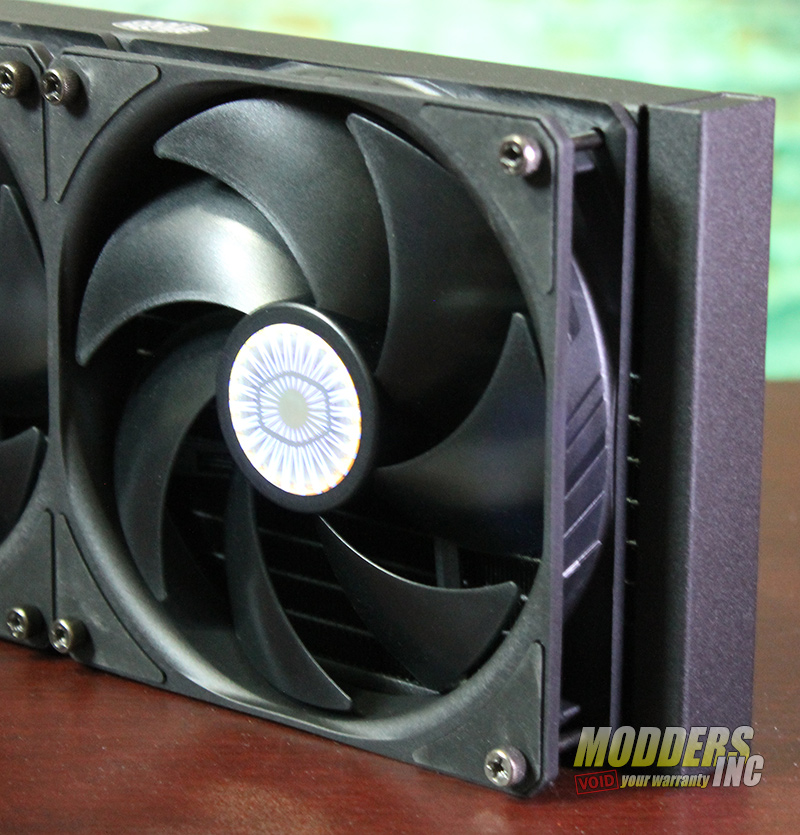 Size matters when it comes to performance so using a 280mm radiator will automatically give you better performance when removing the heat from the liquid. But apparently that was not good enough for Cooler Masset as they increased the 280mm radiator surface by 25% which means more cooling performance with less effort. Even after doing this, there is still a nice gap between the cooling fins to allow the air to easily pass-through.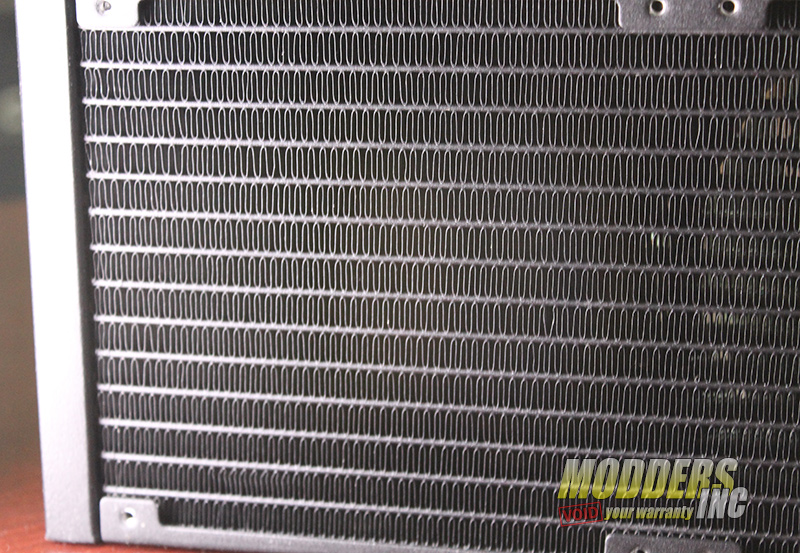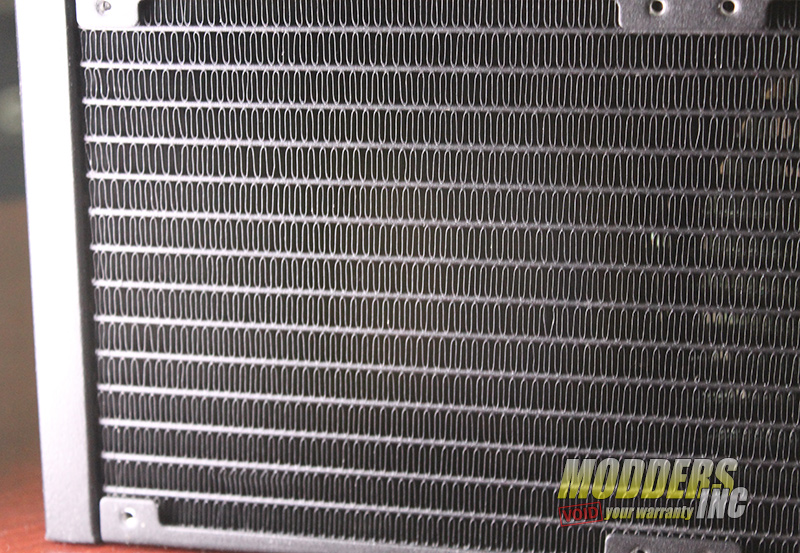 Performance of the Cooler Master Masterliquid ML280 Mirror AIO
In the charts below, you can see that I tested the ML280 Mirror against another Cooler Master CPU Cooler, HYPER 212, which in its own right is a good air cooler.
Test System and Benchmark Results
Temperatures are averaged (last minute) from individual core temperature results monitored by the AIDA64 System Stability Test after 15 minutes of the run time.
FPU load average is used to simulate worst-case scenario load levels similar to Intel Burn Test or OCCT.
Stock settings have all the default features enabled in the motherboard with BIOS.
Overclocked settings were manually set with the adjusted multiplier set at 43 and 48 to gain overclocks at 4.3 and 4.8 GHz.
All tests were taken at least three times to get the final result.
The radiator fans and pump were set to the normal setting in the BIOS. This allows the fans and pump to spin up and down based on temperature. An open-air bench was used and an Intel 8700k was the souces of the heat.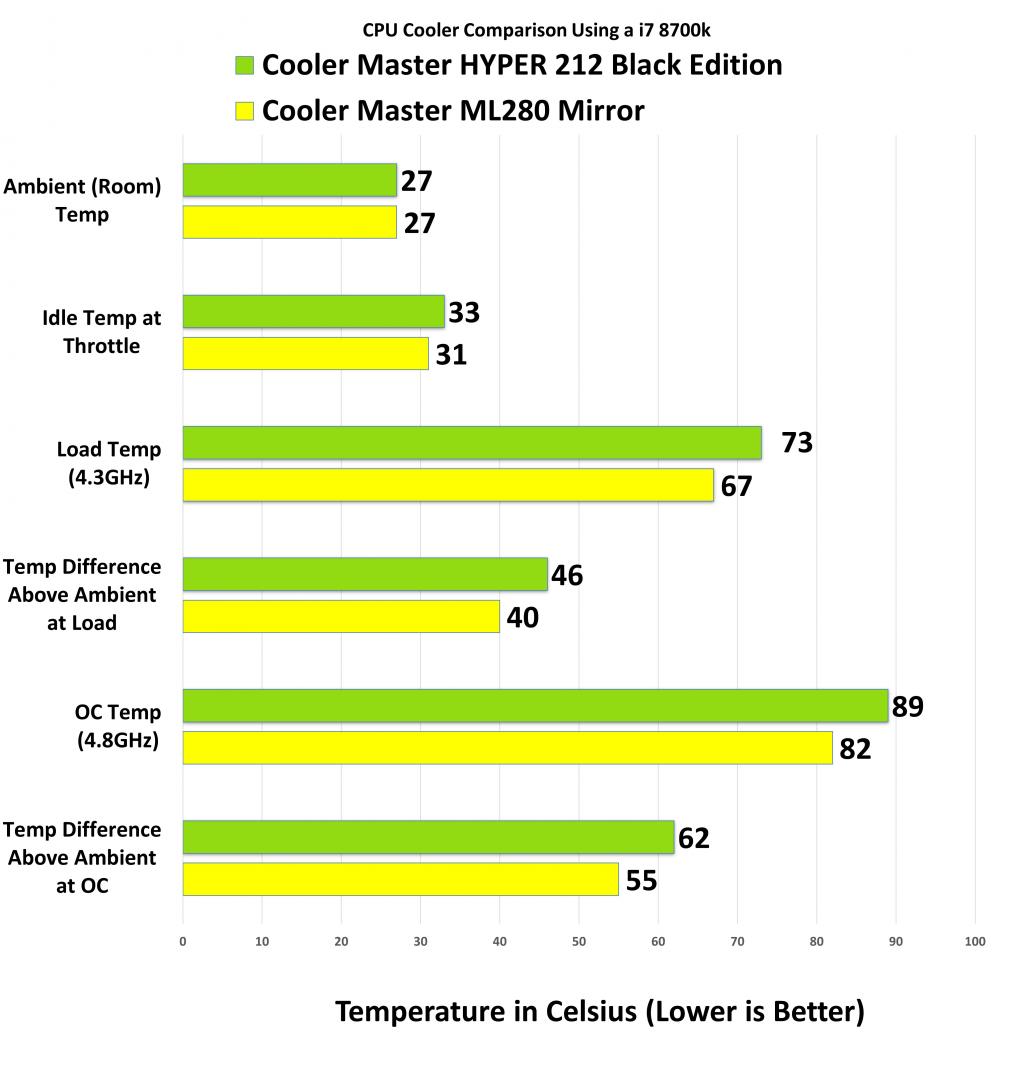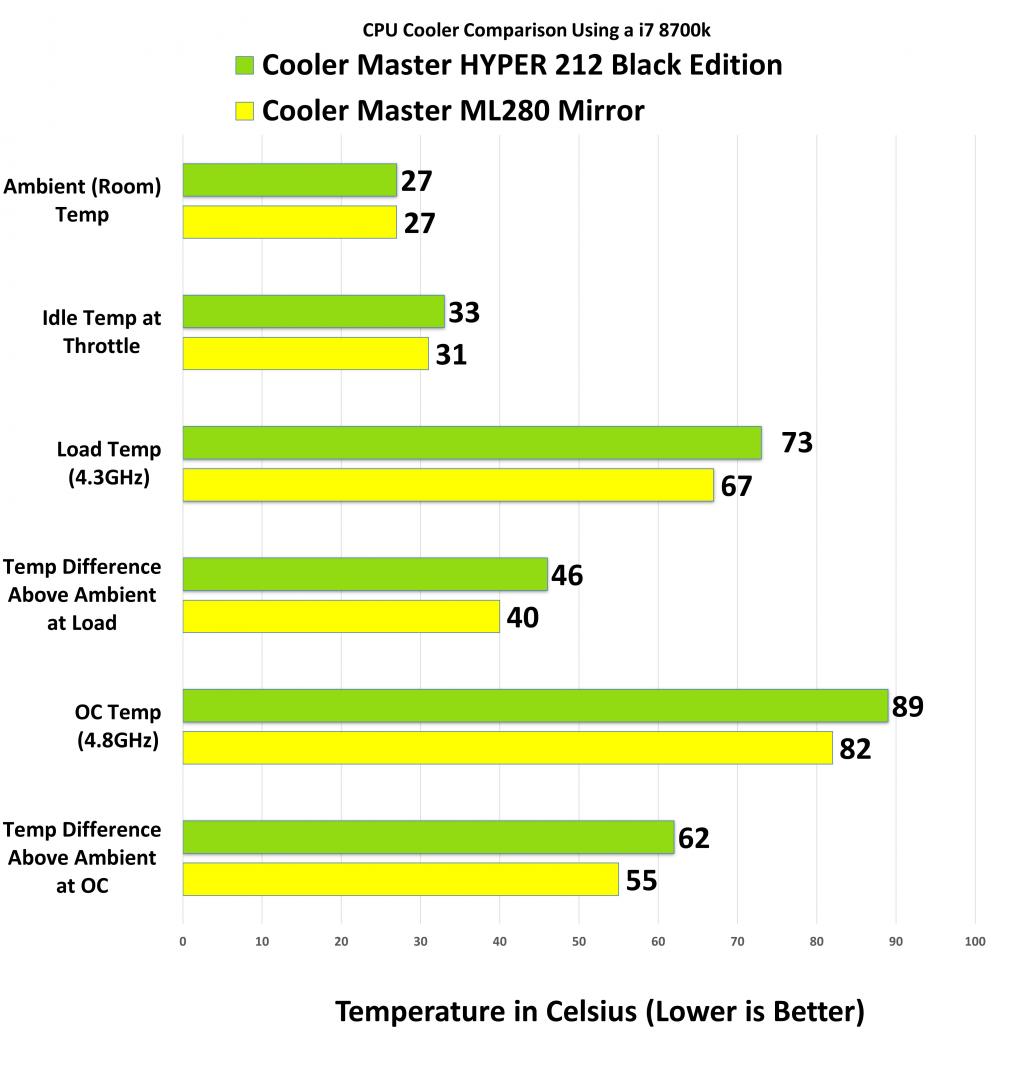 What I am looking at in the chart below (trying to see if this makes sense to me and anyone else…) is what is the maximum temperature a cooler can obtain. My thoughts/theory is this…
We will use the Cooler Master ML280 as an example:
The CPU temp at 4.3GHz load was 67c. This is an increase of 40c above the ambient temperature. The difference between those temps is 27c.
The CPU temp at 4.8GHz load was 82c. This is an increase of 55c above the ambient temperature. The difference between those temps is 27c.
This, in theory, tells me that the maximum heat that can be removed by the cooler is 27c. Let's say if the CPU temperature got as high as 97c then the amount above ambient should/would be at 70c. Thus a lower number of Delta of Load Temp above Ambient Temp would mean that the cooler has a smaller range of cooling and would hit the maximum heat removal sooner. What has me questioning my theory is that the HYPER 212 also shows 27c. I would really like to hear your thoughts about this.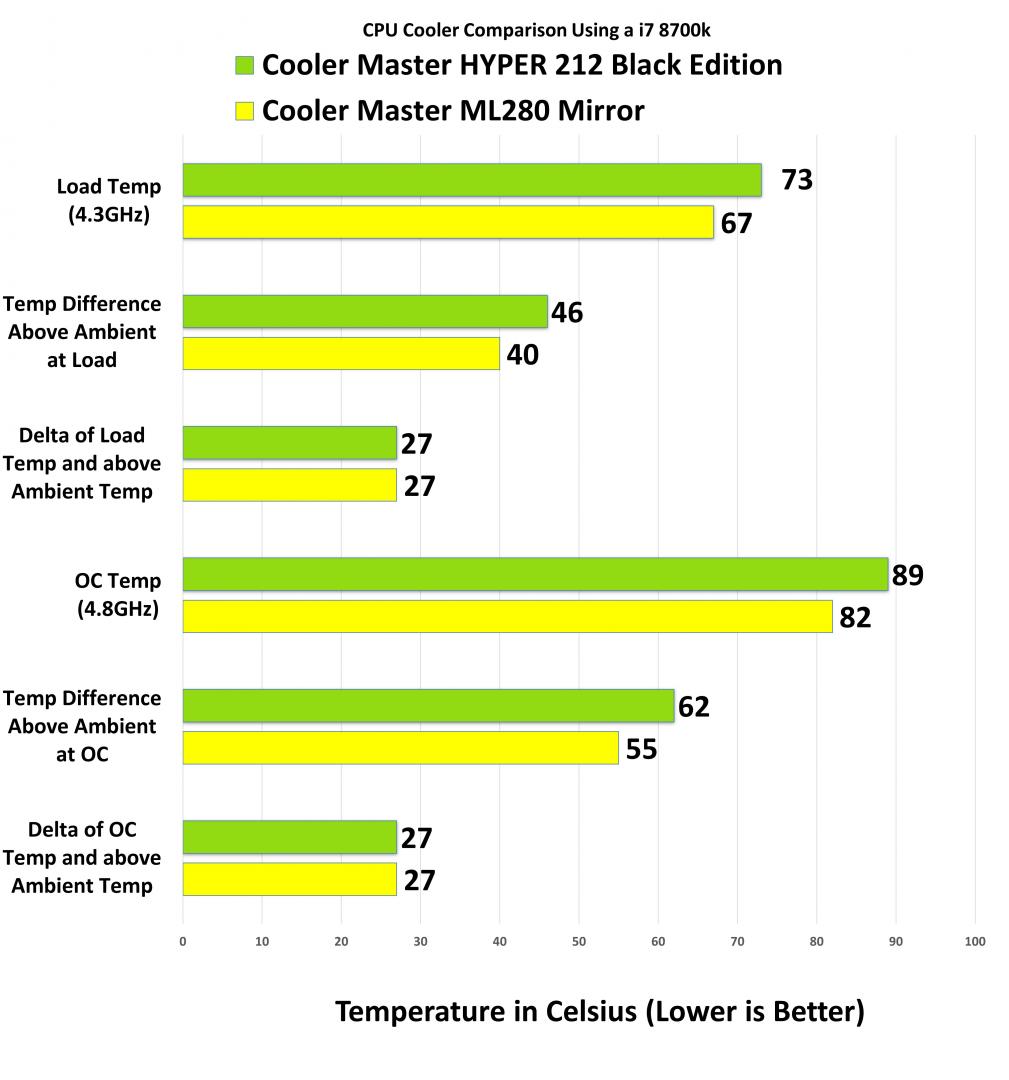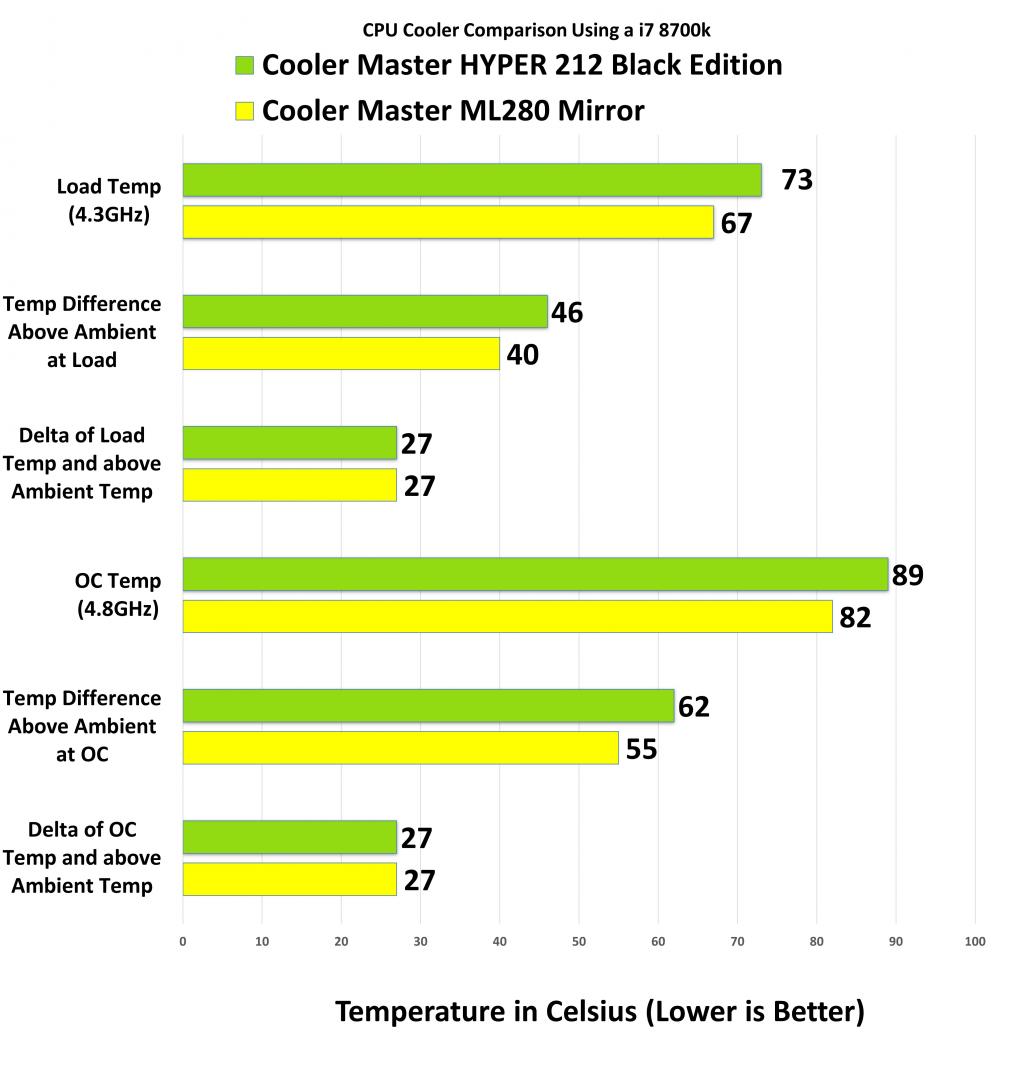 Specifications
Product Number – MLX-D28M-A14PK-R1Exterior
Color – BlackCPU
Socket – LGA2066, LGA2011-v3, LGA2011, LGA1200, LGA1151, LGA1150, LGA1155, LGA1156, AM4, AM3+, AM3, AM2+, AM2, FM2+, FM2, FM1
Radiator Material – Aluminum
Radiator Dimensions – 318 x 140 x 27.2 mm / 10.9 x 4.7 x 1.1 inch
Pump Dimensions – 81.2 x 76 x 57.8 mm / 3.19 x 3 x 2.3 inch
Pump MTTF – 70,000 Hours
Pump Noise Level – < 10 dBA
Power Connector – 3-Pin
Pump Rated Voltage – 12 VDC
Pump Power Consumption – 2.36 W
Fan Dimensions (L x W x H) – 140 x 140 x 25 mm / 5.5 x 5.5 x 1 inch
Fan Quantity – 2 PCS
Fan LED Type – Non-LED
Fan Speed – 650-1400 RPM ± 5%
Fan Airflow – 67 CFM
(Max)Fan Noise Level – 10 – 27 dBA
Fan Pressure – 2.25 mmH₂O
(Max)Fan Life Expectancy – 160,000 Hours
Fan Power Connector – 4-Pin (PWM)
Fan Rated Voltage – 12VDC
Fan Rated Current – 0.15ATDP – 230 W
RAM Clearance – N/A
Warranty – 2 years
Series – MasterLiquidCooler
Type – Liquid Cooler
Radiator Size – 280
Overall the Cooler Master Masterliquid ML2800 Mirror performed rather well. With a 6c below the air cooler at speeds of 4.3 GHz and 7c cooler at 4.8GHz. The Cooler Master Masterliquid ML2800 Mirror would make a great choice if you are looking to take the step for better cooling and lower noise without the hassle of building a custom water cooling system.