« Intro
|
Page 3 »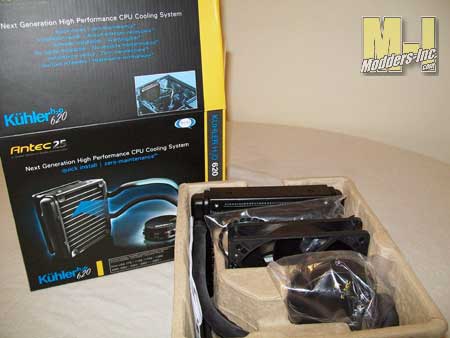 Antec as usual did a great job in securely packaging for this Kuhler 620 product. Using recycled cardboard and as little waste as possible to safely package this you don't feel like your left with a mess to hide when done un-boxing. They included everything to install this bad boy in just about any system. The instruction manual was very helpful and easy to follow in our first installation of this type of unit, even with no experience they make sure that all the steps are easy to follow and simple to understand. This water cooling solution works with a laundry list of CPU's Intel LGA 775, 1155 / 1156, 1366, AMD AM2, AM3, AM2+, AM3 , its a pretty good choice for anyone looking into a simple, no maintenance, water cooling system.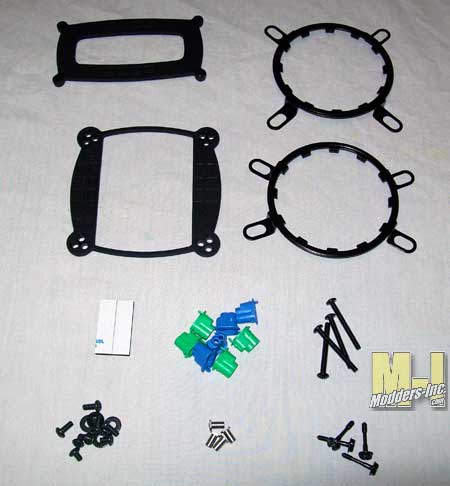 Antec Provides all the mounting hardware for the different processor options, you do not need anything extra to install this unit which we found very helpful.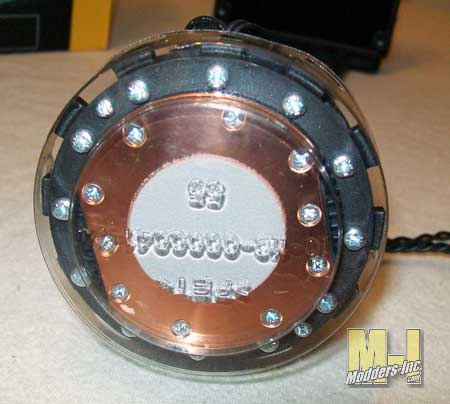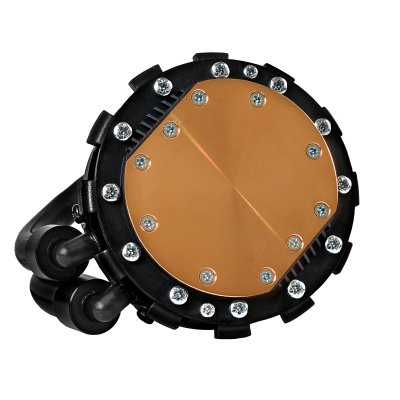 Antec also did a great job protecting their latest generation copper cold plate with a heavy duty plastic cap. With the protective cover off we can see that a super clean finish is on the surface that makes contact with the CPU. As you know a smooth clean surface creates a better heat transfer from the CPU to the cooling block.
 The Kuhler h20 620 also comes with a black 7 blade 120mm, 1450 – 2000 RPM Antec fan. I liked the heavy duty plastic they used on these fans, the blades do not flex and are not flimsy at all which I always like to see that little extra put into things to insure top quality.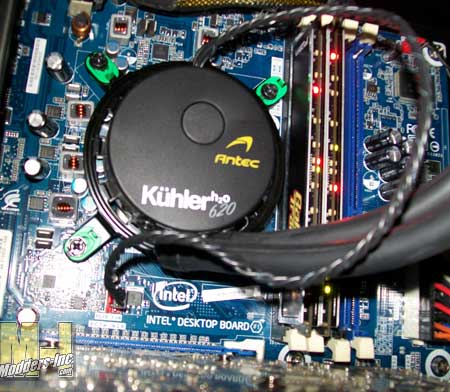 Antec designed the Pump and CPU block into a all in one unit and used a high grade copper cold plate for optimal heat transfer between the CPU block and the CPU.
 The radiator on the Antec Kuhler 620 uses is a standard 120mm radiator with 2 – 3/4 inch inlet and outlet tubes made from rubber and 4 screw holes on either side of the radiator for optional mounting of 120mm fans only, Antec did not supply any other mounting holes except for a 120mm fan. You can install dual fans on the radiator but in order to do that you will need to go to the hardware store for the screws Antec does not provide them in the installation kit.