Despite the compact size, ASRock's new H2R router is a versatile piece of gadget that functions as a router but can also be used as an Ethernet adapter or HDMI dongle alternative for AppleTV or Google chromecast, making it an invaluable tool for frequent travelers. Installation is as easy as plugging in the H2R to a TV's HDMI interface and powering it on.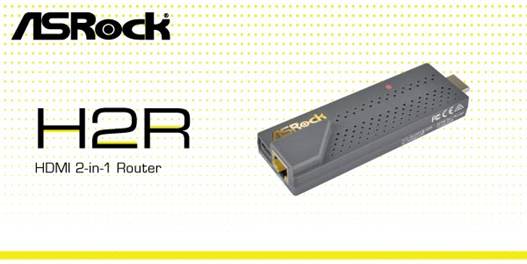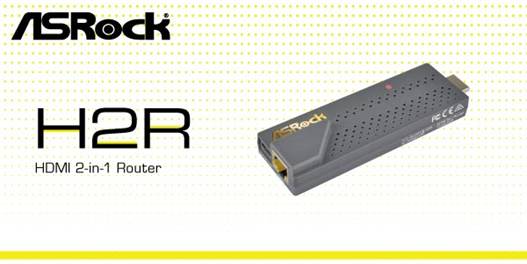 TAIPEI, Taiwan, August 27, 2015 – There's the ordinary travel routers that function as their names suggest, and then there's this extraordinary new device that outdoes the rest of the gang – ASRock H2R (HDMI 2-in-1 router). Besides working as a travel router, it can also be used as an Ethernet adapter, or even an HDMI dongle substitute for Apple TV or Google Chromecast.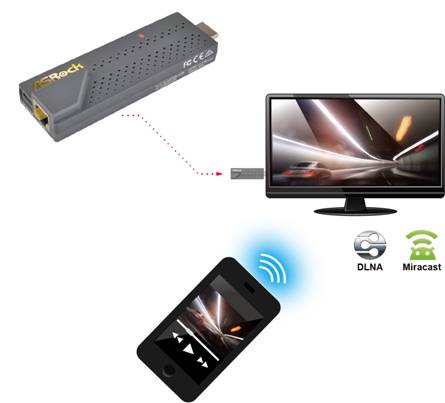 Imagine yourself on a lonesome odyssey. Weary and burdened from the excursion, you reluctantly relinquish and check in at a shabby hostel. Flipping through foreign channels mindlessly makes you feel even more disconnected. But deep down you know it isn't the solitude that's devouring your consciousness bit by bit. What you're facing is one of human's primal fears, fear of the absence of a strong and perpetual WiFi signal. Your only salvation lies within ASRock H2R and a functioning RJ45 LAN cable.
At first glance, ASRock H2R Media Player Device may be gravely mistaken for an out of place ammunition magazine that's protruding out of the G10 gaming router, but actually it's a combination of a travel router that provides wireless internet connections, plus an Ethernet adaptor with an RJ45 LAN port. Moreover, if you install it to your TV or monitor through the HDMI interface, H2R is capable of mirror casting or projecting your mobile device's screen onto the big screen through WiFi. The best of all is the fact that H2R Media Player Device is compatible with all sorts of mobile devices, including Apple, Android and Windows.


Beyond being the sidekick of the forthcoming ASRock G10 gaming router, this multipurpose pocket sized HDMI 2-in-1 router dongle is also going to be sold separately.
H2R working its magic on a huge TV:
About ASRock
ASRock Inc. was established in 2002, specializing in the field of motherboards. ASRock strives to build up its own brand. With 3C design concepts, "Creativity, Consideration, Cost-effectiveness", the company explores the limits of motherboard manufacturing while paying attention to environmental issues at the same time, developing products with the consideration of being eco-friendly.
ASRock has been growing fast and has become one of the three largest motherboard brands with its headquarters in Taipei, Taiwan and branches in Europe and the USA. The young and vibrant company targets at the entry to mainstream segment of the MB business, owning reputation around the world market with its reliability and proficiency. For further information, please visit: http://www.asrock.com/