« The Hardware Install
There you have it, a look at the Azzatech Azza Z mini-itx case.
My thoughts about the case is that it has a good amount to offer and they do a few things right. I like the removable braces that allow you all sorts of access to install hardware. Normally it is a pain to get everything into a small, especially a narrow case like the Azza Z. Including the PCI-e ribbon is a nice bonus as that you don't have to remember to get one, or unknowingly half way through the build you find out that you have to have one. Allowing the usage of a regular sized power supply is a huge plus as you can either use one that you have on hand or you can get a fairly large wattage one to make it a decent gaming rig.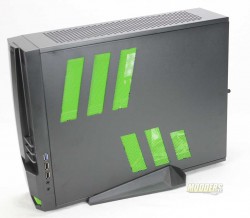 The one thing I personally would have like to seen have seen different is the color combination they chose. I think that this will limit the number of people that would buy the case. Using either black or silver might have been a better neutral color chose.  The good thing is that if you are handy with a can of spray paint you can change the color yourself as the air vents are removable.
The Azza Z is a solidly built case and you notice that when you take it out the box as it does have some weight to it and the bracing adds to rigidity of the case. Overall the I like the case and the styling and if the coloring fits you wants then you should take a close look at the case when comparing them to the others you might be looking at.
[sc:recommended_hardware_award ]