Page 2 »
SilverStone is becoming one of the best know manufactures for top of the line cases with their ever so creative and innovative ideas. This time SilverStone has come up with a positive air flow case know as the Fortress FT01. Designed with the positive air pressure concept, it enables better cooling performance than traditional chassis but also helps to prevent dust from penetrating into the chassis. 

Sponsor: SilverStone
[hr]
Cases are a very personal item that each one of us takes time to examine in depth. Some may like a case with a window or more spaces for hard drives or maybe what size fans are included. So creating the perfect case is pretty much out of the question. SilverStone though is trying to get as close as possible. The SilverStone Fortress FT01 comes encapsulated in a heavy duty box that also give you great detail about may different points of the case.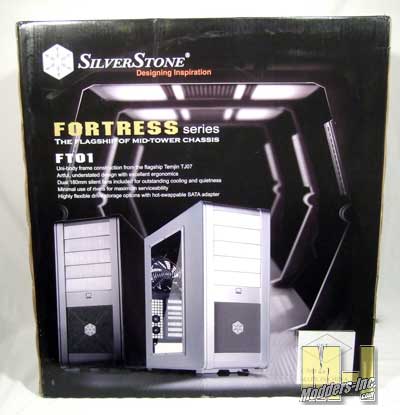 Nicely packaged inside the box and ready for you to inspect it.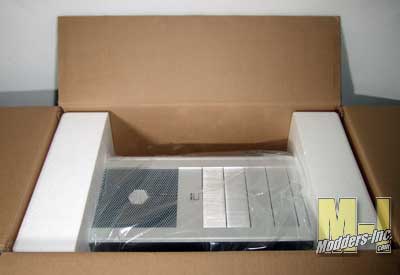 Out of the box we can see that SilverStone means business in keeping your investment safe from harms way. Two Styrofoam caps keep the case secure and away from the edges of the box. They only way the Fortress FT01 could get damages if something were to pierce the box. A large clear protective bag is used to keep the case clean and free of minor scratches that may occur during shipping.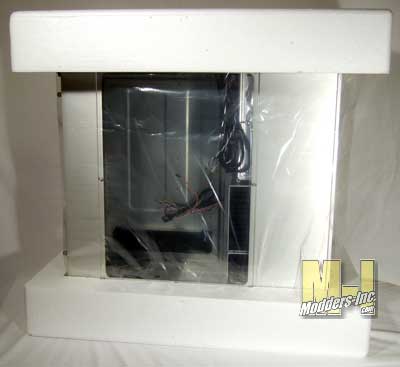 Also included in the box are the some extra parts like the manual, mounting screws and 
powerconnection
 for fans.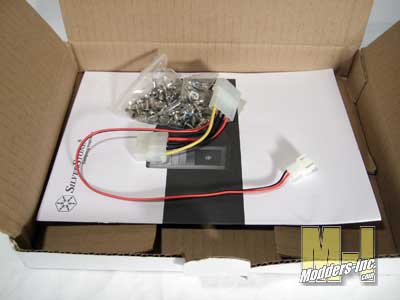 Our first look at the FT01 and man is it sweet looking; OK, for me that is. The SilverStone Fortress FT01 is constructed from aluminum with some minor items made from mild sheet metal, but overall the case is 99% aluminum.  A simple yet striking design on the outside makes the case command you attention. The SilverStone Fortress FT01 is available in either the Silver (as in this review) or Black. Both color cases can be had with or without a left side window.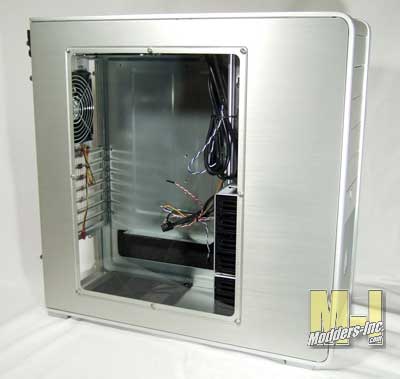 Specifications:
 Model No.

SST-FT01B-W (black + window)

SST-FT01S-W (silver + window)

 Material

3.0mm ~ 6.0mm uni-body aluminum outer frame and aluminum body

 Motherboard

 Multimedia

 Drive Bay

 External
 Internal

 Cooling System

 Front

| | |
| --- | --- |
|   | 1 x 180mm intake fan, 700rpm, 18dBA |

 Rear

 
1 x 120mm 

exhaust fan

, 900rpm, 18dBA

 Side
 Top

| | |
| --- | --- |
|   | 1 x 180mm intake fan, 700rpm, 18dBA |

 Bottom
 Internal

 Expansion Slot

 7

 Front I/O Port

 

USB2.0 x 2

IEEE1394 x 1

Audio x 1

MIC x 1

 Power Supply
 1 x Optional standard PS2 (ATX)
 

Expansion Card

 Compatible with expansion card up to 12"
 Net Weight

 8.66kg

 Dimension
 211 mm (W) x 486 mm (H) x 494.5 mm (D)
 Extra

| | |
| --- | --- |
|   | One CP05 included for single hot-swappable SATA hard drive, additional CP05 can be purchased separately |
To enable SATA hot-swap function, you must have the following:
Install SATA hard drive into drive holder with CP05
Use motherboard or SATA card with AHCI function
Enable AHCI function(please refer to your motherboard or SATA card manual)
When installing OS(Windows XP SP2 or Vista), SATA drivers should be pre-loaded