« Introduction
|
A Closer Look Inside »
Our first look of the Azza Z  shows us that it is black with some green for contrast. I am going to go out on a limb and say that Azzatech is banking on all the NVIDIA enthusiast out there to grab up this case. The Azza Z is designed to be placed on its side as shown in the images.
A plastic stand is included in the box with the case, but I kind of think that it is more of an option than a necessity.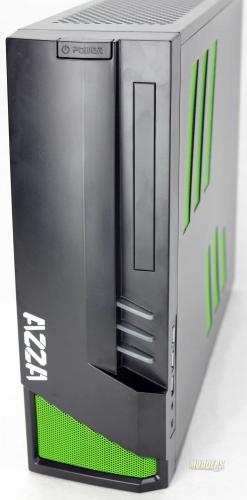 The front of the Azza case has a simple yet striking look to it. This is really the only decoration done to the Azza Z, other than the air vents on both side of the case. From this view we cans see that the power button is located at the top of the case while a place for a slim optical disk drive is placed in the vertical position.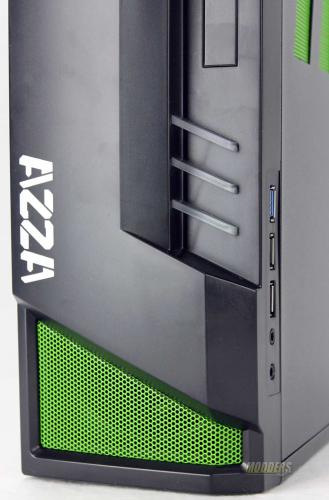 The lower section on the front of the case is where most of the detail is located. A neon green air vent is placed at the bottom and above that are three slightly angled pieces of plastic.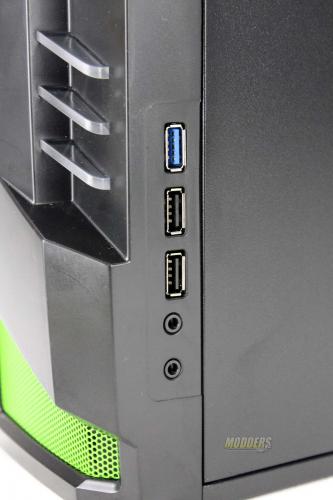 Normally we see the front ports located at the top of cases, but on the Azza Z they have been relocated to the lower right-hand side of the front bezel. This is done this way because the case is compact and designed to be placed on you desktop to your left. All the basic ports, such as the audio in and out, USB ports (two 2.0 and one 3.0) are within reach.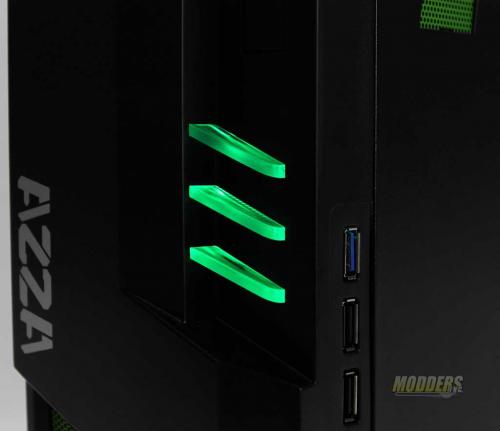 With the unit powered on the three front horizontal plastic decorative pieces light up and glow.
Looking at the rear of the case we can see that it is laid out very differently. We usually see a big hole at the bottom where the power supply would be placed. We do see a hole, but it is for the I/O ports for the motherboards to exit the case. What else did you notice? Yep, the graphic card I/O is place above the motherboard I/O ports and not in the typical 90 degree angle from all the motherboard connections. And yes, that is the power cable connection for the power supply… that is not there.