The Cooler Master NR200 Mini-ITX case appears, at first glance, to look like other smaller PC cases but that were it stops. Once you start to look closer you can see the differences from other cases. Once you peek inside you will see a few things as well, but when you start to install your hardware you get a good sense that someone spent some time on the design and layout. I will highlight a few features here, but to get the in-depth look and review please watch the video.

A sleek style is what you see with the NR200. Our review sample came in white, which is a nice change from the standard color we mostly see today. The white is more of a semi-gloss finish that does hide your fingerprints and gives it a more toned-down appearance. Yes, you fill it full of RGB if that is what you like, but I see this case more of a single color and I mean it kind of attitude.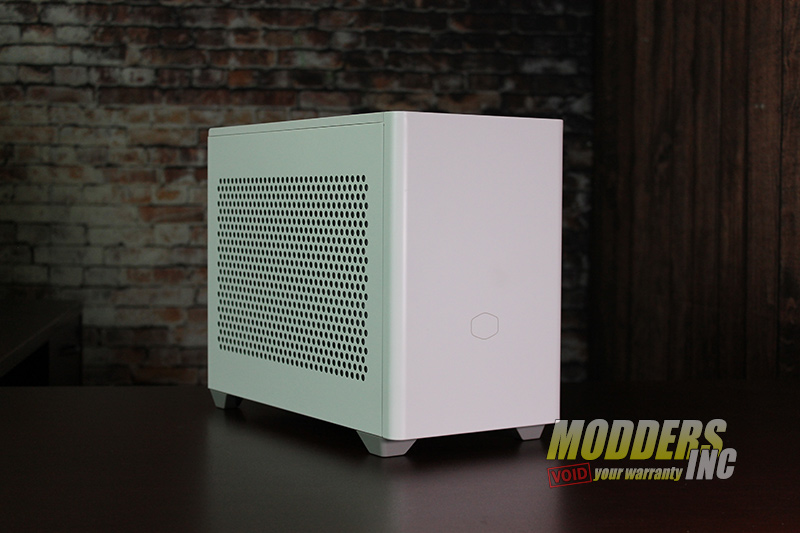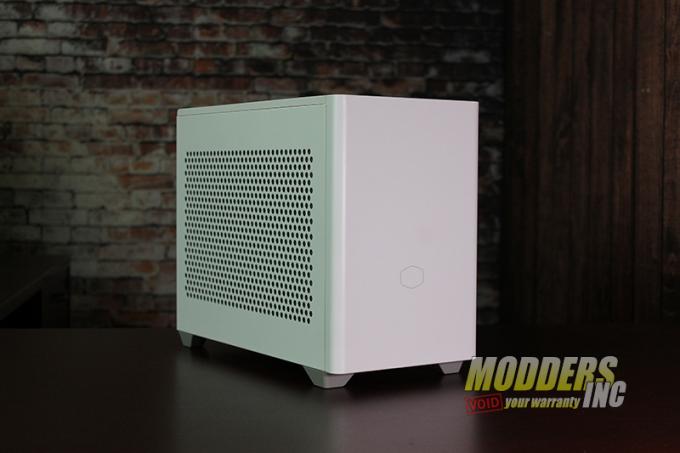 Behind the all-steel (yes I said steel) front bezel you will find a place where you can hide and tuck away two SSD's and the cables that go along with them.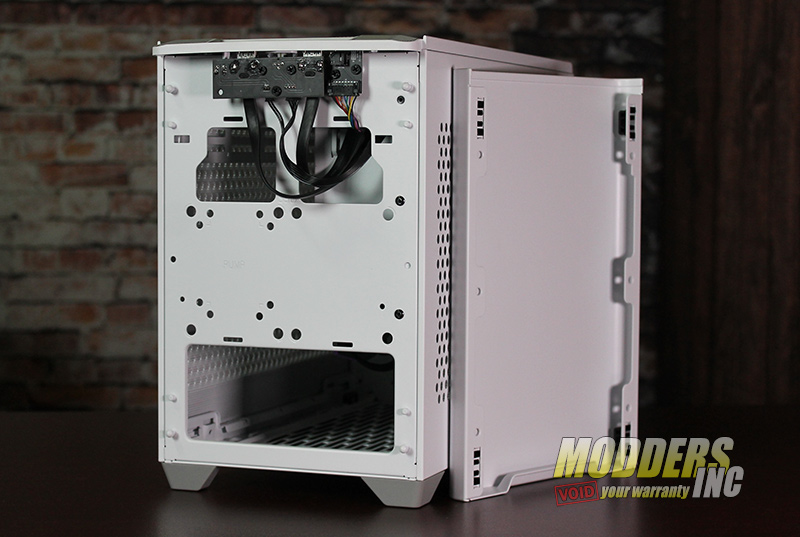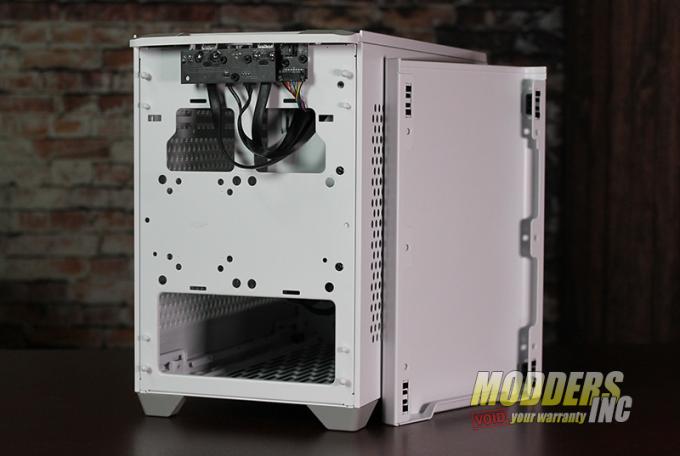 At the rear of the case we see that you get three horizontal slots for your cards… yes a 3080 would fit pretty nice in there. Above that, there are two punch-out panels (which I have clear tape holding them in since I pushed them out BEFORE I took the images…) and a second bracket that installs above the holes will allow you to mount a GPU vertically.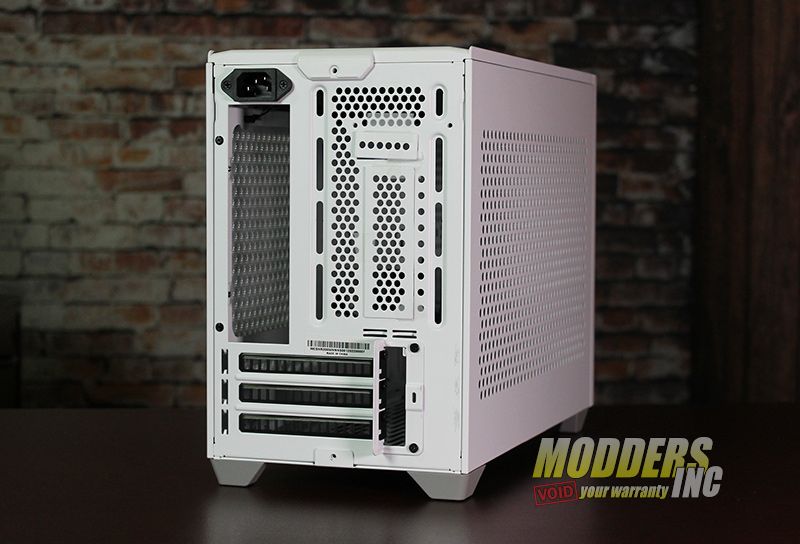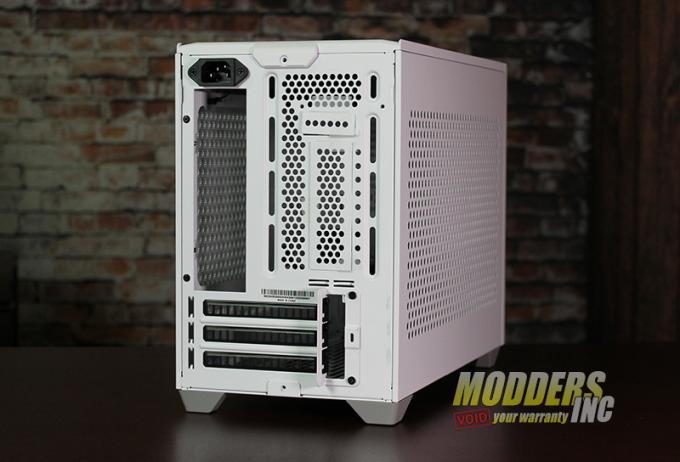 With the right-side panel off we can see that a large horizontal bracket is right in front of you. This a multi-propose bracket that can be used to hold fans, a 3.5 drive, and water cooling radiators. Two small screws can be removed to all you to gain access into the case.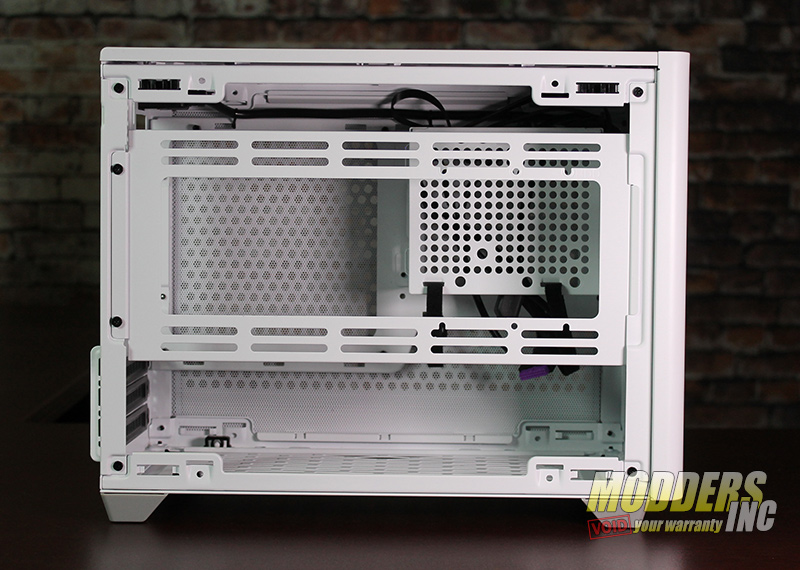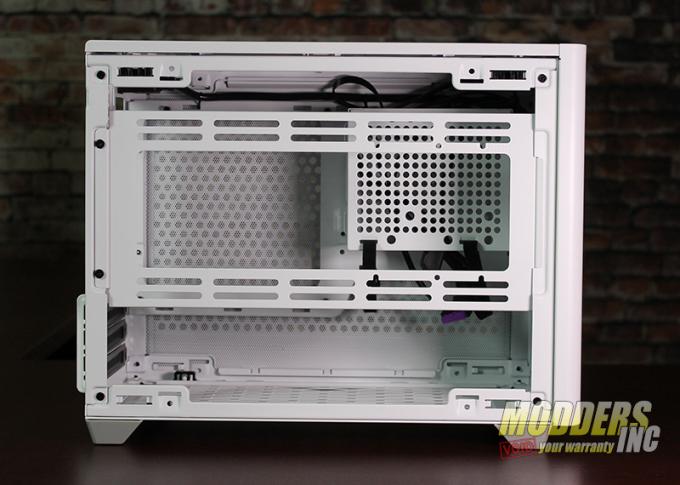 With the side bracket off we can see the locations of where the SFX Power Supply can go – one of two locations – and where you have to mount the m-ITX motherboard.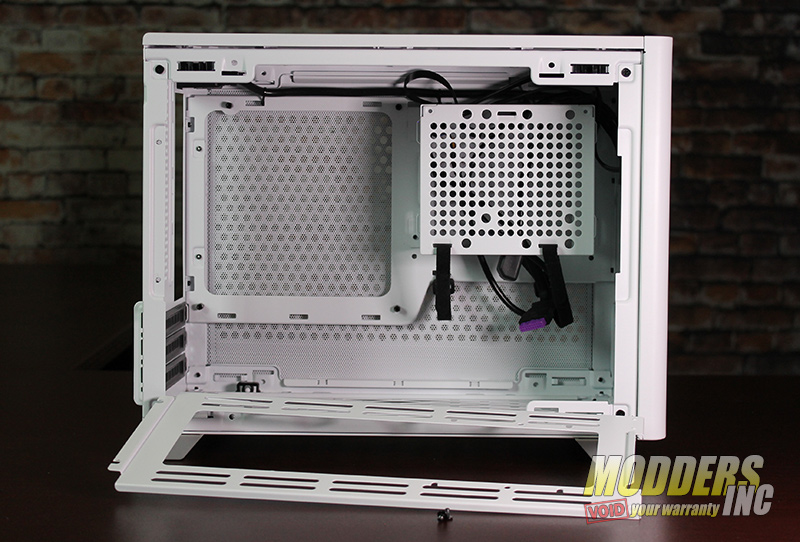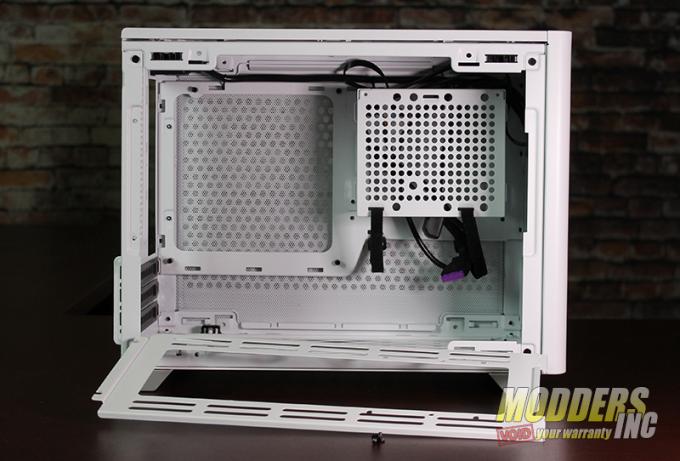 Removing the right-side panel just gives us a better look of the locations of all the mounting places. There almost zero space here to run cables. If you have to make sure they are small and flat.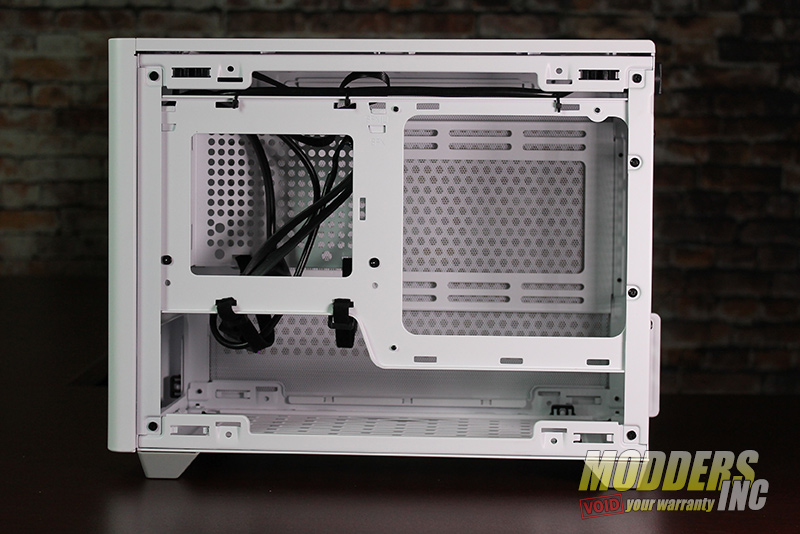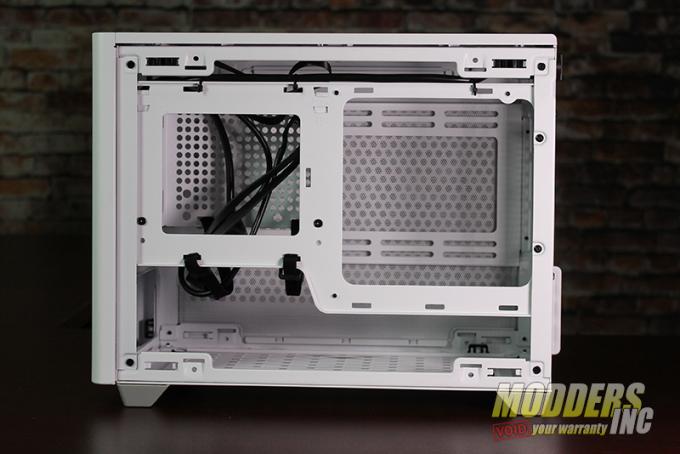 Looking down from the top of the Cooler Master NR200 we can see that a light Grey mesh screen covers the entire top and that the sub-structure, which is plastic, has plenty of holes for maximum airflow.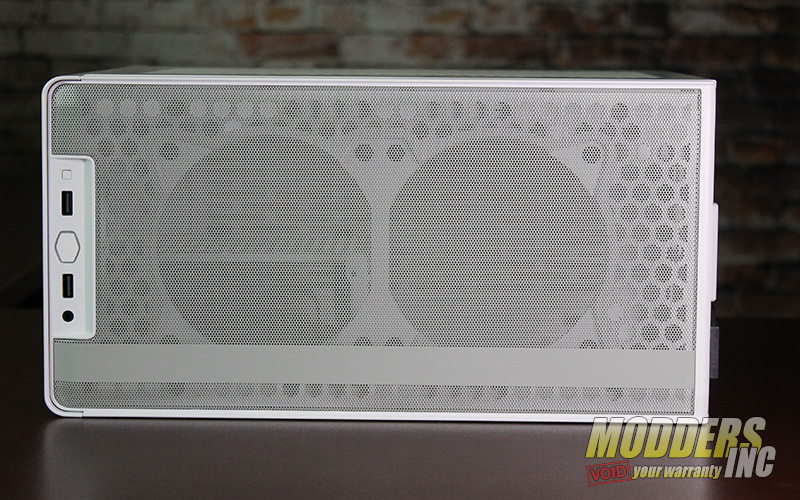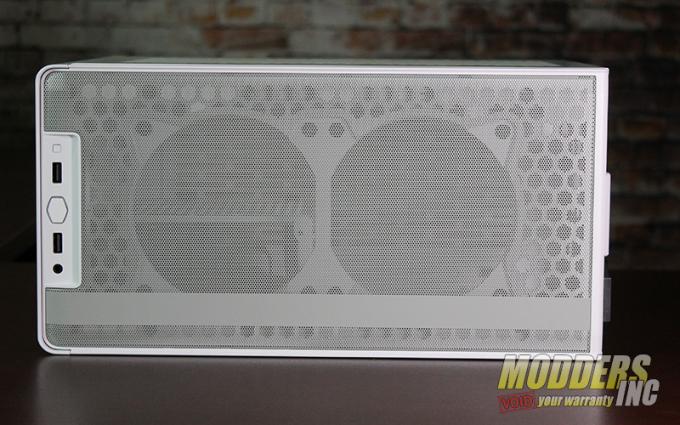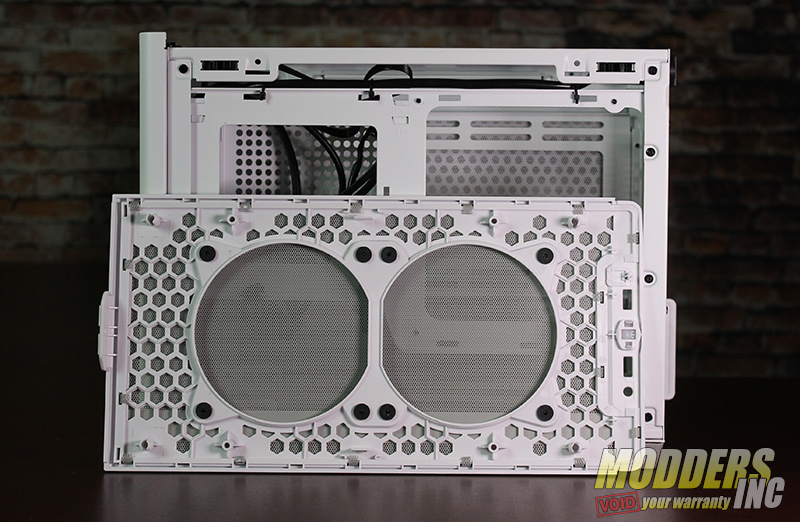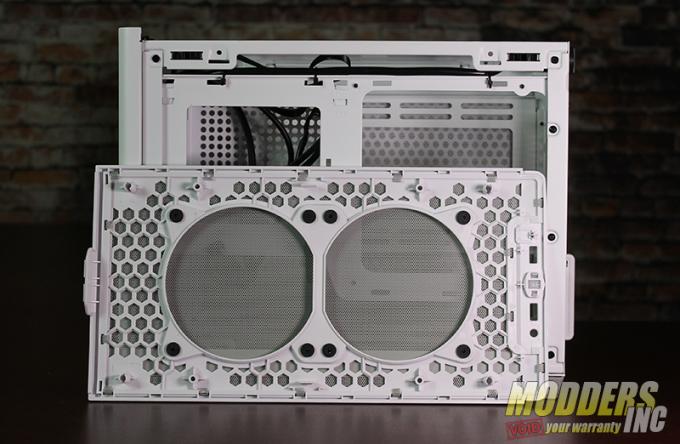 The base of the Cooler Master NR200 is totally removable and uses a black mess screen (white would have been a better choice) to help check unwanted items from going into the Mini-ITX case.
Now if you take a look at the pattern of the air vents you can see that this area can also be used to mount fans and a radiator.  Just in case you don't like the feet that came on the NR200, Cooler Master has a few others that you can download and 3D Print. Get the files HERE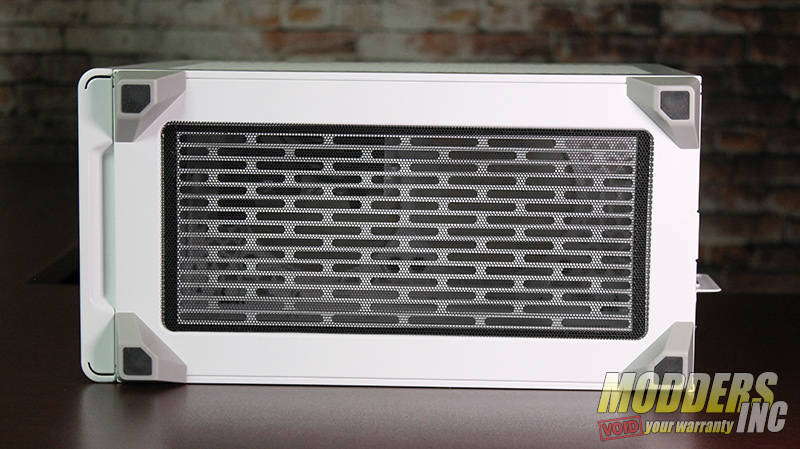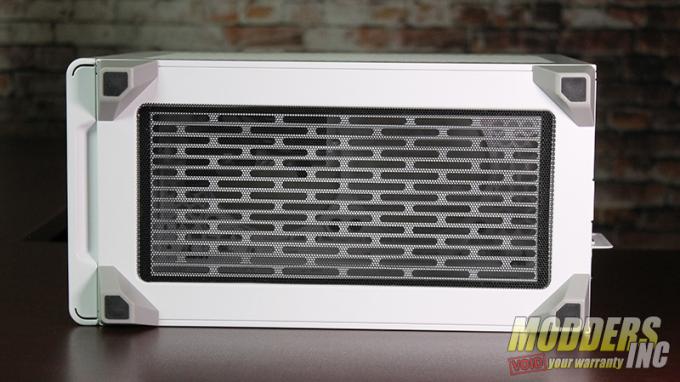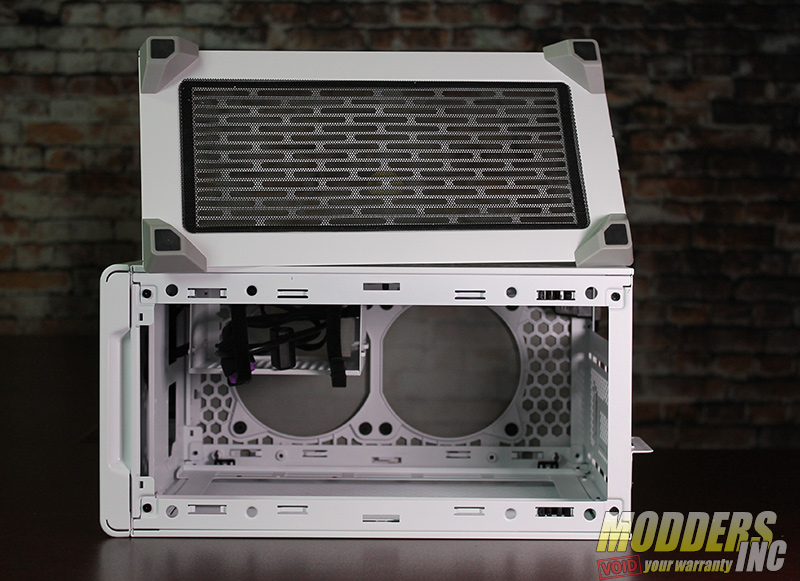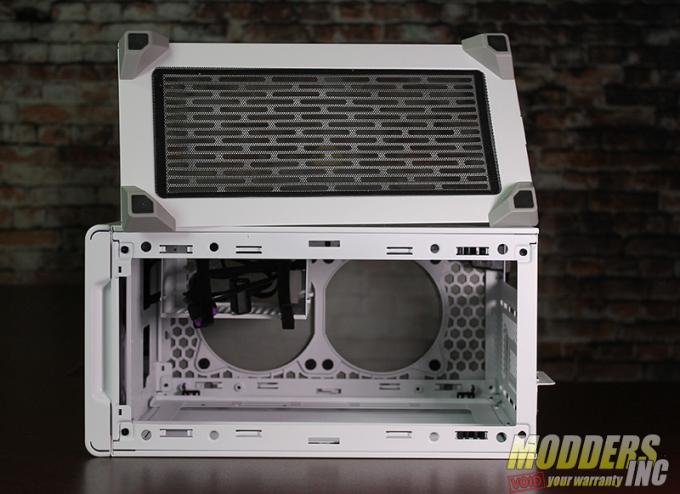 Specifications
Model Number – MCB-NR200-KNNN-S00, MCB-NR200-WNNN-S00

Series -MasterBox Series

Size -Mini ITX

Available Color(s) – Black, White

Materials – Steel, Plastic, Mesh

Dimensions (L x W x H) 376 x 185 x 292mm incl. Protrusions, 360 x 185 x 274mm excl. Protrusions

Volume (exlc. Protrusions) 18.25L

Motherboard Support – Mini DTX, Mini ITX, Max. size: 244 x 226mm

Expansion Slots – 3  5.25″ Drive Bays=0 3.5″ Drive Bays 1 (Max. 2) 2.5″ / 3.5″ Drive Bays (combo) 1 2.5″ Drive Bays 2 (Max. 3)

I/O Panel – 2x USB 3.2 Gen 1 Type-A, 1x 3.5mm Headset Jack (Audio+Mic)

Pre-installed Fans – Top 1x 120mm 650-1800RPM PWM (SickleFlow)

Pre-installed Fans – Front N/A

Pre-installed Fans – Rear 1x 92mm 650-2300RPM PWM (SickleFlow)

Pre-installed Fans – Bottom N/A

Fan Support – Top 2x 120mm

Fan Support – Rear 1x 92mm

Fan Support – Bottom 2x 120mm (recommended slim fans for GPUs wider than 2.5 PCI slots)

Fan Support – Side 2x 120/140mm

Radiator Support – Top N/A

Radiator Support – Rear 92mm (not compatible with vertical GPU installation)

Radiator Support – Bottom 120mm, 240mm, (recommended for custom loops only)

Radiator Support – Side 120mm, 140mm, 240mm, 280mm, (not compatible with vertical GPU installation)

Clearance – CPU Cooler 155mm, 76mm (GPU in vertical position)

Clearance – PSU 130mm

Clearance – GFX L: 330mm (incl. power connector), H: 156mm (incl. power connector), W: 60mm (triple slot)

Dust Filters – Top, Bottom, Left side, Right side

Power Supply Support – SFX, SFX-L

Warranty – 2 years

Weight – 4.6 kg / 10.1 lbs

Note:  Single slot water-cooler GPUs or vertically mounted GPUs are recommended when using bottom radiator position