CPU Cooler
Be Quiet! Shadow Rock LP CPU Cooler Review: When Less is More
« Test System and Benchmarks
Final Thoughts about the Be Quiet! Shadow Rock LP CPU Cooler

As with previous Be Quiet! coolers, the Shadow Rock LP has a unique and modern design emblematic of German build quality. The simple addition of a custom aluminum cap at the heatpipe tips gives the Shadow Rock LP character, separating it from conventional air cooler aesthetics. The good news is that it also has the performance numbers to match and even when the fan speed is lowered to a much quieter 1000 RPM, the performance is still strong for such a compact CPU cooler.
Be Quiet! utilizes a different mounting mechanism on the Shadow Rock LP than what they usually use which is both good and bad. On one hand, the new mounting design is much more effective in providing clearance for surface mounted components typically found on the back of mini-ITX mainboards due to its slightly raised backplate but it unfortunately has the same short coming which is a needlessly elaborate design. A spanner is bundled with the accessory for direct installation out of the box without any other tools, although this is a lot less effective than using a screw driver through the fin-array cutout. I would only recommend using the spanner to further tighten the mounting mechanism in place after securing it with a screw driver.
This complicated mounting design is why most people get mixed benchmark results with Be Quiet! coolers since the contact can be compromised if the user is not diligent. The Be Quiet! mounting mechanism is also the reason why I have implemented a three-count remount rule when benchmarking CPU coolers in the first place and unfortunately despite the new system, Be Quiet! still has a lot of re-thinking to do and simplify the mounting to a more efficient design. The less components there are to deal with, the better. To be fair to Be Quiet! however, the AMD installation is thoroughly simple since it uses the default motherboard mounting mechanism so if you are installing the Shadow Rock LP on an AMD system then it would be very swift.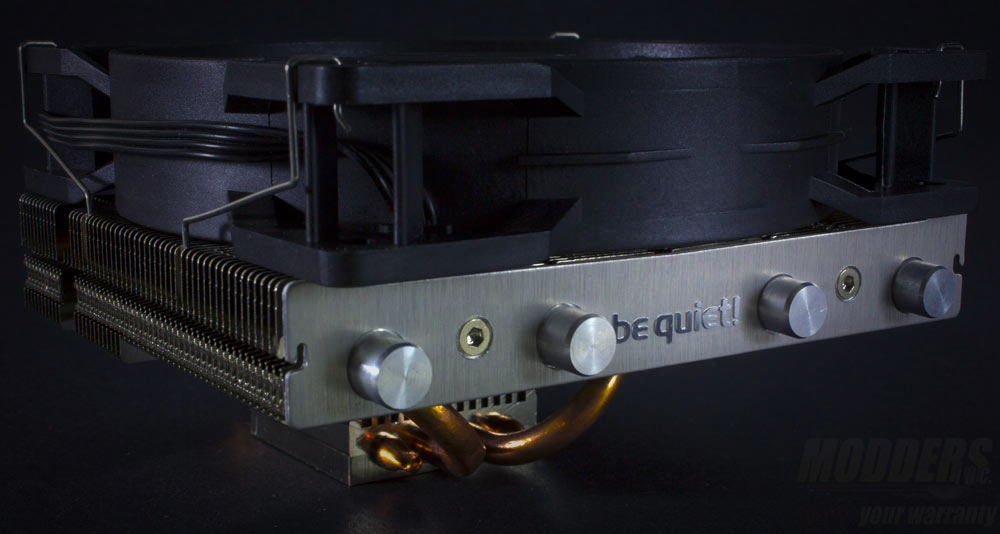 Since the Shadow Rock LP is aimed for the mainstream user unlike its Dark Rock siblings, it utilizes rifle-bearing alternatives from their Pure Wings fan series. Because of this it tends to run louder at full-bore compared to typical Be Quiet! fans but is in line with what most other "quiet" 120mm fans tend to run anyway. Under PWM operation, the Shadow Rock LP does not often need to run at full speed and even when set at a constant 1000 RPM, performance only gives up 5 degrees Celsius load average while lowering the noise level from 42.6 dBA to only 37.2 dBA which is virtually inaudible when inside an enclosure.
Fortunately, the rather needlessly complicated mounting mechanism does not take away too much from the remarkable performance and silence of the Shadow Rock LP. In terms of clearance and compatibility, the compact design provides concession for installation on even the most demanding systems. It only prevents PCI-E installation when installed with the heatpipe curve positioned at the top (not recommended for vertical mounted motherboards anyway) and provides full four-slot RAM clearance on all orientation as long as the modules are under 34mm tall. It was very close to getting an Editor's Choice award but it earns a respectable and well-deserved Must Have award.
[sc:must_have_award ]