CPU Cooler
Be Quiet! Shadow Rock LP CPU Cooler Review: When Less is More
« Introduction and Specifications
|
Installation Procedure and Clearance Issues »
A Closer Look at the Be Quiet! Shadow Rock LP

Like the larger Dark Rock TF heatsink, the Shadow Rock LP uses a variation on the traditional C-type design resembling a G-type body with a smaller 34-count aluminum fin array at the bottom and a larger primary 54-count fin array at the top. The heatpipe arrangement uses four 6mm copper heatpipes that extend from the base in a C-type arrangement while the two middle heatpipes extend further on the other side into the smaller fin array. Without the fan installed, the Shadow Rock LP measures a mere 134 x 122 x 50.4mm.
As with all Be Quiet! Coolers, the Shadow Rock LP has a thick aluminum plate that caps the end of the fin array resulting in an impressive looking heatsink. Looking at the Shadow Rock LP from the top, the fins have an opening for easier mounting with a screw driver unlike some C-type fans which require installation with a spanner only. This simple design decision has proven to be very effective for many C-type coolers in easing installation for users without affecting performance drastically.
The total area of the contact surface base measure 40 x 40mm and comes with a pre-applied thermal compound. The surface is otherwise level with a smooth-to-the-touch finish despite visible rounded machining marks.
The fan bundled is a 120mm Pure Wings 2 variant utilizing rifle bearings instead of the fluid-dynamic bearing Silent Wings 2 fan on the top-end Be Quiet! heatsink models. The 9-bladed fan however, retains Be Quiet's turbulence-reducing wave blade design.
The Pure Wings fan series uses standard 120mm fan mounting measurements although the frame itself is differently designed compared to a square-frame fan. The corners for the mounting frame have a pass-through area while the majority of the frame is round. The struts on the exhaust side are also slightly curved, running counter to the fan blade orientation.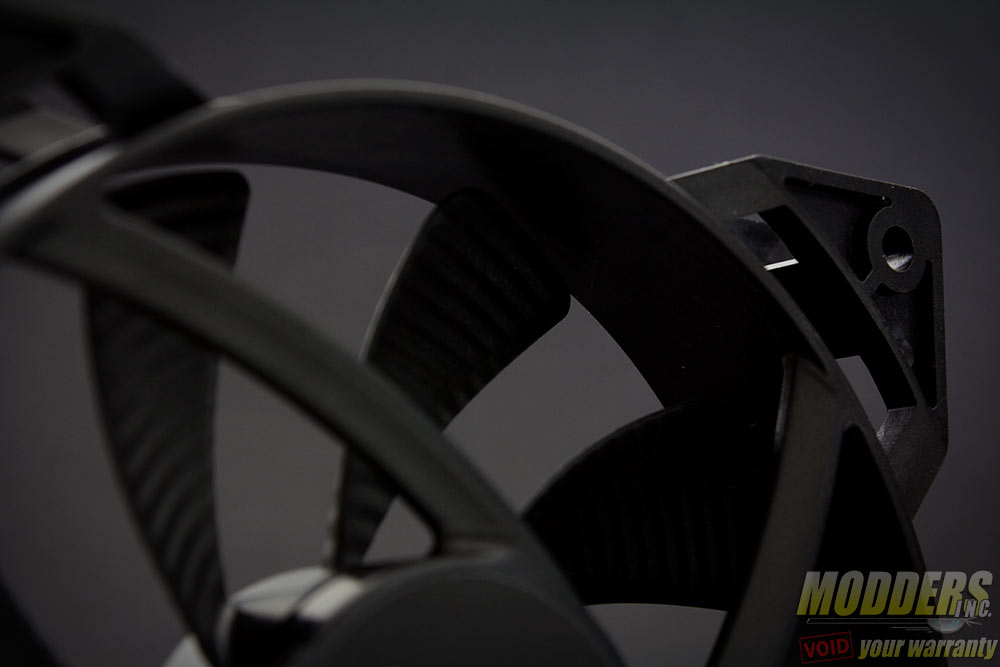 The fan cable does not have fancy sleeving but is uniformly black with a 4-pin connector, Readings from ASUS Fan Xpert II reveal the real-world controllable PWM range: