PC Water Cooling
ThermalTake Water 3.0 240 ARGB All In One CPU Cooling Solution
Water 3.0 240 ARGB
Closer Look at ThermalTake Water 3.0 240 ARGB »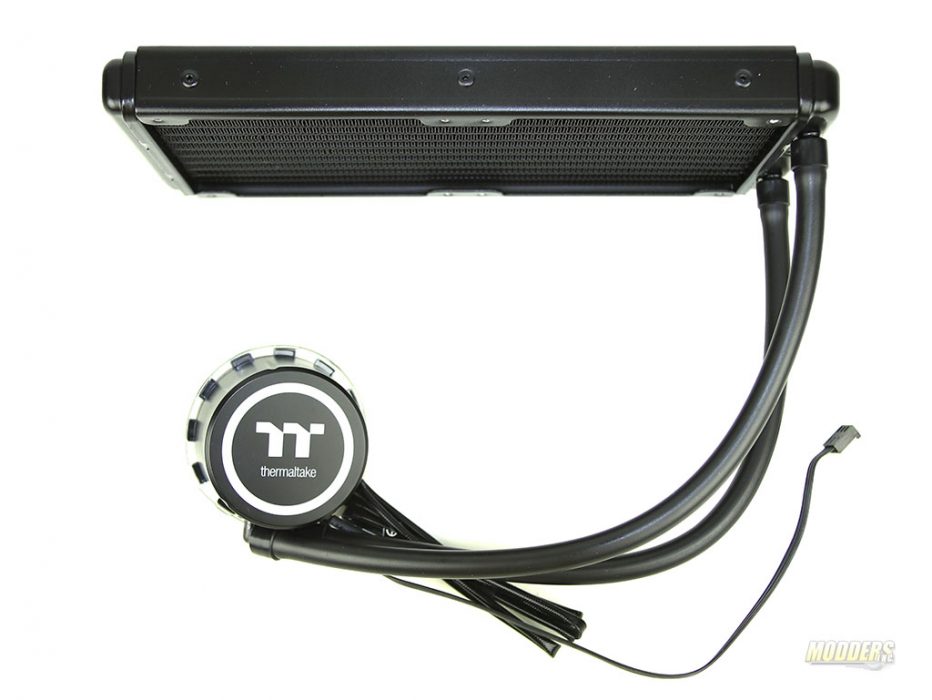 ThermalTake has been a leader in cooling solutions for a very long time. It seems that every time they come up with a new cooler it is better than the previous one. Over the years I learned to trust ThermalTake products as they rarely fail to perform to my expectations. One of the All In One cooler series "Water" has been around for a very long time and ThermalTake has recently released its Water 3.0 All In One CPU cooler with ARGB features. If you are new to Addressable RGB LEDs then you should know that Addressable LEDs are capable of displaying color independently than its neighbored LED as apposed to standard RGB LEDs where color spectrum is consistent across the whole array. The Thermaltake Water 3.0 ARGB series of AIO coolers come in three different sizes of radiators 120, 240 and 360mm. Every model of Water 3.0 ARGB comes with ARGB fans and ARGB CPU block.
Review Sample Provided by ThermalTake
Product Name: Water 3.0 240 ARGB Sync
Price at time of review: $ 139.99
The product was given in exchange for work done to produce this review.


Technical Specifications
P/N
CL-W233-PL12SW-A
WEIGHT
1230 g
PUMP
Motor Speed: 3600 RPM
Rated Voltage: 12 V & 5V
Power Input: 12V – 3.9 W , 5V – 1.06 W
WATER BLOCK
Material: Copper
FAN
Dimension: 120 x 120 x 25 mm
Speed: PWM 500~1500 R.P.M (2510-4PIN)
Noise Level: 25.8 dB-A
Rated Voltage: 12 V & 5V
Power Input: 12V- 1.44 W, 5V – 1.6W (one fan)
Max. Air Flow: 56.45 CFM
Max. Pressure: 1.59 mm-H2O
LED Control: ARGB controller or 5V addressable RGB header on motherboard
TUBE
Length: 326mm
Material: Rubber
RADIATOR
Dimension: 270 x 120 x 27 mm
COMPATIBILITY
Intel
LGA 2066/20113/2011/1366/1156/1155/1151/1150
AMD
TR4/AM4/FM2/FM1/AM3+/AM3/AM2+/AM2
*AIO Cooler bracket adapter comes in the AMD Threadripper CPU box.
Note: Please connect Water 3.0 ARGB 240 Sync to the correct port on your motherboard. Make sure you are using ARGB or +5V headers on your motherboard. Plugging Water 3.0 ARGB 240 Sync into incorrect headers may result in malfunction or damage.
Water 3.0 ARGB comes in a stylish shipping box and what I like here is that just by looking at the box, you can get a pretty good idea of what kind of device you are looking at. On the back of the shipping box, ThermalTake displays multiple operational modes of ARGB system along with some of the cooling performance data. Water 3.0 ARGB is compatible with ASRock Polychrome RGB, Asus Aura Sync, Biostar VIVID LED DJ, Gigabyte RGB Fusion 2.0 and MSI Mystic Light Sync. Besides standard Intel and AMD sockets Water 3.0 ARGB also supports Intel LGA 2066 and AMD AM4 sockets. If you are looking for AMD Threadripper support this AIO has an included adapter.
Internal components are secured in the recyclable box. To keep items free of scratches all of the components in Water 3.0 ARGB are wrapped in plastic bads. Contents of Water 3.0 ARGB are Two ARGB fans, Y splitters for ARGB connections, ARGB controller, a bad with Intel and AMD mounting hardware and Water 3.0 ARGB AIO cooler itself.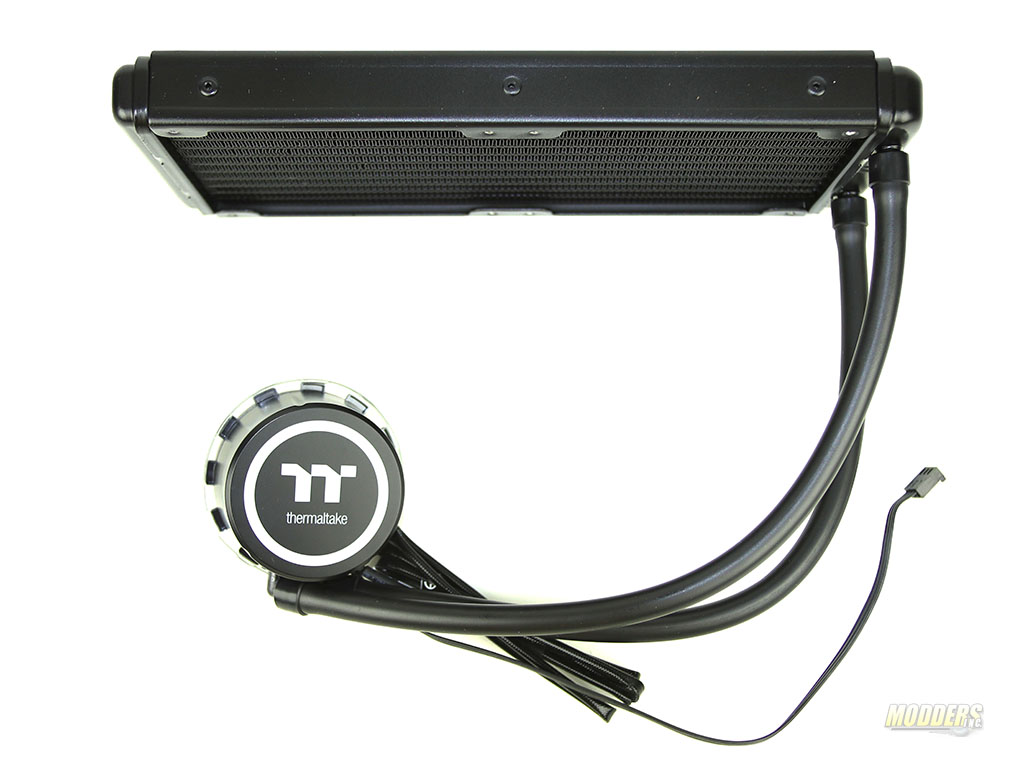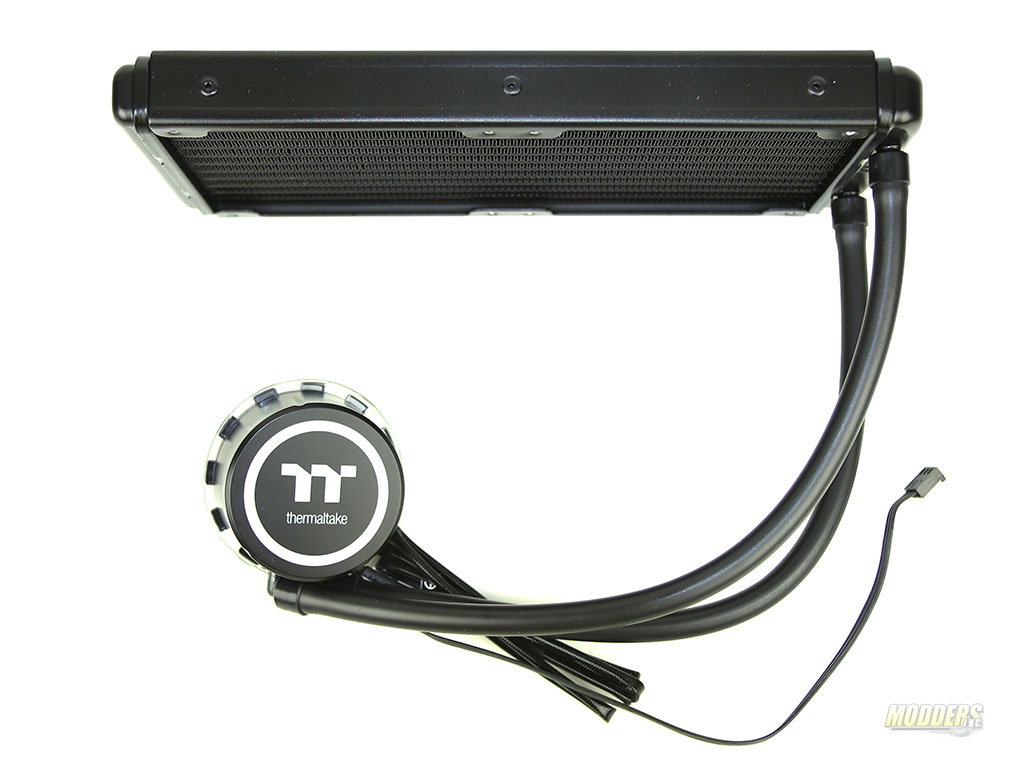 The color of the radiator and hoses of Water 3.0 ARGB is Pure Black. The radiator is made from lightweight aluminum and the hoses that connect the pump to the radiator are made from rubber and do not have any texture to them. The full list of supported sockets is Intel LGA 2066/20113/2011/1366/1156/1155/1151/1150 and AMD TR4/AM4/FM2/FM1/AM3+/AM3/AM2+/AM2.