News and Articles
be quiet! Silent Wings 3 Wins "Best case fan"Award
European Hardware Awards 2018
be quiet! adds another highly coveted European Hardware Award to its list of achievements. At the recent award show in Taipei, Taiwan, Silent Wings 3 was awarded the prestigious accolade "best case fan series" for the second year in a row. This adds another trophy to the many awards for "best manufacturer" and "best product" from both user-based polls and expert panels in 2017.
The "best case fan series" award for be quiet!'s premium fan Silent Wings 3 from the European Hardware Association follows the success at the European Hardware Awards 2017, where the expert panel of judges, consisting of all included websites' editors, awarded the innovative Silent Loop as "best water CPU cooler", and Silent Wings 3 as "best case fan series". On top of that, at the European Hardware Community Awards 2017 the combined community of all participating online magazines voted Silent Wings 3 as "best fan of the year" for the second year in a row, premium PC chassis Dark Base Pro 900 as "best ATX case", and Dark Power Pro 11 as "best PSU series".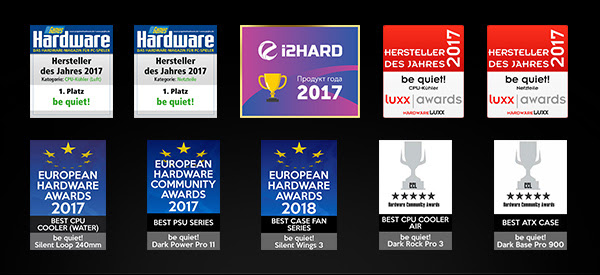 Last year, readers of some of the most important print and online hardware magazines in Germany voted be quiet! into top positions. In PC Games Hardware's "manufacturer of the year" polls, be quiet! won all categories it competed in, including "power supplies", "cases", "CPU coolers (air)", "CPU coolers (water)" and "fans". Hardwareluxx's readers selected be quiet! as best choice for power supplies, CPU coolers and fans. The "Top 5 best cases of 2017" ranking produced by renowned Youtuber Zenchilli included two models from be quiet!: Dark Base 700 and Pure Base 600.
Never losing momentum, be quiet!'s winning reputation continued to shine, convincing both media and its fanbase across Europe. In the annual 2017 Tweakers Awards in the Netherlands, be quiet!'s Pure Power 10 scored second place in the "best power supply" category, while Dark Base 700 ended up on the podium as one of the best PC cases. French hardware media Cowcotland asked its community to pick the best hardware of the year 2017, netting be quiet! awards for Dark Rock Pro 3 as "best CPU cooler", Silent Wings 3 as "best case fan" and Dark Base Pro 900 as "best ATX case". Further east at Russia's i2HARD, Silent Loop's reverse-flow pump impressed editors, subsequently receiving the highly regarded "product of the year" award.
North American-based Youtubers and reviewers Hardware Canucks gave special recognition to Dark Base 700 for "best modular interior" in a video roundup.
"The response from customers and media has been extremely positive", says Stanislav Minkin, be quiet!'s General Manager. "We are happy and proud to see be quiet! products, both well-established and newly released, amongst the most popular in the world, reassuring us that we are on the right track."
Check out some of our reviews on be quiet! products.