« Sub-System Benchmarks (Storage, Audio, Network, Gaming)
Final Thoughts about the Biostar Z170X Gaming Commander Motherboard
Biostar certainly packs the hardware in the Z170X Gaming Commander, and seems to be settling comfortably in their newfound gaming niche. The military brown and black color scheme is a far cry from the yellow Z97WE and their old signature red (which I still miss) and would win the favor of many who like that look, especially modders. The Gaming Armor lends itself to simple modding projects and can easily be painted or re-designed.
For overclockers, the 8-phase CPU VRM is decent plus the onboard tools make tweaking convenient. The touch controls would make validations quicker than using the Toverclocker software, although the requirement to run the Touch OC software first is a bit of a deal breaker. It would have been preferable if it was just simply toggled on or off via jumper or in the UEFI. Also, a redundant BIOS option would handy to have despite the availability of a swappable chip.
For gamers, the graphics card slot is spaced for triple slot support in dual-GPU mode and the third PCI-E x16 slot is CPU wired x4 which enables tri-Crossfire support. This is much more preferable than just simply 8x/8x option on some boards. The dual 32GB/s M.2 slot with a third optional Wi-Fi module is also a great performance upgrade option.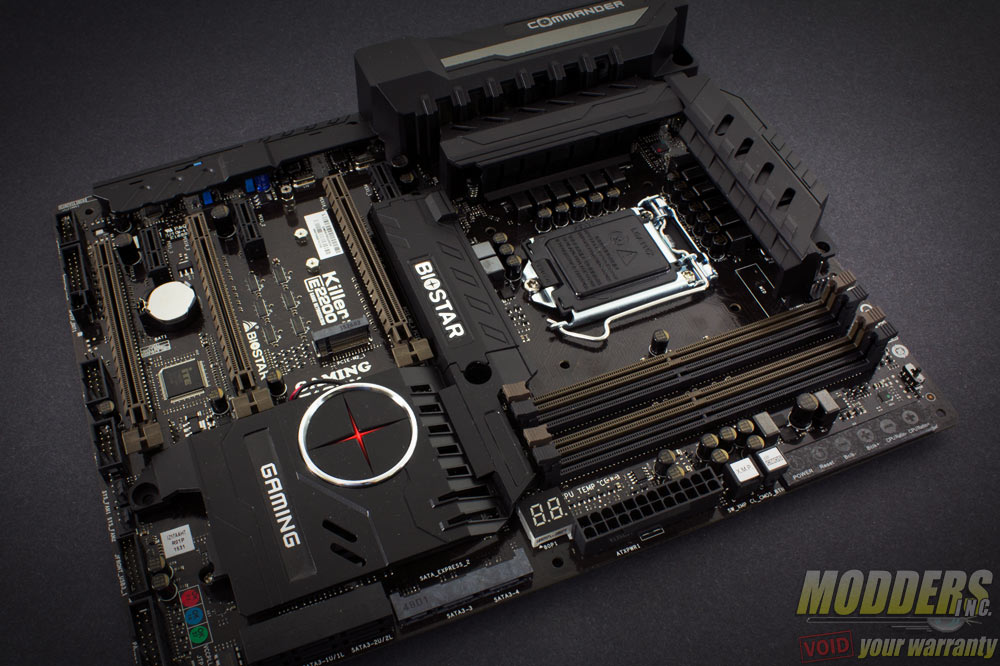 There is one glaring weakness on the otherwise steadfast Gaming Commander and that is the UEFI. It took until the latest beta BIOS Z17AF916.BST update to enable proper DRAM timing detection and settings. Although it stopped detecting my pair of Kingston DDR4 modules in dual-channel mode but single channel works. With the previous BIOS versions only able to incorrectly detect much slower timings. The good thing about this however is that it is a firmware issue and can be resolved with an update, instead of a hardware issue.
Overall, Biostar's efforts to provide a gaming motherboard solution is worth noting. The front audio solution is a bit of a gimmick, as is common with most motherboard audio solutions. Although thankfully unlike others, this one does not cost an arm and a leg. The Realtek ALC898-based onboard solution does well enough on its own and the breakout box audio solution only really works if shielded properly (and has a long enough cable so it can be used in full-tower cases). If they fix that and the UEFI, Biostar is well on their way to competing heavily, but for now they need to do some fine tuning and refinement.
[sc:recommended_hardware_award ]