Page 2 »
   A lot of us "Modders" like to use small compact hardware configurations when it comes time to build that next great mod. For the longest time, there was only a few options that would even be considered for such a build. In the last few years though, this has changed drastically. Not only can you go small, but you can go small with some powerful hardware. Today we are going to take a look at one of Zotac's ITX based boards geared toward the H55 chipset, the Zotac H55ITX-C-E.
[hr]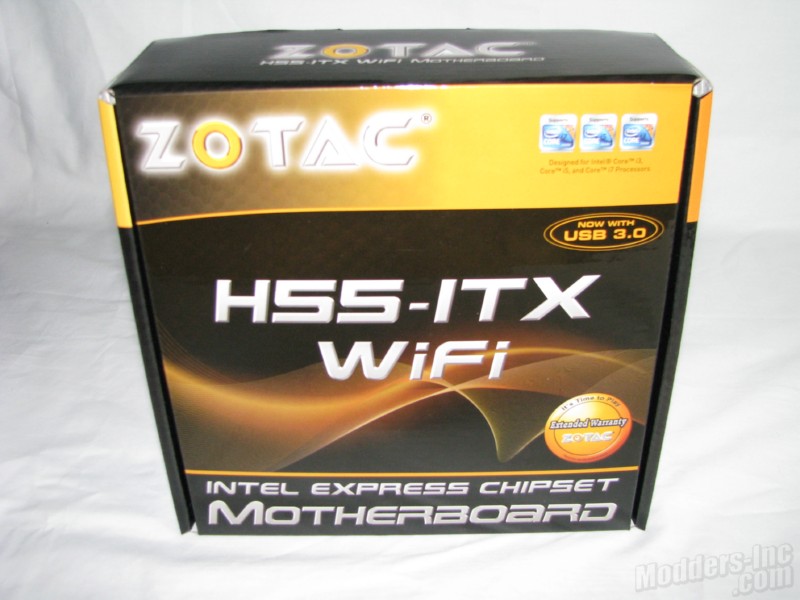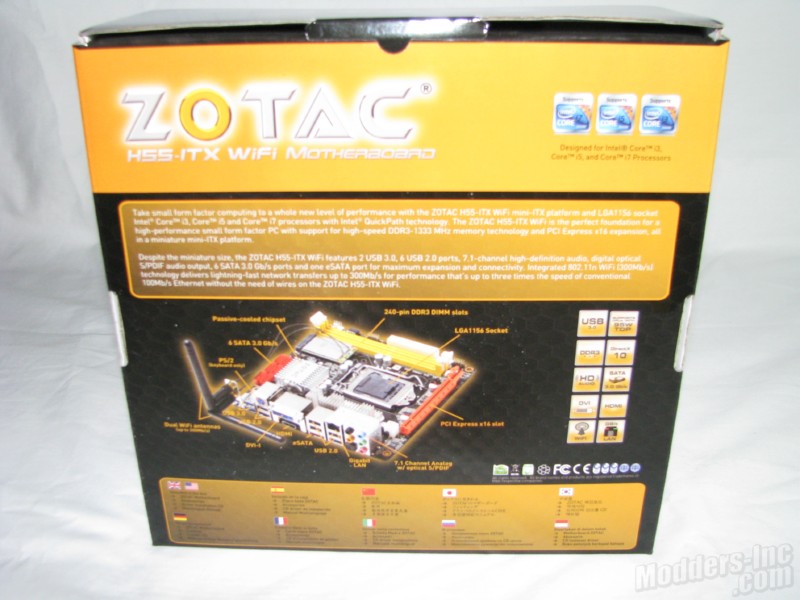 The Zotac H55ITX-C-E comes packed in Zotac's standard bright packaging. Consumers looking at the product in a brick & mortar store will find a full shot of the motherboard on the rear of the package showing what and where everything is located. To the side of that they have a set of icons listing the more popular features.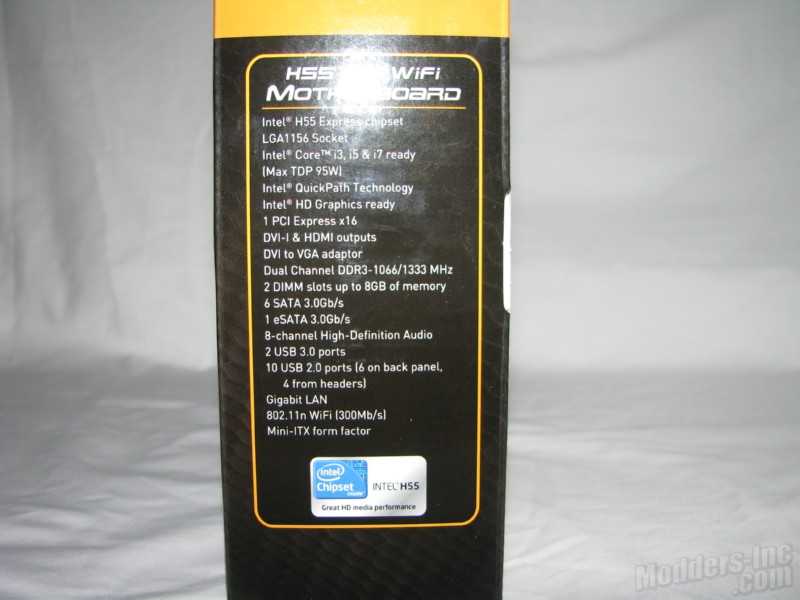 Along the side we see find a full list of the features.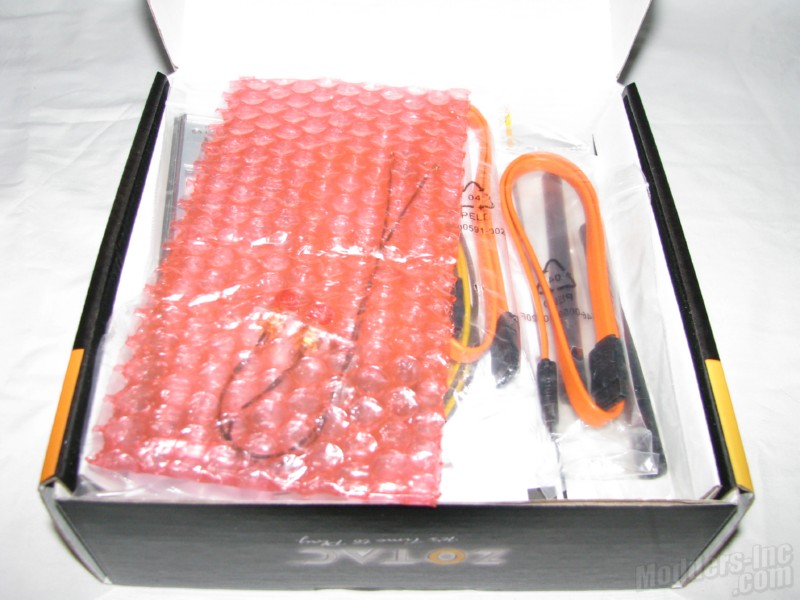 Cracking open the box, we can seen that Zotac has everything nicely packed. The motherboard is in the lower section with all the accessories and booklets on top.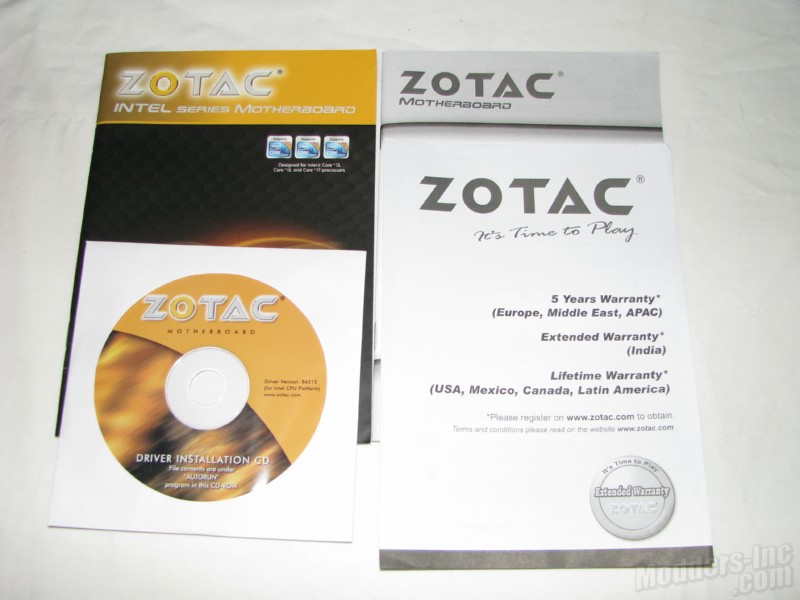 Here we have the Users Manual, a Quick Install Guide, the Drivers disc, and a Warranty pamphlet..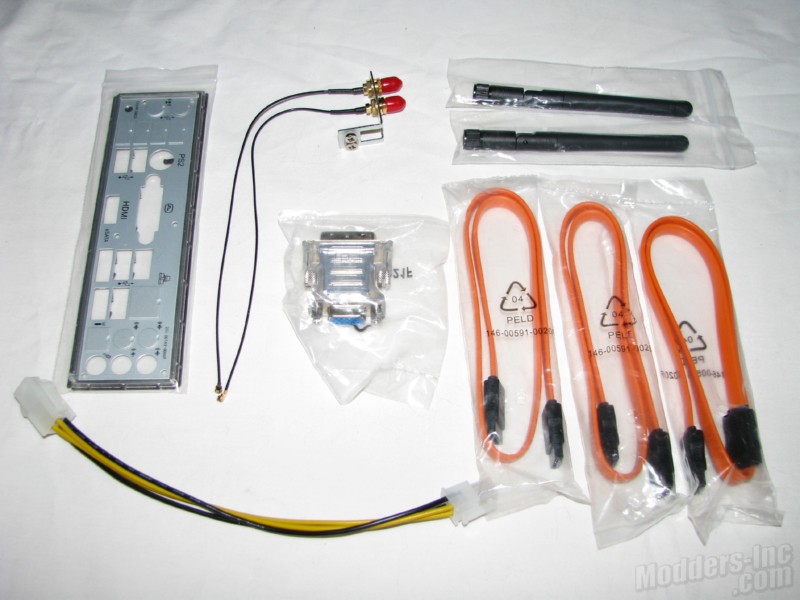 As far as the accessories go, we have the I/O shield, the WiFi antenna bracket, two antennas, DVIto VGA adapter, three SATA cables, and a 4-pin ATX 12V extension cable.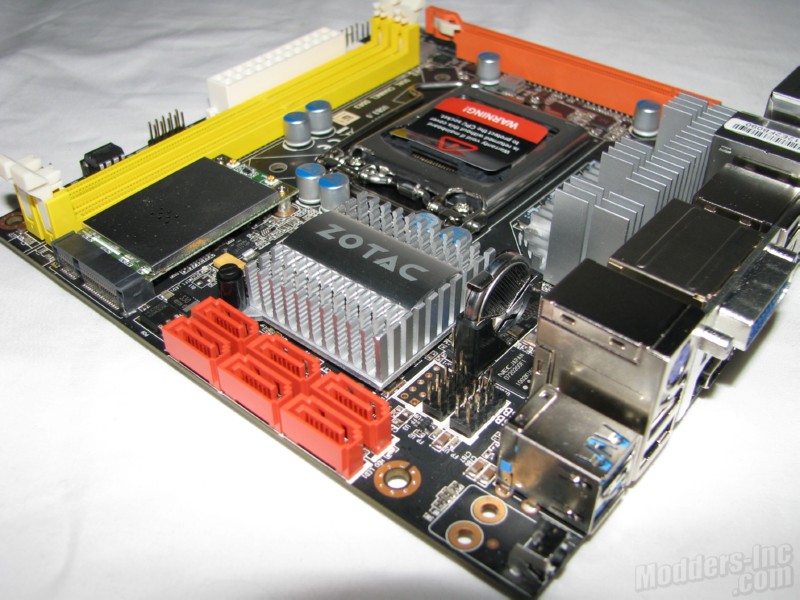 And last but not least is the motherboard itself.
Zotac H55ITX-C-E Specifications
Model
H55ITX-C-E
Chipset
Intel H55 Express
CPU Socket
LGA1156
Dimensions
6.7in x 6.7in – 170mm x 170mm
Form Factor
Mini-ITX
FSB
Intel QuickPath Technology
Memory Size
Up to 8GB
Memory Slots
2 x 240 pin DDR3 DIMM
Memory Type
DDR3 1066/1333
Onboard Audio
7.1 Channels
Onboard LAN
10/100/1000 Mbps
Onboard Video
Supports Intel HD graphics
Package Contents
3 x SATA cables
1 x 4-pin ATX extension cable
2 x WiFi Antennas
1 x DVI to VGA adapter
1 x I/O back plate
PCI Expresss x1
1 (mini PCIe) – Occupied by WiFi module
PCI Express x 16
1
Power Connector
24-pin
SATA
6 + 1eSATA (SATA 3.0 Gb/s)
USB
2 x USB 3.0 (on back panel), 10 x USB 2.0 (6 on back panel, 4 via pin header)
Video Ports
HDMI + DVI