BitFenix has launched their first modding competition and there is an interesting spin to the way they are holding the event. While there is a modding contest part of the event which BitFenix calls 'ModTime', there will also be a chance for modders to offer up their builds for auction, making what is essentially an open platform marketplace showcase of sorts. Obviously, BitFenix products are required for entry. Currently there are 33 cases entered at the time of this review from all over the world including notable modders such as Pakawat "EPiC" Chaiboonma from Thailand and some even have multiple entries submitted like Franco Warboy from Italy.  Non-modders can vote for the winner online.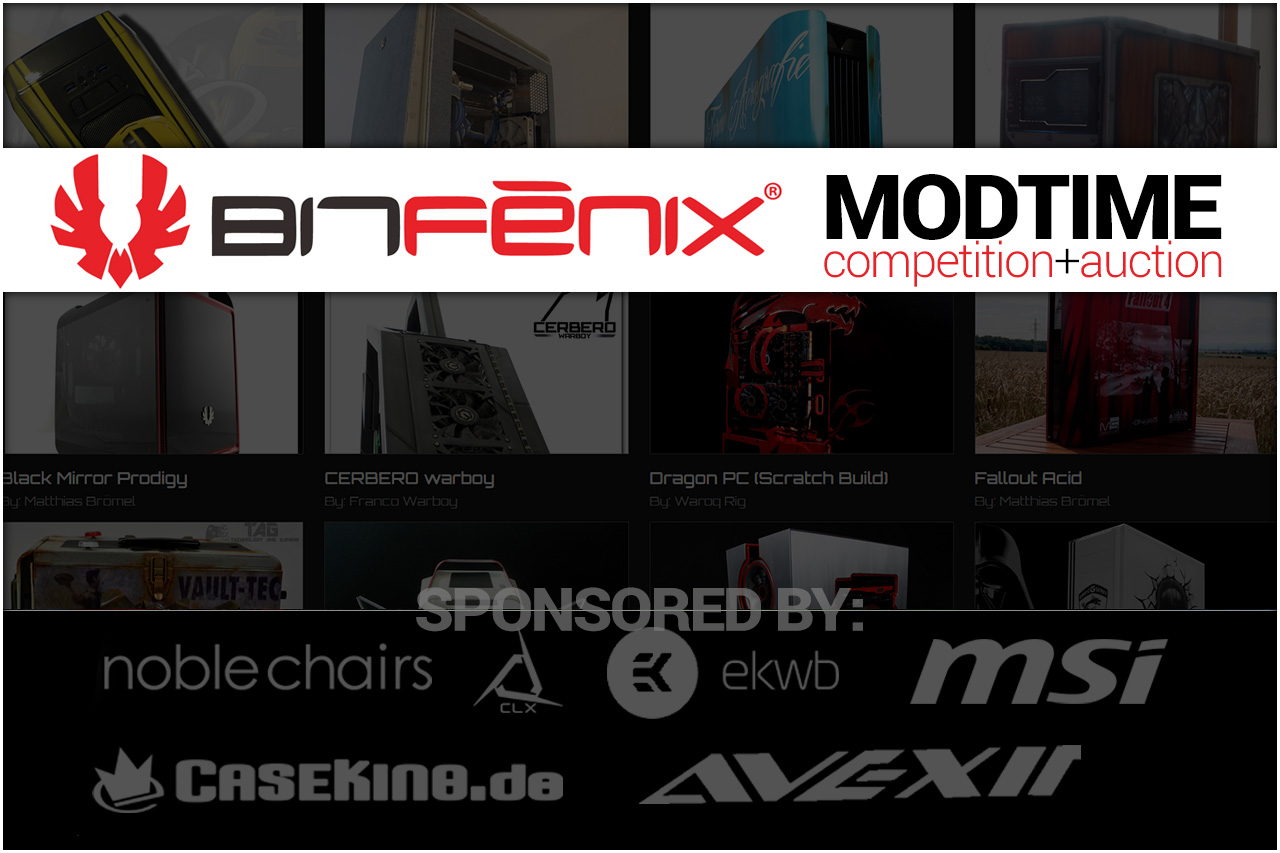 How does it work?
BitFenix ModTime is an open platform for Selling and buying of Mods. Thus BitFenix is not responsible for any transaction issues between seller and buyer. Sellers are free to sell modding related products of any brand on the ModTime Auctions. BitFenix ModTime Auction will be available from 30th May 2016 for public use. (Not limited to the duration of Computex)
Users of the auctions must be over 18 years old.
BitFenix ModTime is only a platform to allow showcase their products. All the transactions are to be made through direct contact between seller and buyer.
Once an Auction has ended, the contact information of the seller and winning bidder will be emailed to the winning bidder and seller respectively. This information is only disclosed to the above mentioned parties and BitFenix Co. Ltd.
Listing a Product
Being an open platform, BitFenix ModTime allows for selling and buying for BitFenix products and products from other brands. So you are allowed to auction fully built Mods, Modded chassis or Modded components. Products must strictly be related to case modding.
We encourage transactions to be made through Paypal to secure your transactions.
When listing a new product, the seller must provide true information and must abide by the terms and conditions mentioned in the product page. By listing a product you agree to BitFenix Terms and Conditions.
When listing a product, please make sure the starting price of the product includes shipping expenses and costs. We encourage sellers to use lowest price possible to make sure
Providing a warranty for the product will increase the motivation for bidders. Please specify the terms of the warranty and how to deal with damaged good. Specify how the expenses will be divided in case of a damaged good or returning of a product.
Warranty Coverage
Seller is responsible for warranty coverage and should mention how to divide expenses in case of a damaged product.
BitFenix is in no way responsible for any damaged products or misleading products.
Shipping
All shipping information must be disclosed in the product page and it is adviced to use tracking enabled shipping.
Bidding
Once a user has registered as a bidder, they can openly bid for any product listed given that they accept the terms and conditions.
Once a bidder has won the auction the winning bidder will receive an email containing the contact number and email address of the seller.
Rules
BitFenix ModTime competition is open for case Mods based on BitFenix chassis and scratch builds that uses BitFenix products.
The winning case Mod is decided by BitFenix team and BitFenix has the right to disqualify any contestant if they are deemed to have violated the following rules.
Modder must to have used sufficient BitFenix products in their mod.
Moddder must be above the age of 18 years
Modder must have provided real information during the registration process
Modder must agrees to BitFenix Terms and Conditions.
BitFenix reserves the right to add or change any rules, terms or conditions without prior notice
Prizes
Winners will receive the following prizes.
First Place:

MSI GTX 970 Gaming 4G
Avexir S100 SSD
BitFenix Aurora

Second Place:

MSI Z170 Gaming M5
Avexir S100 SSD
BitFenix reserves the right too change the prizes for the winner without any prior notice.
Prizes will be shipped to the winners within a month of shipping information verification.
BitFenix Aurora will be shipped only after the official product release.
For more information, visit: https://www.bitfenix.com/mod/mod/