Cooler Master, "MOD PC workshop" that can experience PC MOD at Tsukumo personal computer main store held on December 10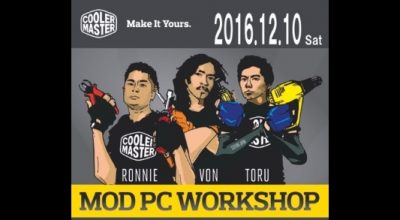 Case modding is world wide and in you happen to live in Japan then you need to check out this event. Cooler Master Technology will be holding an event called "MOD PC Workshop" on December 10th at the Tsukumo Personal Computer Main Store 4th Floor where you can experience the thrill of creating your own original PC.
In the event, three famous case modders, Mr. Ronnie Hara , Mr. Von Carlo, and Mr. Toru Sekiguchi (Sleeving-Japan) will be there as lecturers and demonstrate their methods on how to actually create and do your own PC case mod.
Besides seeing these master modders showing off their skills, there will be a corner where visitors make miniature PCs made of real paper crafts on site and a scenario where the grand prize is won. The workshop is free to enter / leave at all times during the period from 13 o'clock on the start of the day to 17 o'clock ending. The store is located in 1-9-7 Kotobukida, Chiyoda-ku, Tokyo.