News and Articles
Cooler Master Launches MasterCase Maker 5 with FreeForm Modular System
Cooler Master's MasterMaker 5 is a mind-tower ATX case designed to be very modder friendly with its modular approach. Cooler Master calls this the FreeForm modular system and it basically means users can readily swap components in and out of the case or add extras depending on their needs without taking out a rivet with a drill or cutting metal. Since various users have different components, this free-form modularity makes the MasterMaker 5 highly compatible with more components than typical mid-tower offerings. More information is available below from the official press release: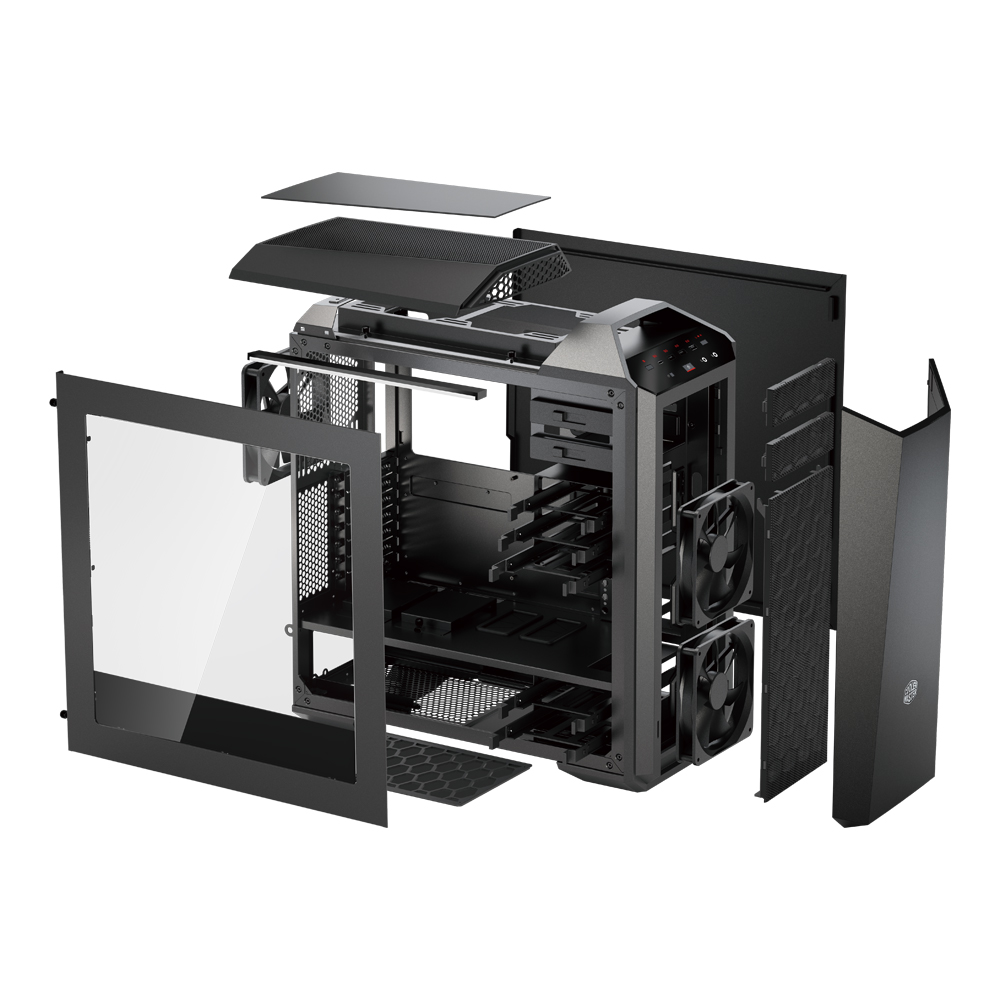 Chino, USA – Cooler Master, a leader in design and manufacturing computer components and peripherals, today announced the availability of the MasterCase Maker 5, a mid-sized modular tower with exterior expandability, made possible with accessories purchased separately. The MasterCase ushers in a new era of cases with FreeForm™ Modular System that offers unparalleled control over form and function.
"The MasterCase Maker 5 offers the option to completely swap and readjust the case's form and functionality with multiple interior and exterior outlooks, ample space and customized accessories," said Crane Chen, Case Team Manager."We've listened to the community since the launch and have taken steps to ensure a number of accessories are available including maker made accessories for the community. These accessories are available for purchase online and this truly enables endless build possibilities."
Upgrade Your PC Inside Out with the FreeForm™ Modular System
Cooler Master wants users to have absolute control over how their case looks and functions. FreeForm provides options to not only adjust the case exterior, but also offers interior layout flexibility in a mid-sized case.In the MasterCase Maker 5, FreeForm allows a single case to support a host of different configurations, enabling users to upgrade rather than replace their case and system. Through a unique Clip-and-Click panel, FreeForm lets users adjust vertically or remove the drive cages entirely. This flexibility allows building multiple system configurations like home servers, water-cooled workstations, or gaming rigs with dual-slot extra-long graphics cards using one single case.
The MasterCase Maker 5 comes with an upgraded I/O panel that provides four USB ports, including USB 3.0 Type C, and additional buttons for LED strip and fan speed control. The top and front door panels fit snugly with a magnetic grip, the top panel also includes a closed paneling allowing the freedom to choose to cover the top or ensure airflow through the top mesh. The front panels are padded to suppress sound and deliver the right balance between noise and airflow. 
All accessories, including external panels and kits will be available for purchase from authorized retailers and also online at the Cooler Master online stores in North America, Europe, and Asia.  ore accessories are to be announced at a later date. To learn more visit: www.coolermaster.com/MasterCaseMaker5
List of Accessories:
Tempered Glass Side Panel for MasterCase 5 Series: $49.99
Top Cover Kit with Magnetic Grip for MasterCase 5 Series*: $24.99
Cooling Bracket for MasterCase Series*: $9.99
Silencio FP 140 PWM with Red LED: $19.99
Universal VGA Holder for all size tower chassis: $14.99
* Included in MasterCase Maker 5
Pricing & Availability:
The MasterCase Maker 5 is expected to be available at global retailers including Amazon and Newegg, beginning May 10th, 2016 for a suggested retail price of USD $189.99.
About Cooler Master:
Cooler Master is a Taipei-based, global computer components company with more than 20-year track record in releasing innovative products that truly advance the industry. We are driven by a passion for the things that make building a PC such a unique rewarding experience, and sustained by a vision that we can reinvent the way these machines are designed, made, and used. From our landmark release of the first ever aluminum PC case, to our groundbreaking switch to the modular format, Cooler Master is committed to bringing our customers and fans the utmost in choice and control. For more information on Cooler Master, please visit www.coolermaster.com and http://www.facebook.com/coolermaster