PC Cases / Accessories
Cooler Master MasterBox 5 Case Review: Black with MeshFlow Front Panel Version (MCX-B5S1-KWNN-11)
A Closer Look at the Cooler Master MasterBox 5 (MCX-B5S1-KWNN-11) »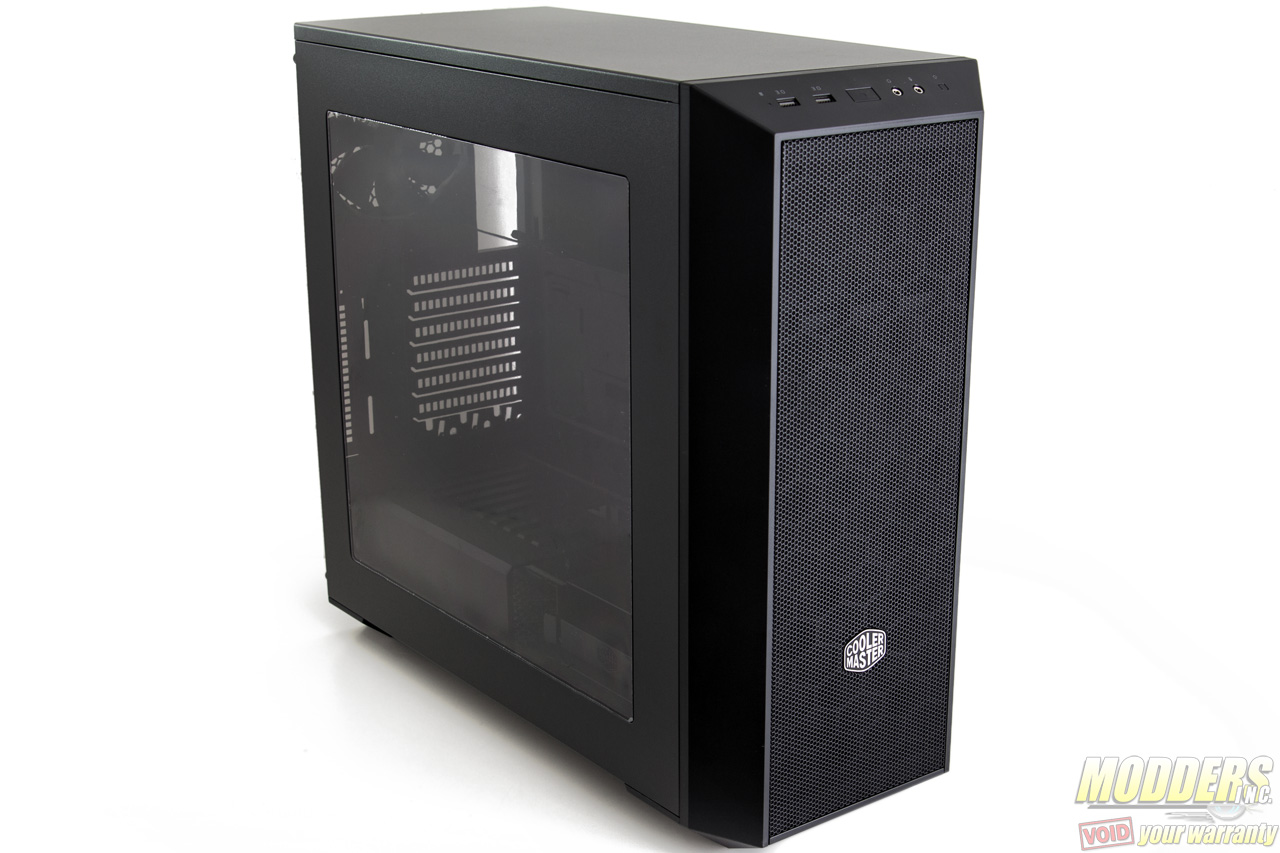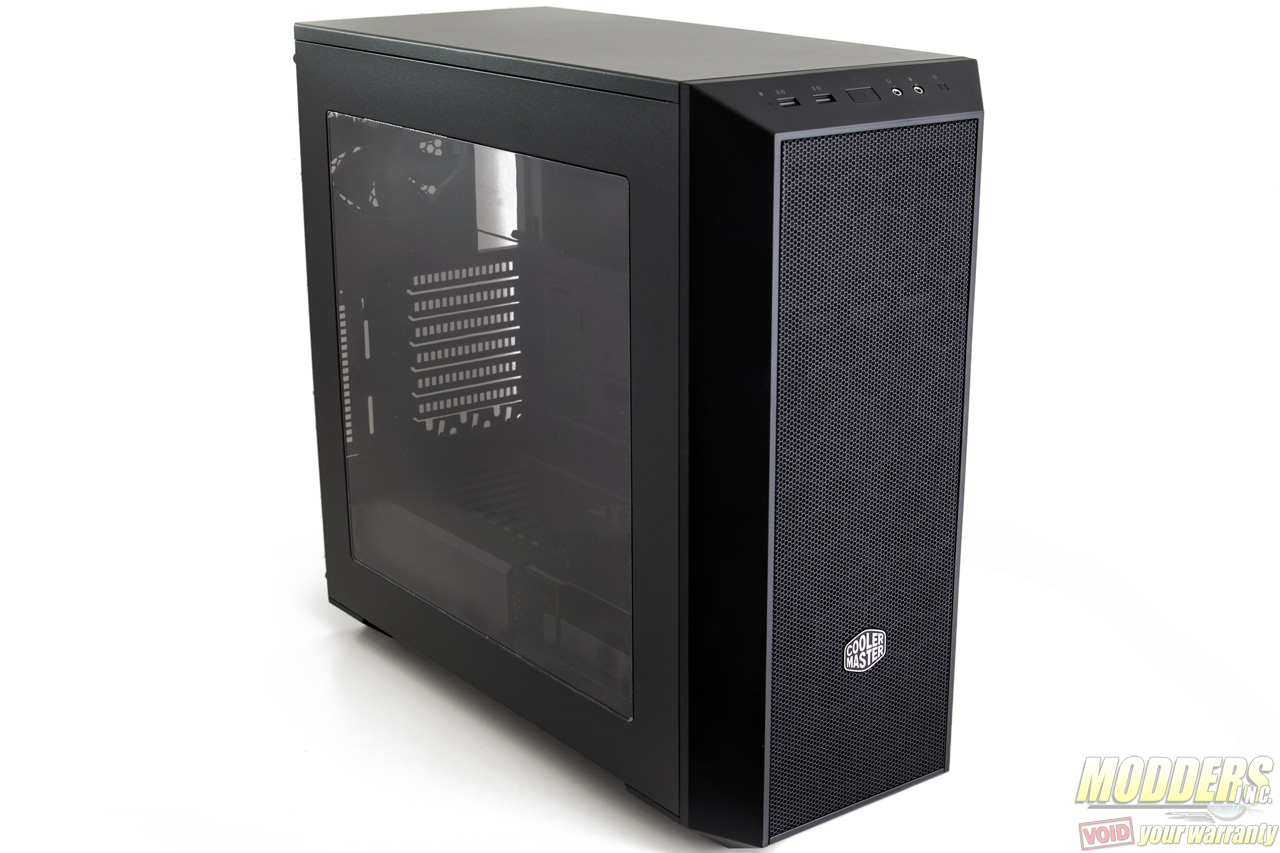 The Canadian model for the MasterBox 5 was released initially several weeks ago (and was previously reviewed here at Modders-Inc) but the US version has finally arrived starting with two options for Americans to choose from: one black version and one white. The Cooler Master MasterBox 5 MCX-B5S1-KWNN-11 (black with MeshFlow Front Panel) comes bundled with a pair of 120mm fans, a PSU cover, a 3.5″ drive cage, a 2.5″ drive cage and a windowed side panel while the MasterBox 5 MCX-B5S2-WWNN-01 (white with darkmirror front panel) comes with the same configuration.
The MasterBox 5 ships in a brown box with black print, a classical approach to packaging as is expected of a case under $100. The foam padding is specifically customized for the MasterBox 5 case with a small cutout at the top for the accessories and manual that are exposed upon opening the top. The case itself is wrapped in a large plastic bag with the warranty information sheet also sitting on top.
You can tell from the box that this is the black version with seamless mesh front because the model number MCX-B5S1-KWNN-11 is printed at the top.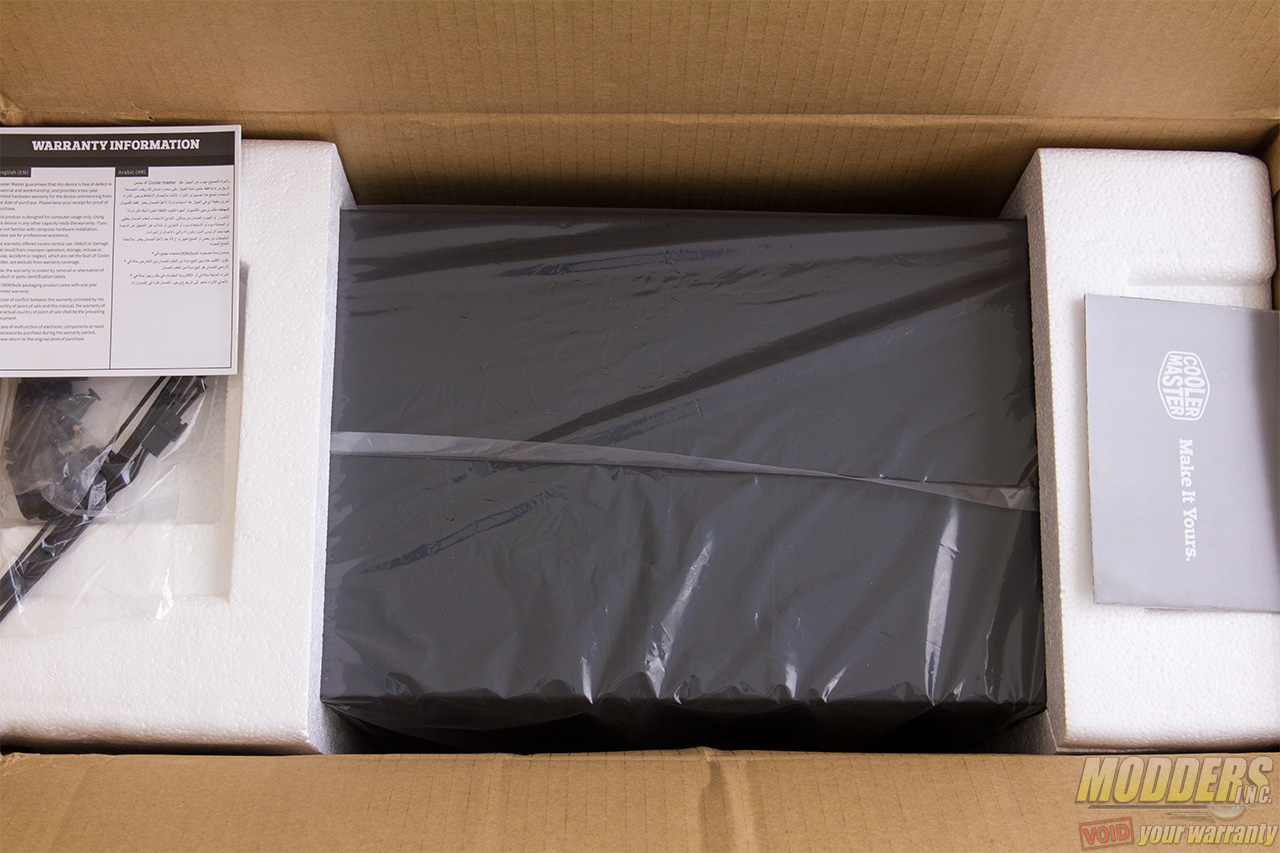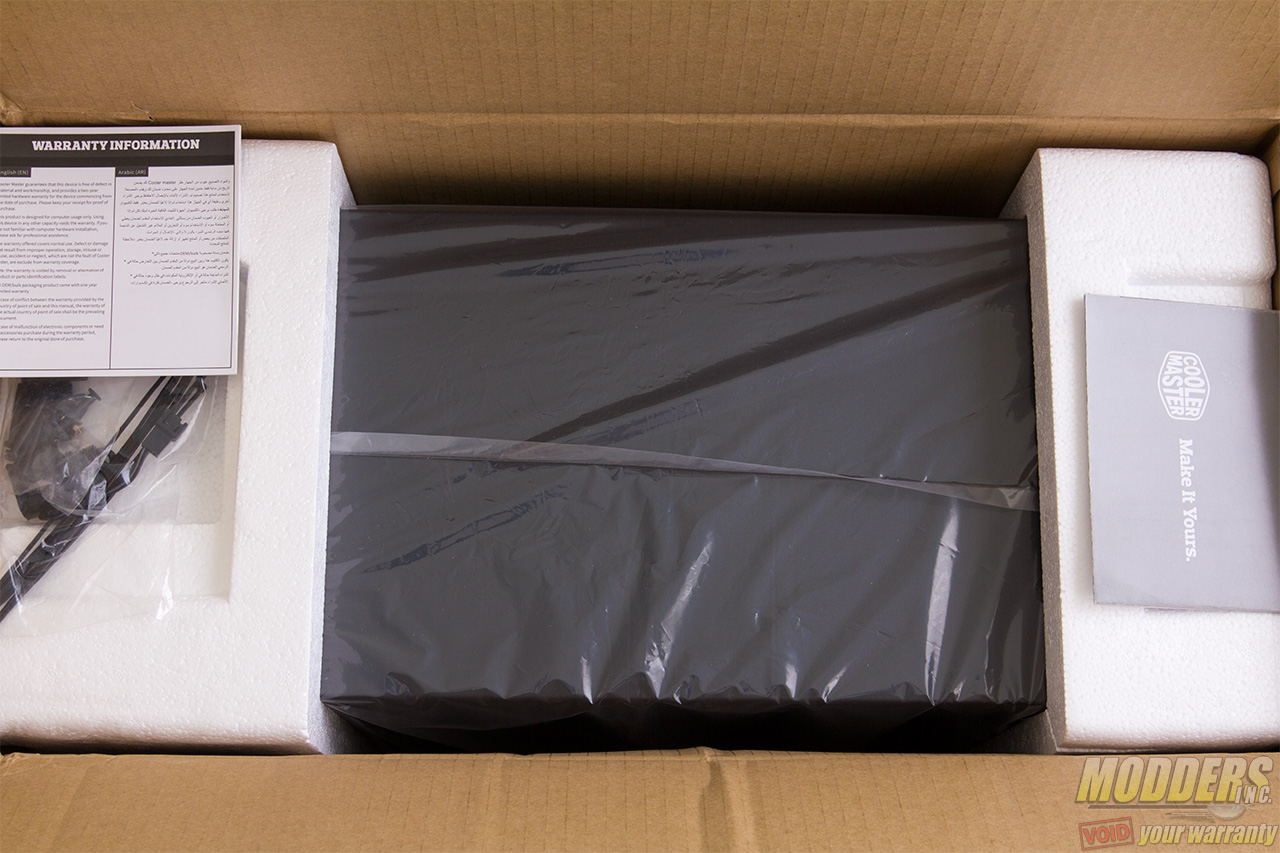 The manual is a simple fold-out sheet illustrating the various combinations and flexible functions available with the MasterBox 5. The accessories are not sorted as is common with Cooler Master case accessories.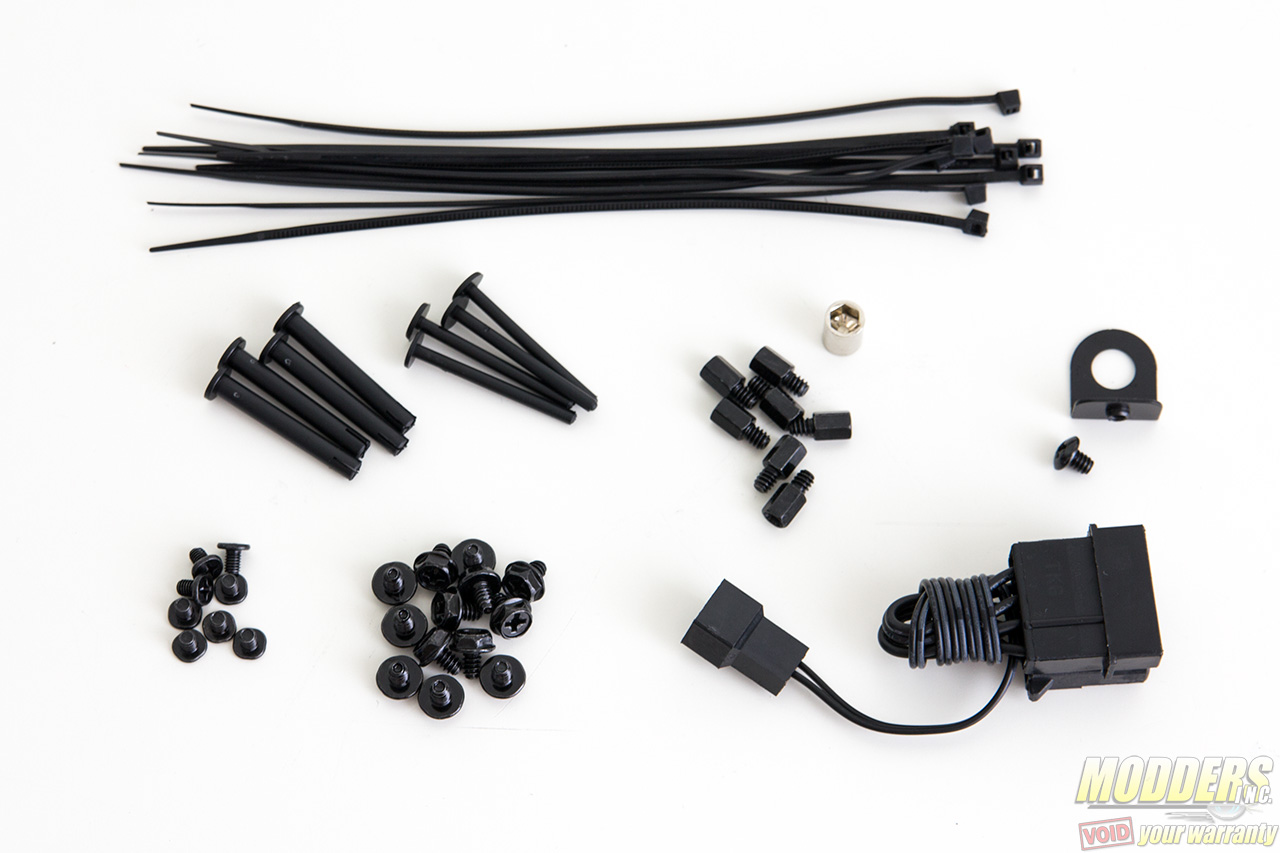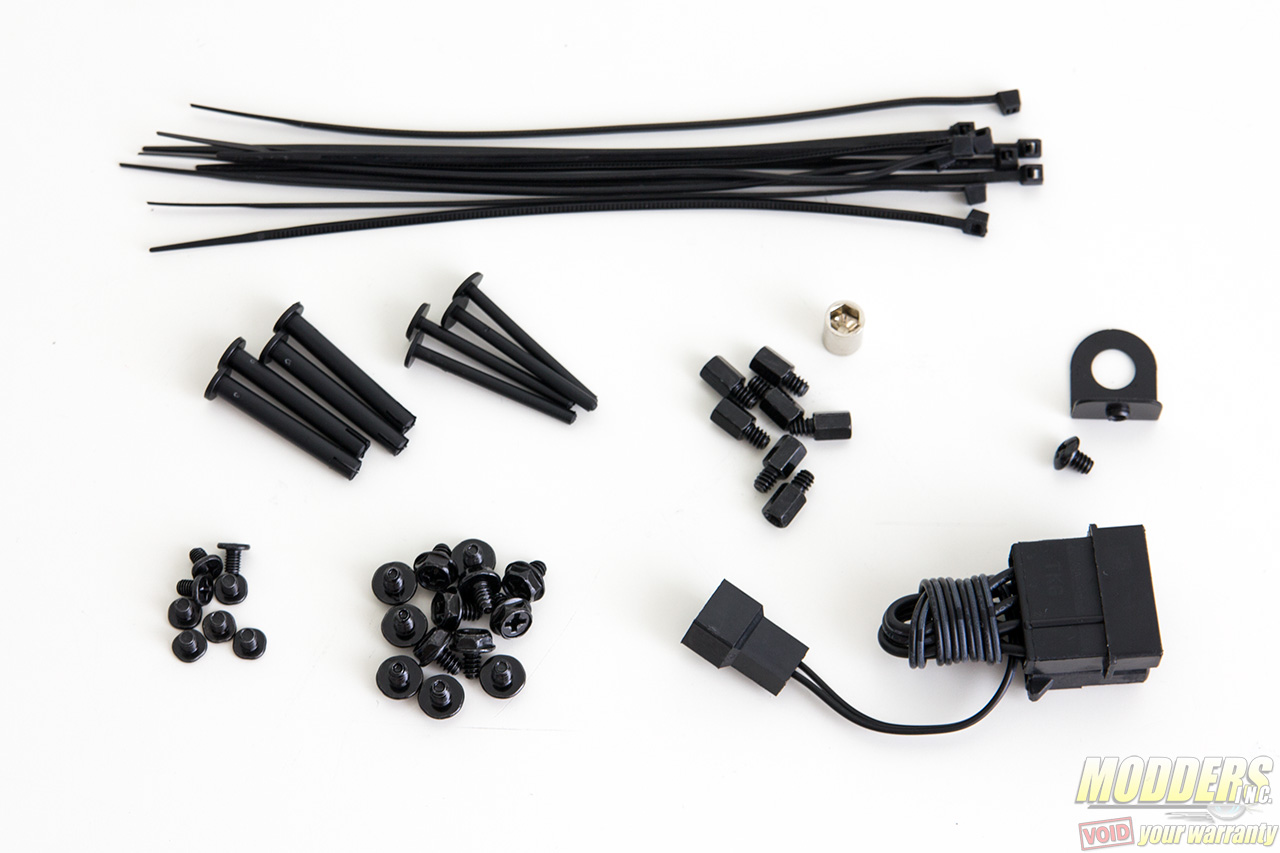 Contents of the accessory pack:
10x black zip-ties for cable management
4-pin MOLEX to 3-pin fan power connector
13x motherboard mounting screws
7x motherboard stand-offs (two are already pre-installed)
1x motherboard stand-off mounting adapter
1x security lock accessory with 1x mounting screw
8x 2.5″ screws
4x matching pairs of tool-less fan mounting pins (four more pairs are already pre-installed with front intake fan)
Other accessories pre-installed inside the case:
2x 120mm 3-pin fan
1x CM StormGuard theft-prevention security tool
Specifications
Product Number
MCX-B5S1-KWNN-11
Available Color
Black
Materials
Steel body, Plastic mesh bezel
Dimensions (LxWxH)
All Internal Structures
500 x 220 x 475mm
Motherboard Support
E-ATX, ATX, Micro-ATX, Mini-ITX
Expansion Slots
7
Drive Bays
5.25″
Combo 3.5″ / 2.5″
SSD
Cages are Sold Separately
2
1
I/O Port
USB 3.0 x 2, Audio in / out
Pre-installed Fan(s)
Front
Rear
120mm x1
120mm x1
Fan Support
Front
Rear
120mm / 140mm x2
120mm x1
Liquid Cooling Support
Front
Rear
240mm / 280mm radiator, up to 50mm thickness without fan
120mm x1
Clearances
CPU
PSU
GPU
167mm / 6.5″
180mm / 7.1″
285mm / 11.7″ (w/ 3.5″ HDD cage)
410mm / 16.1″ (w/o 3.5″ HDD cage)
Cable Routing
Behind Motherboard Tray
25mm – 35mm
Dust Filters
Front, bottom
Power Supply Support
Bottom mount, ATX