PC Water Cooling
Cooler Master MasterLiquid Pro 240 Review: A Gestalt Approach to Cooling
Closer Look at the MasterPro Liquid 240 »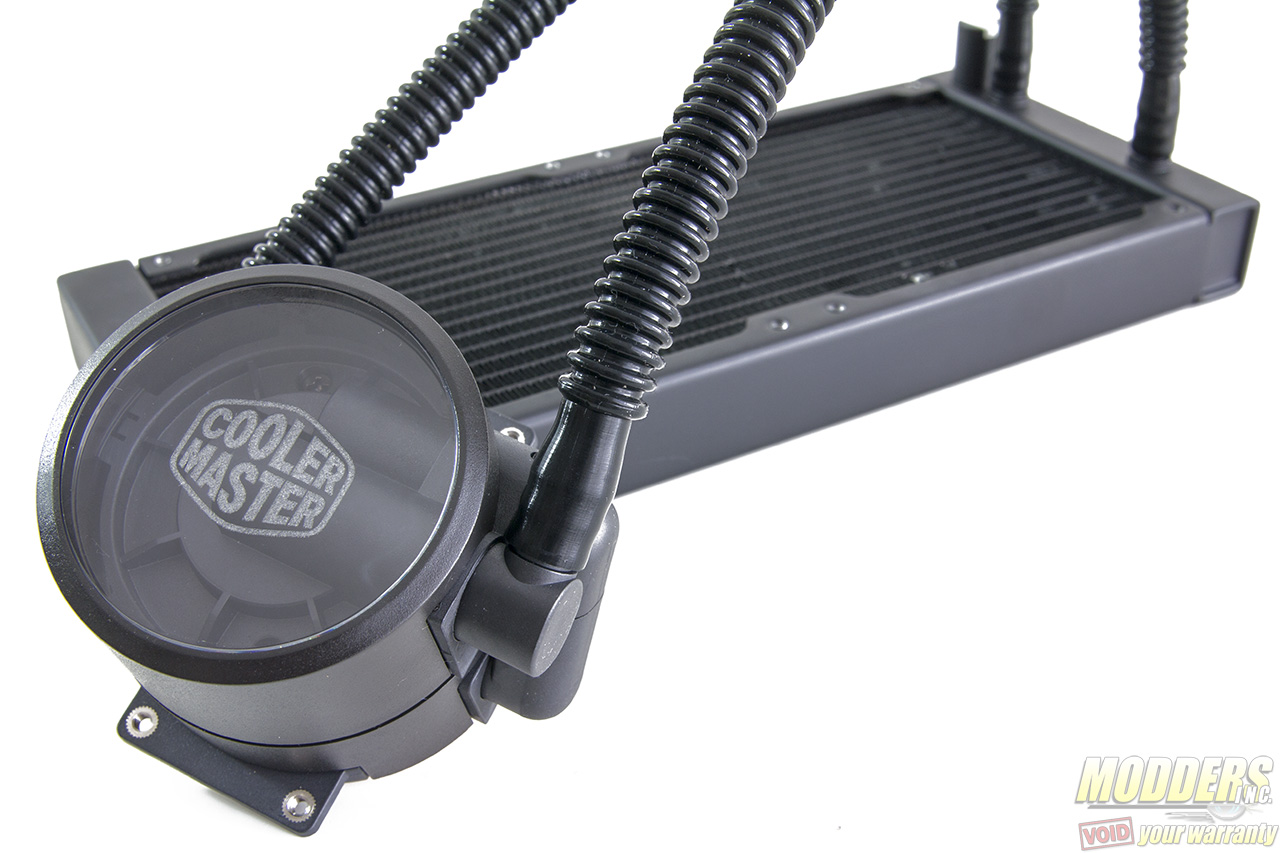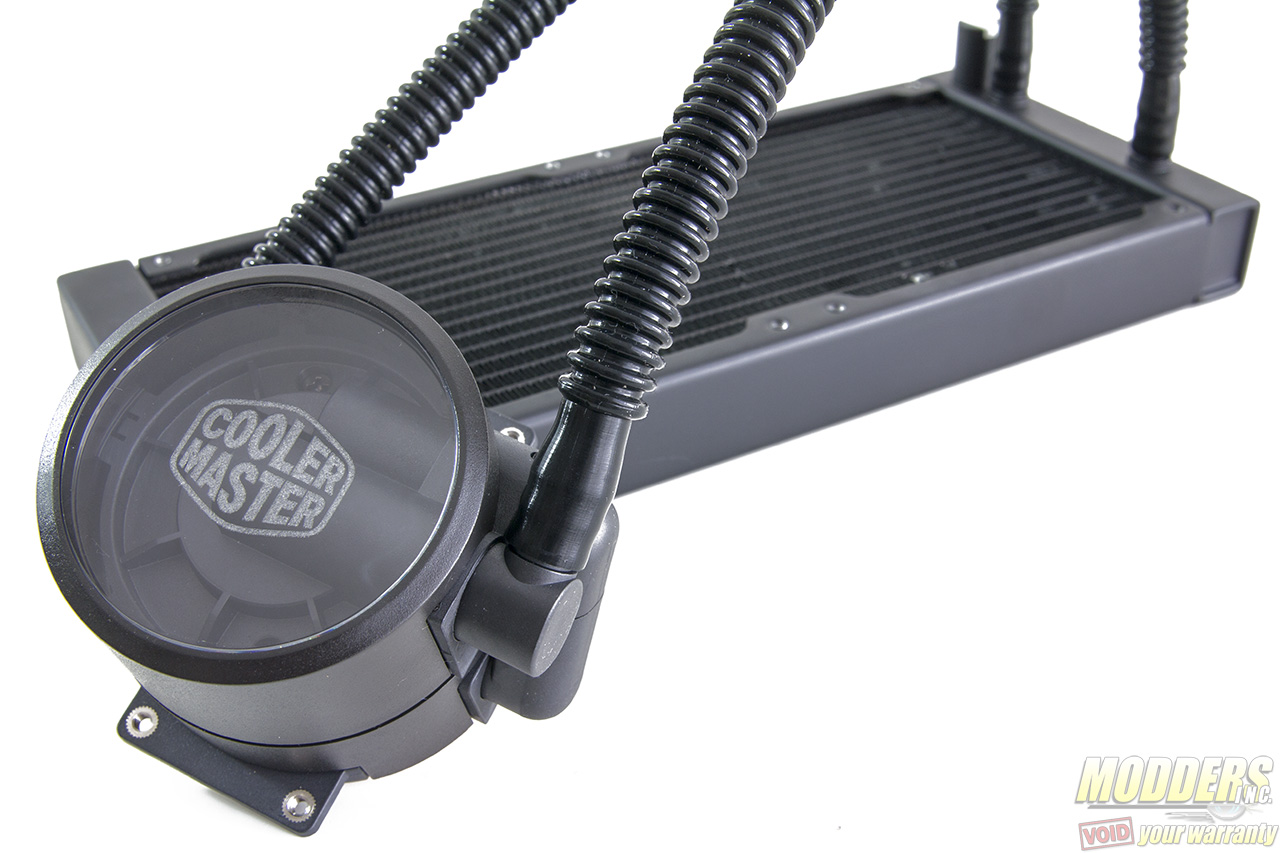 Like a patient's lineup at therapist's office the main principle behind Cooler Master's latest MasterLiquid dual-chamber pump block design works by having effective partitioning of treated subjects and keeping the flow going rather than having everyone mired in the same waiting room. Hour-long therapy sessions are actually only 45 to 50 minutes so there is enough time allowance for the last patient to exit without having to interact with the next one. No awkward small-talk and no shared neuroses. Inside the MasterLiquid's pump block, the warm coolant is pushed out in a different outlet while the lower temperature liquid enters from the opposite side and takes the long way via the upper room rather than just entering the same chamber directly that the warmer liquid exists from. This longer route essentially acts as an accelerator for hitting the copper channels like a longer barrel would affect muzzle velocity in a gun.
This dual-chamber design of course results in a much larger pump-block unit than previous generation Cooler Master AIO and Asetek-based competitor AIO units. Then again, the total pump block size in terms of clearance was never really a concern as long as the designated Intel keep-out-zone is observed. It is still shorter than most CPU coolers. There's also the matter of Asetek's keep-out-zone to follow. As in they have copyrighted the single-chamber low-profile pump unit design, so manufacturers keep their distance from that idea or risk getting sued. Which is why all current non-Asetek based AIO's have a solution that separates the pump from the block. Upcoming products from Silverstone for example moved the pump in the middle of the radiator, while Lian Li is going to have a cooler with the pump mounted on a separate reservoir which in turn is mounted on the radiator and Raijintek has opted to go for a completely pumpless design as shown at Computex. From Cooler Master's perspective, the pump does not need to move that far from the block, but only testing will show how effective this approach really is.
[sc:sponsor sponsor="Cooler Master" product_link="http://us.coolermaster.com/product/Detail/cooling/lga-1151/masterliquidpro240.html" product_name="MasterLiquid Pro 240″ product_price_link="http://amzn.to/2aMIKeq" product_price="$119.99″ ]
The new MasterLiquid Pro packaging comes in an elongated box with the new Cooler Master styling, abandoning the old purple and black color theme and going for a simple all black with white text and blue highlight for the product title. The dimensions are listed at the rear of the box for both the radiator and the new pump design to inform users of any clearance issues beforehand.
The internal contents are placed in a series of folded cardboards rather than the recycled carton compartments of the previous Nepton series. The accessories are inside a separate box which is then organized further. Each accessory kit is partitioned in a plastic bag with the smaller components actually housed in a see-through organizer, which is a first for Cooler Master. They tend to just put all accessories in a single bag and lets users sort it, but this one comes pre-sorted.
Aside from the mounting accessory set, bundled with the MasterLiquid Pro unit itself are a pair of MasterFan Pro 120 Air fans and a noise dampening gasket. The mounting accessory kit also includes a PWM Y-splitter, a small tube of thermal compound and radiator mounting screws.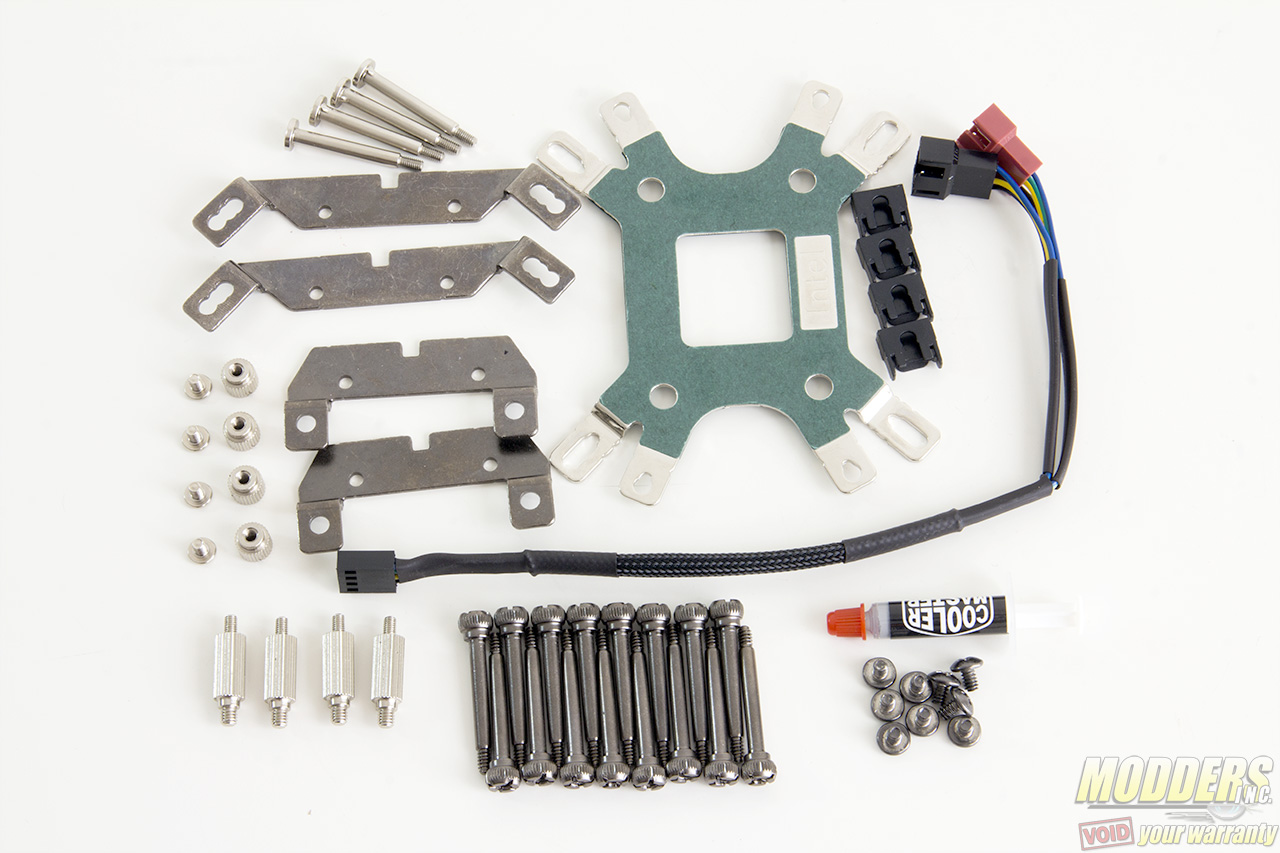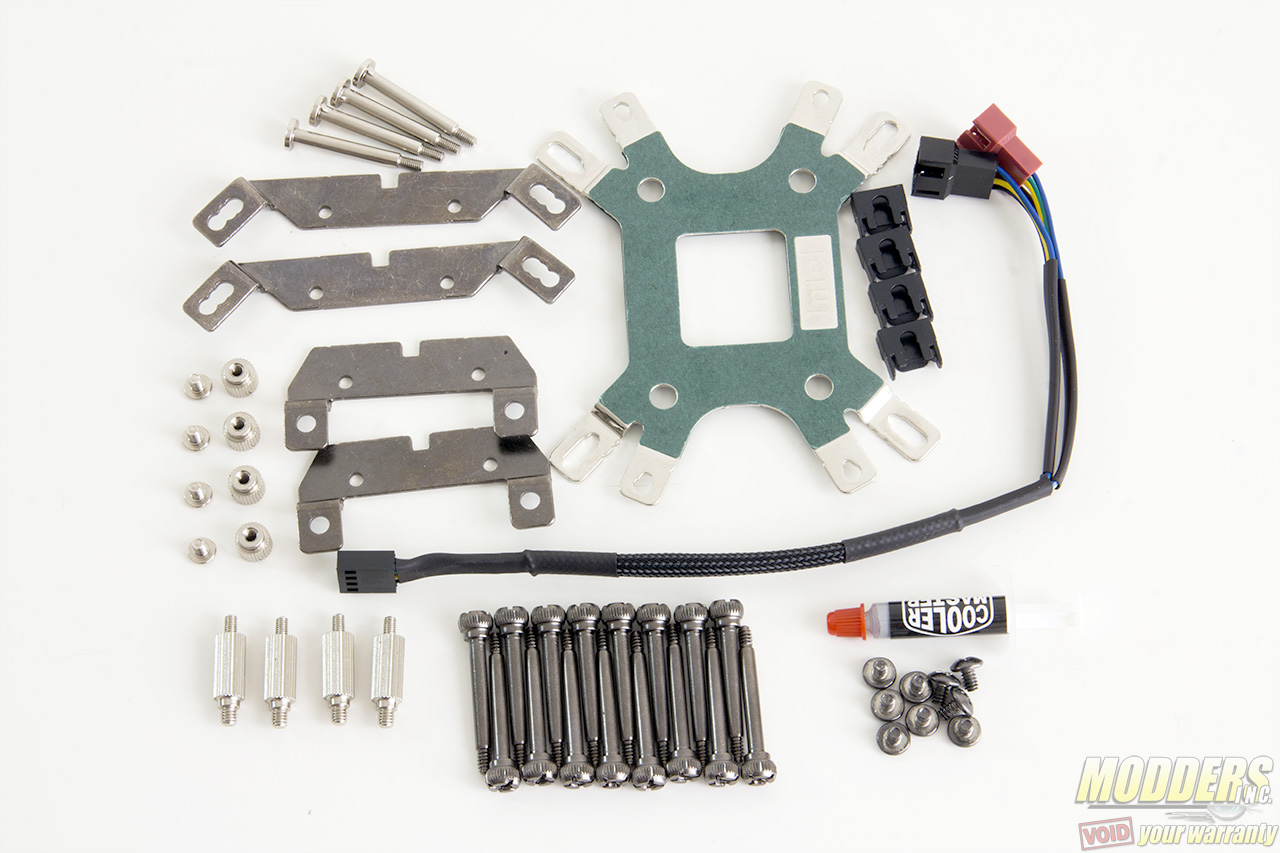 Specifications
MasterLiquid Pro 240
MasterLiquid Pro 120
Model
MLY-D24M-A20MB-R1
MLY-D12X-A20MB-R1
CPU Socket
Intel® LGA 2011-3 / 2011 / 1366 / 1150 / 1151 / 1156 / 1155 / 775
AMD FM2+ / FM2 / FM1 / AM3+ / AM3 / AM2+
Radiator Dimension (L x W x H)
275 x 118.5 x 27 mm
10.83 x 4.67 x 1.06 inch
145 x 118.5 x 38 mm
6.06 x 4.72 x 1.50 inch
Radiator Material
Aluminum
Fan Dimension
120 x 120 x 25 mm
4.7 x 4.7 x 1 inch
Fan Speed
650 ~ 2000RPM ± 10%
Fan Air Flow
66.7 CFM (Max)
113.32 m3/h (Max)
Fan Air Pressure
2.34 mmH2O ± 10% (Max)
Fan MTTF
490,000 Hours
Fan L-10
70,000 Hours
Fan Noise Level
6 ~ dBA
Fan Connector
4-Pin
Fan Rated Voltage
12 VDC
Waterblock Dimensions (L x W x H)
94.8 x 68 x 56.9 mm (3.7 x 2.68 x 2.2 inch)
Pump Waterblock Material
Copper
Pump Speed
1100 ~3300RPM (PWM)
Pump Bearing Type
Ceramic
Pump Rated Amperage
 0.5 A
Pump Power Connector
4Pin (PWM)
Tube Diameter
Φ8 mm
Tube Length
358 ± 5mm
Pump MTTF
175,000 Hours
Pump L-10
50,000 Hours
Pump Noise Level(dB-A)
< 12 dBA
Pump Rated Voltage
12 VDC
Pump Power
6.0W
Pump LED
Blue LED
EAN Code
4719512051672
4719512051665
UPC Code
884102028205
884102028199