Page 2 »
Introduction
Cooler master has really set the gaming market ablaze with the rapid pace at which they have been releasing new gaming peripherals and more so that they are making them exclusive and with many options which give the gamers a true sense of customization to the way they play the game. We will be taking a look at Cooler Master Quick Fire Pro Keyboard.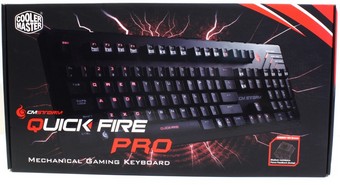 Here we see the package and as you can see from the design it carries a similar style to what we have gotten used to from Cooler Master as of recent. The front predominantly shows the keyboard with some background red blast effects with  little icon or signage it is definitely a welcome change to the otherwise crowded normal boxes we see from gaming keyboards advertising all of the special bells and whistles the board can pull off.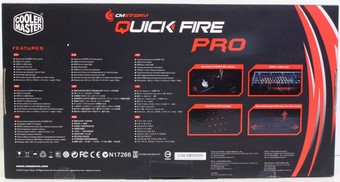 The rear of the box carries nine different languages worth of listing the key features of the keyboard and four visual icons of what the keyboard supports.  For the most part Cooler Master has kept the packaging rather clean and well laid out so that users should have no issue knowing what they're getting without having to read a book about it.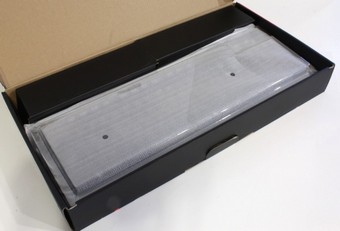 Flipping open the box we find that the board is wrapped in a bubble film bag for protection along with a thin rigid plastic cover to complete the shipping armor. This may seem like a little much for just a keyboard but when you see the type of shipping damage we have believe me it is well justified.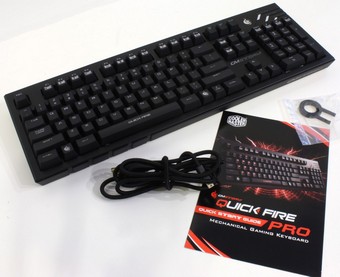 Here we see everything that is included in the box.
CMStorm Quick Fire Pro Keyboard
Briaded detachable USB cable
Keycap puller
Quick Start Guide
The Keyboard being a mechanical model is one of the very top models available for gamers as the mechanical switches offer a definite advantage for precision and response over a standard Rubber dome style board.
Features:
Mechanical CHERRY MX switches
USB 2.0 full speed
NKRO in USB mode
Multimedia shortcuts
1000Hz/1ms response time
Windows key disabled in game mode
Partial Red LED backlight
Removable braided USB cable with cable routing