« Page 2
|
Page 4 »
Lighting and Effects
Here we look at the lighting effects of the Cooler Master Quick Fire Pro and the effect on the gaming environment.  We were having trouble getting the backlight to show up in our photos so we killed the lights and for good measure added some purple LED backlighting to give a offset to the keyboard backlighting.
Here is a general layout of the board with full lighting enabled.  You will notice this is not a fully backlit board as it has the key "gaming" areas illuminated.  One cool feature is its not just the WASD cluster but the surrounding keys as well which are backlit.  There are also multiple illumination modes available.  Lighting can be solid on, pulsating and off which is nice but the pulsating was a little strange as I found it to be a little distracting at times.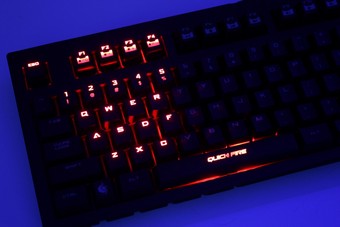 Here we see the WASD cluster area completely at full light.  Also note that the ESC and F Keys are lit above the cluster along with the spacebar to help positioning without looking directly at the board.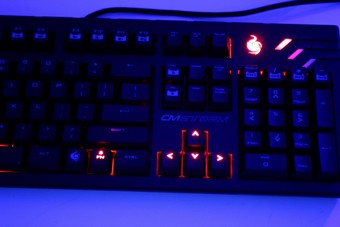 Here we have the arrow cluster which is lit as well along with the function lock key and also the CMStorm logo.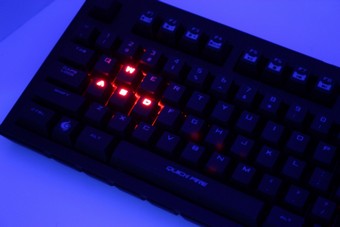 Under one of the modes it switches off the surrounding keys and illuminates just the WASD cluster which allows for more precise positioning when it is needed and the brightness is adjustable for multiple levels of illumination.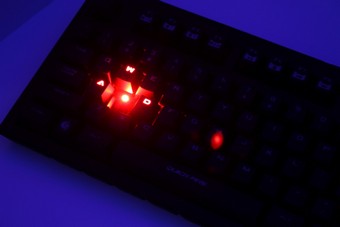 We removed the key cap to show just how bright the LED really is under there and as you can see that is one bright mother!  It was bright enough it took a few re-shoots to get it captured where it wasn't blowing out everything around it.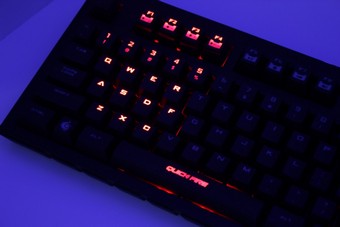 With the key cap reinstalled we have a new appreciation for exactly how bright this thing can be.