Page 2 »
You want to get away from air cooling and those oversized heatpipe setups are adding a lot of unwanted stress on the motherboard, but you don't want to endure the cost and hassle of converting your system to a water cooled unit. CoolIT Systems Inc may just have what you are looking for with their newest liquid cooling setup that goes by the name of Domino A.L.C.(Advanced Liquid Cooling).
Whether you are a serious gamer, overclocker or PC fanatic you are always on the look out for ways to lower your CPU temperatures for better performance and stability. Processor heatsinks are becoming larger and larger with the addition of heatpipe technology and the fan to remove the heat. This also comes at a price as where does all that heat go; well it goes right back into in your case. You could always go the water cooling route, but that can get relatively expensive, extra stuff in your case and a hassle to maintain. What if you could get better heat dissipation from a small compact system that you could install in a very short time and never have to worry about, at least for a few years. This is where CoolIT Systems new cooler design "Domino A.L.C." becomes your new best friend.

The Domino A.L.C. (Advance Liquid Cooling) CPU is packaged in a rather small box for what you might think it would be housed in. But the unit is rather compact for the amount of cooling it can do. A black box with loads of images and information are on every side.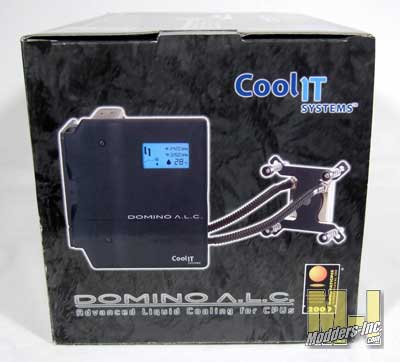 A compatibility list is displayed making sure that what you have will work this this unit, that can also be adapted to different setups. Also you can read some of the Technical Specifications about the Domino.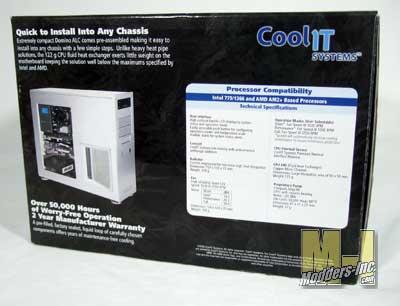 Several quick but informative paragraphs are giving to help teach you about how it works and some highlights about its features. Some of those features are about the low noise level and the User Display screen.
On another side, I think the bottom, you get just a bit more info..well more like highlights about the Domino and past reviews about the CoolIT products. Darn shame Modders-Inc is not on there…maybe next time.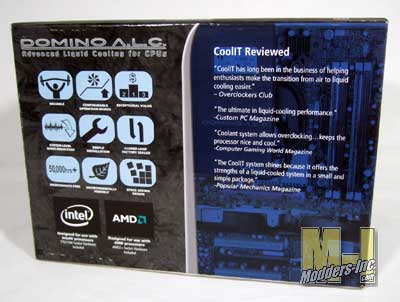 Inside the box the cooler comes packaged in a plastic blister pack type set up which holds everything in place and gives a clear view of what you are about to enjoy.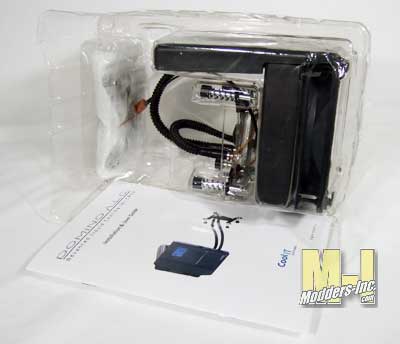 OK lets jump deeper into the this…onto the next section!