Page 2 »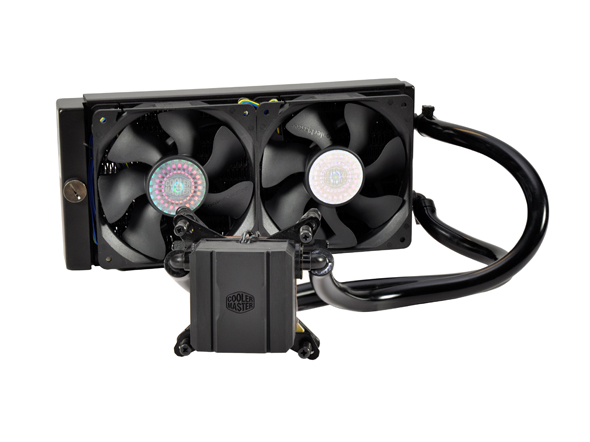 Water cooling for PCs is not something new and has been around for several years. In the past if you wanted to use water cooling you would have to locate and purchase the individual parts and assemble them, fill the system up with coolant, and leak test it. Recently there has been a surge in All in one, or AIO watercooling kits. AIO kits come from the manufacture ready to install and run. They are assembled, filled, and leak tested. Many installations are just as easy as installing an air cooler. The first AIO water cooling setup was brought to market a few years ago by AseTek. AseTek OEM's this kits for practically every manufacture such as Cooler Master, Corsair, XigmaTek, Enermax, and many others. However, AseTek isn't the only game in town. Swiftech, one of the industry leaders in water cooling for years recently partnered up with Cooler Master to bring the Glacer 240L all in one liquid CPU cooler to market. This is not the typical all in one liquid cooler. The major feature that sets the Cooler Master Glacer 240L apart from the rest of the crowd is the expandability feature. If the user so desires, they can disassemble the kit, add additional waterblocks, such as GPU or memory blocks, change the coolant, etc. This is a hybrid kit, it comes as an all in one, but can be used as component level water cooling.
[sc:sponsor sponsor="Cooler Master" product_link="http://www.coolermaster-usa.com/product.php?product_id=10101&product_name=Glacer%20240L" product_name="Glacer 240 L Liquid CPU Cooler" ]
Specifications
Model
RL-G24L-24PK-R1
Radiator
Material: Copper/Brass Dimensions: 269mm x 127mm x 29mm Fill-port Thread: G 1/4
Fan
Dimensions: 120mm x 120mm x 25mm Speed: 2400 RPM Airflow: 86.15 CFM Static Pressure: 0.31 – 4.16 mmH2O Noise Level: 19 – 40.33 dBA Fan Type: Blademaster 120 Fan Life Expectancy: 40,000 Hrs
Pump
Speed: 1200 – 3500 RPM Voltage: 12V Power: 13W Connector: 4-Pin PWM, SATA Power MTBF: 60,000 Hrs Flow Rate: 165 L/hr Head: 2650 mmH2O
Tubing
Material: PVC Dimensions: 5/8″ x 3/8″ Length: 420mm
Warranty
2 years
UPC Code
884102024122
Features
Glacer 240L Semi-DIY CPU watercooler, designed in the United States by Swiftech and Cooler Master. Factory filled and sealed to be an All-in-One closed loop cooler or expand the system with standard DIY components. It's your system. Cool it your way.
High performance expandable system can be upgraded to cool other components.

Tuned for top performance with a 3500 rpm pump system.
Performance 240mm radiator is designed for handling high wattage overclocked CPUs.

Copper waterblock with copper/brass radiator for excellent heat dissipation.
Factory filled with coolant, then sealed and pressure tested – requires zero maintenance for years.
All features and specifications on this page are provided by Cooler Master. Details can be found at this link. Features and specifications subject to change without notice.