« A Closer Look at Corsair Carbide 275R
|
Final Thoughts »
Hardware Installation and Clearance Compatibility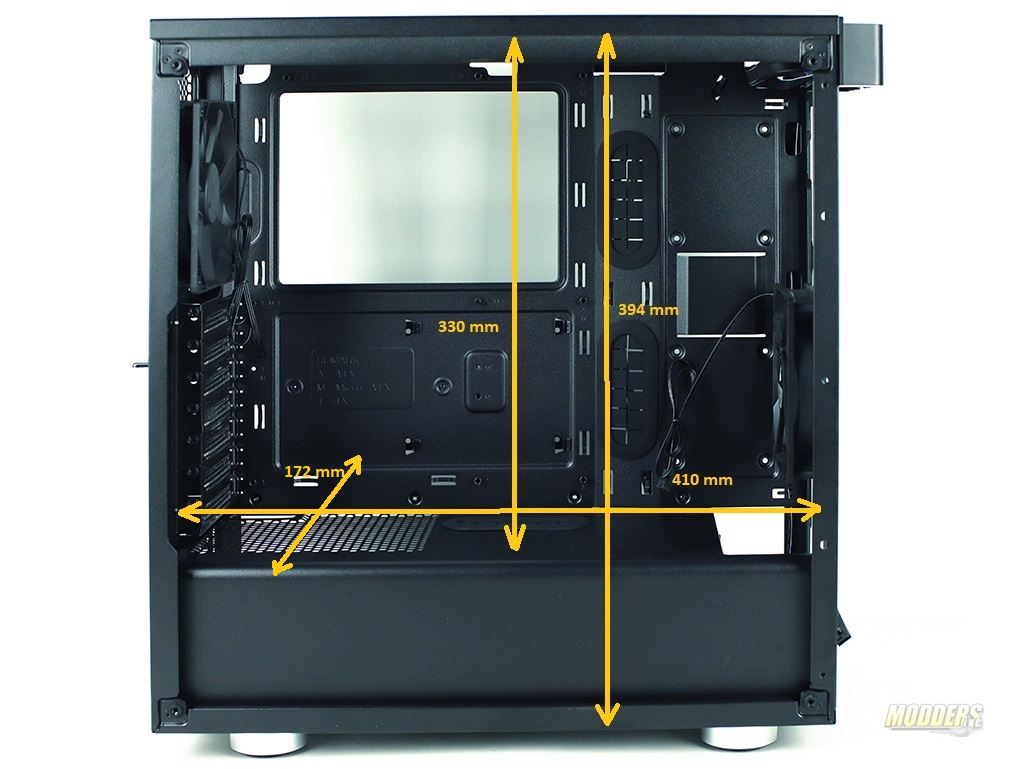 Internal length: 410mm.
Internal height: 394mm.
Internal depth: 172mm (to the glass)
Front-mounted
Radiators size 360mm or 280mm.
Fan size 3x120mm or 2x140mm.
Rear-mounted
Radiator size 120mm.
Fan size 120mm.
Top-mounted
Radiator size 240mm.
Fan size 2x120mm.
Bottom mounted
NA
Power Supply:
There is no removable plate.
230mm Max Clearance for Power Supply installation. (>300mm if you remove the storage cage)
Video Card clearance:
There is 410mm Max of clearance before reaching the front fan mounting area.
CPU Tower coolers:
CPU heat-sink height clearance is about 172mm. (from the motherboard tray to the glass).
Large CPU backplate cutout.
Issues Found
In my build out I ended up using Thermaltake Water 3.0 240 All In One CPU cooler. As you can see the radiator I wanted to mount on the top of the case did not fit without interfering with the motherboard. I could potentially remove the fans and install them on the outside of the case but that would require the installation of fan guards and make the case look ugly.
Another big issue noticed here is the access to motherboard headers. The board I am using here has 90° rotated connectors that require connection to be connected from the bottom of the case. Carbide 275R does not have enough room for me to install these cables unless I remove the motherboard completely out of the case first.
Besides these two major issues on my part, there weren't any other issues to mention. I did end up mounting a ThermalTake Water 3.0 AiO on the front of the case. No issues there.