A Closer Look at Corsair Carbide 275R »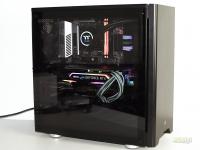 Can't get enough of tempered glass cases? Over the years we have seen it all, tempered side doors, a combination of top and side, both sides top and front tempered glass, etc. Because most of the manufacturers use 3-5mm of tempered glass the weight of the case can easily become a negative factor in fully assembled systems. I prefer tempered glass on a single side of the case. I still get the same great look and feel of a high-quality case but for a small bump in the weight of the total system. Corsair Carbide 275R is Mid Tower case with a window side panel that comes in either White or Black color. Our sample is a white version of Carbide 275R which features compact design at affordable prices. This case was released a while back however we thought it deserved our attention based on the great amount of positive feedback from the community.
Case Specifications
| | |
| --- | --- |
| Case Dimensions | 460mm x 215mm x 455mm |
| Maximum GPU Length | 370mm |
| Maximum PSU Length | 180mm |
| Maximum CPU Cooler Height | 170mm |
| Case Expansion Slots | 7 |
| Case Drive Bays | (x2) 3.5in (x3) 2.5in |
| Case Form Factor | Mid-Tower |
| Case Windowed | Tempered Glass |
| Case Warranty | Two years |
| iCUE enabled | No |
| | |
| --- | --- |
| Case Material | Steel |
| Radiator Compatibility | 120mm, 140mm, 240mm, 280mm, 360mm |
| Compatible Corsair Liquid Coolers | H55, H60, H75, H80i, H90, H100i, H105, H110i, H115i, H150i |
| Case Power Supply | ATX (not included) |
| Weight | 10.14kg |
| Case Drive Bays 3.5″ | 2 |
| Case Drive Bays 2.5″ | 3 |
Everyone is using recycled packaging material and Corsair is no stranger to this as well. Carbide 275R comes in a black and white recycled cardboard shipping box. On one side of the box, there is a clear image of Carbide 275R Mid-Tower Case and on the other side of the shipping box, there is detailed information about the components of the case.
The internal packaging of the Corsair Carbide 275R is pretty much the same as every other case you see on the market. 275R is securely shipped with foam support that keeps everything in place in the shipping box. To keep the actual case away from scratches Corsair has a few plastic sticky sheets on the tempered glass and the front bezel. The entire case is also wrapped in a clear plastic bag.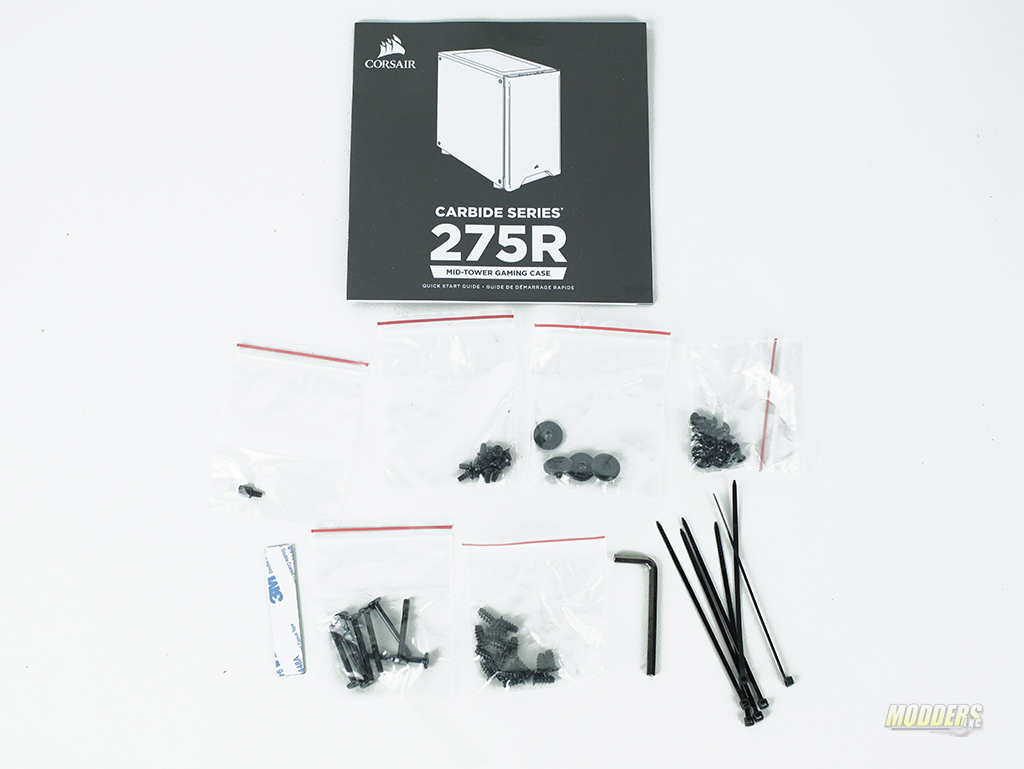 There is a small cardboard box inside of the Corsair 275R case where miscellaneous hardware is found. While going through the bags of zip ties and fan mounts I found a HEX based thumbscrews for the tempered glass. Upon closer examination of the tempered glass, I found that it is secured in place with "Flat Head" thumb screws. One of the biggest problems of this case was noticed in the past is the HEX type of thumbscrews that you would have to use to keep tempered glass secured. This version of 275R came with two sets of thumbscrews so you can pick and choose what you like best as far as mounting hardware of tempered glass goes.