Page 2 »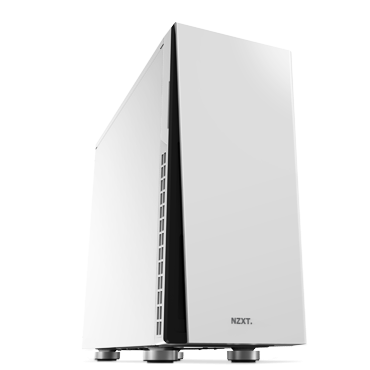 Are you tired of the case you have or you are looking to build up a new system and all you can find are black cases, well look again. The NZXT H230 White Mid Tower Case might be what you are looking for. With an all white exterior and interior; toss in some chrome and black highlights and you have rather striking case that does not hurt your budget.
[sc:sponsor sponsor="NZXT" product_link="http://www.nzxt.com/product/detail/130-h230-case" product_name="H230″ ]
First Look at the NZXT H230 Mid Tower Case
Packaged in a basic cardboard box that displays some black and grey images and details about the H230 case NZXT shows you about the classic design, sound damping padding, front panel buttons and that a hard drive cage can be moved. Also shown on the box is the same information listed the in the Spec Sheet below. The case is protected like any other case manufactures does with two Styrofoam caps at the top and bottom and plastic bag to prevent scratches while being shipped.
Tech Spec.
Size
Mid Tower
Model Number
CA-H230I-W1 White
CA-H230I-B1 Black
Drive Bays
External 5.25″ x 3
Internal 3.5″ /2.5″: 6
Cooling System
Front 2 x 120mm (One Included)
Rear 1 x 120mm (Included)
Bottom 1 x 120mm
Clearance
CPU Cooler 158mm
VGA Card 400w/o HDD Cage
290mm with HDD Cage
Cable Management 14mm
Dimensions
195mm (W) x 447mm (H) x 502mm (D)
Material
Steel, Plastic
Motherboard Support
ATX, MICRO-ATX, MINI-ITX
Expansion Slots
7
External Electronics
1 x Audio/Mic
2 x USB 3.0
Product Weight
7.25 kg
Warranty
2 Years
All the normal stuff needed to install your hardware is included inside the case in a cardboard box.